Hello Everyone! This is my first article about spanish grammar and I'll try to make it as easy as possible.
Today I'll talk to you about two meanings of the verb "to be" in spanish. I think that it's one of the most important verbs in spanish and many people have problems by using them. As in english, once you know how to use this verb correctly, you will speak spanish much better.
First of all, you have to know that in spanish we use this verb express two very different things. We say "SER" or "ESTAR".
Ser: we use "ser" to talk about a natural and permanent condition of any person, animal or thing. It doesn't change. For example: He is tall, He is peruvian. I'm a doctor. I mean, you use "ser" to talk about nationalities, professions, skin color, and other features that doesn't change.
Estar: we use "estar" to talk about things that are temporary such as emotions, physical characteristics, and in general, things that can change at any time. For instance: I'm fat. I'm tired. She's excited. He's sad. He's learning spanish. He is traveling. He's driving. He's cleaning the house.
We also use estar to talk about places we are in. For example: I'm in Venezuela (Yo estoy en Venezuela).
Basically, the diference between them is that "ser" is a permanent condition and "estar" is temporary.
A funny way to explain and understand the difference between "ser" and "estar" is with this example: Imagine an ugly girl with a lot of makeup who looks really beautiful. She is ugly (naturally) but while she ware makeup she is pretty (temporarily). In english we use "is" in the both cases, but in spanish we use the verb "ser" in the first case and "estar" in the second case
How to conjugate? First you need to know the subject pronouns:
I: Yo.
You: Tu
She: Ella
He: El
They: ellos - ellas (male-female)
You: ustedes (2 or more people)
We: nosotros - nosotras (male - female)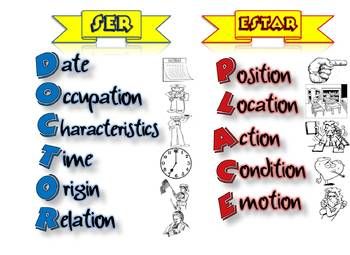 Picture taken from https://www.tes.com/lessons/tcrq-EQrkANhPA/repaso-ser-v-estar
CONJUGATION OF THE VERB SER
YO SOY (am). TÚ ERES (are). ELLA ES (is). ÉL ES (is). ELLOS SON (are). USTEDES SON (are). NOSOTROS SOMOS (are).
CONJUGATION OF THE VERB ESTAR
YO ESTOY (am). TÚ ESTÁS (are). ELLA ESTÁ (is). ÉL ESTÁ (is). ELLOS ESTÁN (are). USTEDES ESTÁN (are). NOSOTROS ESTAMOS (are).
Here are some examples: Yo soy venezolana (I'm venezuelan). I'm driving (yo estoy manejando). I'm tired (yo estoy cansada). You're learning. (tú estás aprendiendo).
Well, I hope this helps for you and you have learned something today. If you liked this post, please comment so that I'll know and I'll keep posting similar topics. I love spanish and I like help people to learn it, so if you want to learn any new thing about it, let me know!
I'd really like @ocd to see this article.