Intro
I'm Dashie, 26 years old (27 in a few weeks). I'm from Chicago, IL and lived there my whole life until I got married in a grocery store (more on that later), moved into a van with my new spouse @Glowmo, and started traveling the US.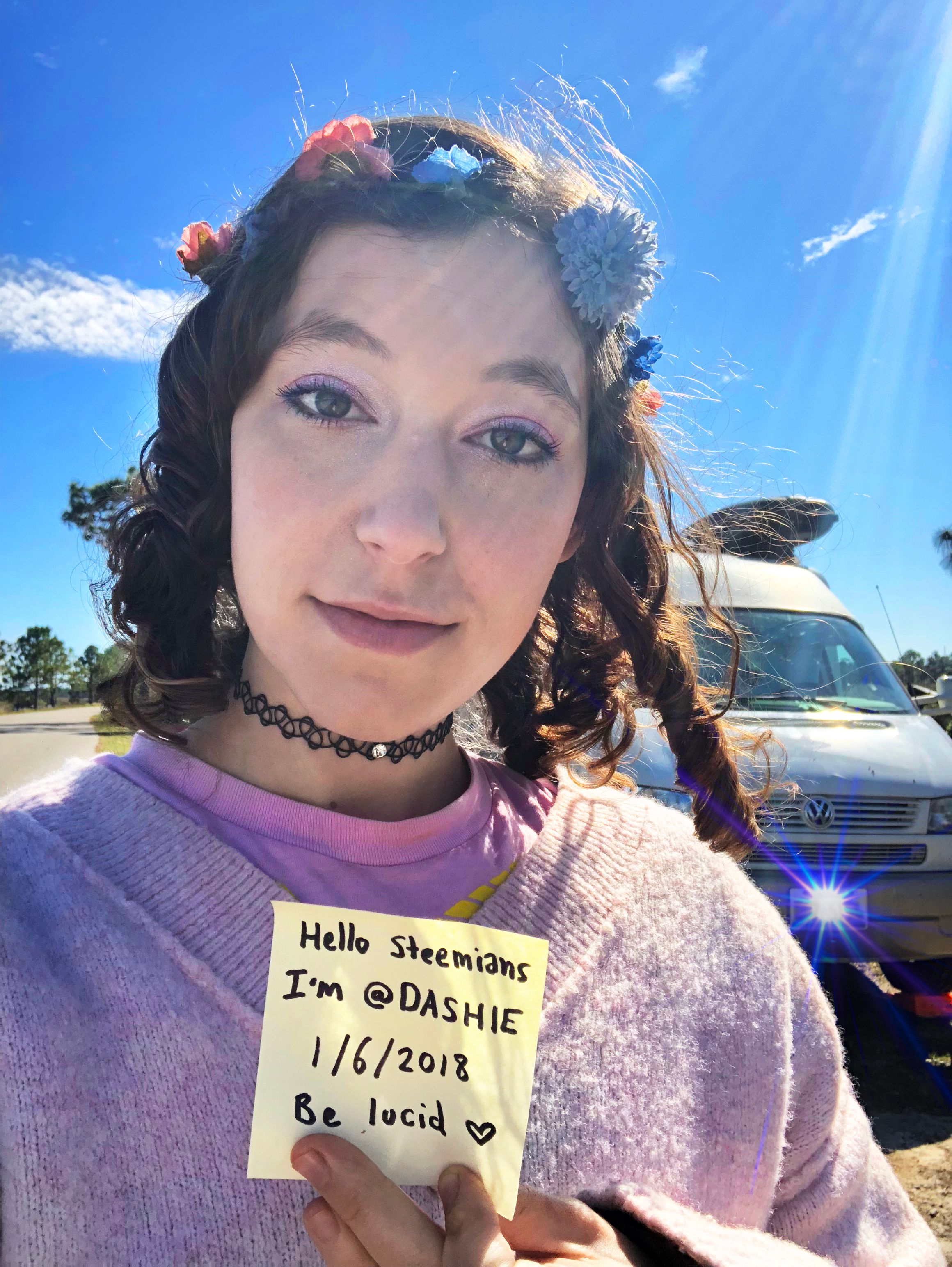 Lucid Dreaming
My number one passion in life is lucid dreaming. Lucid dreaming is when a person is asleep and dreaming, but they KNOW that they are dreaming WHILE they are dreaming (can you say dreaming one more time?). Because they're aware that the dream is just a simulation in their head, they can influence the content of their dreams and do whatever they want.
How I began lucid dreaming
I learned to lucid dream when I was 19. I had recently gone paleo. The paleo diet is really strict. You basically can't eat anything fun.
I started having non-lucid dreams about all the foods I was craving; pizza, brownies, mac and cheese. In the dreams I would take a tiny bite of something on my naughty-list. And it would taste SO good. But I would remind myself that I was on a diet and shouldn't eat anymore. Then I would wake up and think, "It wasn't real, it was just a dream! I could have kept eating!"
I realized that if I learned to know when I was dreaming, I could use my dreams to eat whatever I wanted. So I took on a bunch of lucid dream practices and after 5 months I went from having no lucid dreams to 3 every night. I spent my nights satisfying myself with junk food and spent my days eating healthy. To this day I still eat a very strict lifestyle diet. Without lucid dreaming I probably would have given up on eating healthy.
But of course theres so much more you can do with lucid dreaming, that's just my story of how I began.
Today
Today, I teach lucid dreaming and am working on two projects related to lucid dreaming. I'm especially excited about one of these projects. I've been working on it for over 5 years. I'll probably post about those projects on here eventually.
I love training and inspiring people to lucid dream. It thrills me when my students do amazing things with lucid dreaming I could never have thought of.
Getting Married in a Grocery Store
In 2016 my spouse and I both got down on one knee (two knees?) and proposed to each other on a pier with matching engagement rings made out of crushed opals and a drop of each others blood (ew!). We spent the rest of the day re-proposing to each other all over the city in some precarious places.
We decided to get married in a grocery store (Jewel Osco) in the aisle that we picnicked in after one of our first dates. It was the same grocery store that we officially became boyfriend and girlfriend, and did some drop shopping pranks.
We didn't want the grocery store to find out our plan to use them as a venue for fear that they wouldn't be into the idea and keep us out. And we didn't want our older traditional relatives to insist we have our wedding at a hotel ballroom.
So we invited 90 people to the ceremony but didn't tell ANYONE the venue of the wedding. Instead, we told them that on the day of the wedding they would receive a bunch of clues. And then finally two hours before we would tell them the location.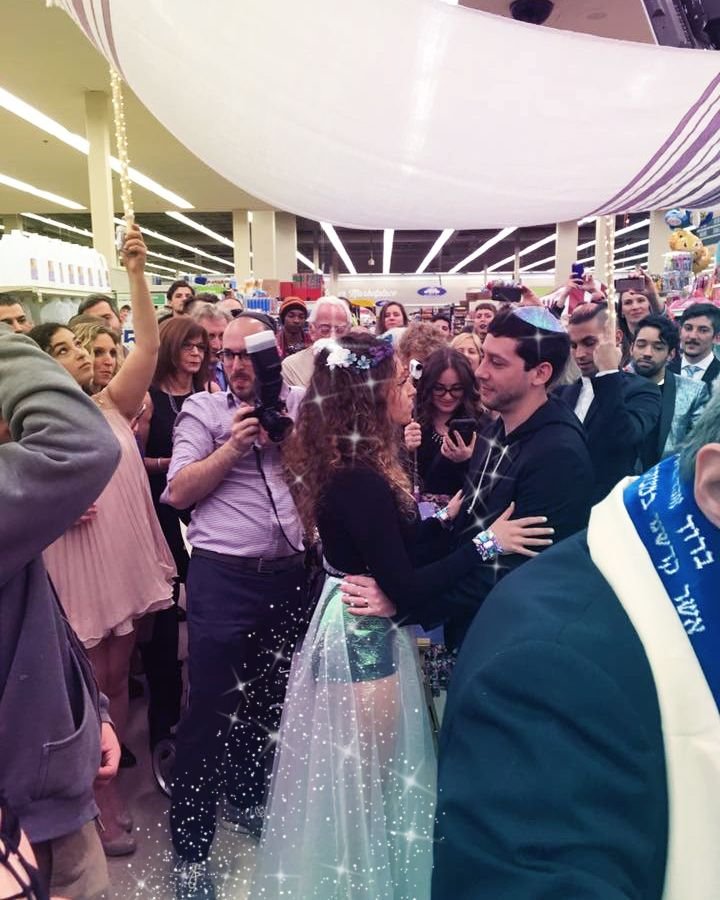 The grocery store, Jewel Osco, actually really liked it! The pharmacist was crying with joy and afterwards the manager said "mazal tov" over the loud speaker and even sent us a wedding gift. Our old relatives ended up liking it too.
Van Life
A month after we wed, we moved into our Rialta Winnebego, a 22 ft RV that's too small to technically be an RV in Illinois. We spend the cold months traveling in the south, especially in Florida. And return to the north for summer.
It's been an adjustment. We spend as little as we can; living off free public lands or on city streets. We live off limited power from our solar panels. And we have to deal with dumping our own waste. Not to mention we are two people sharing 150 sq ft of space.
But we get to work on our passions instead of working to pay rent. We get to play. We get to spend more money on the things that matter to us. And cleaning the whole "house" takes 10 minutes.
That's enough about me for now. I can't wait to see what other people on steemit are doing.