Hello Steem, I'm Steve.
I guess it's about time that I step out from behind the curtains and formally introduce myself on this revolutionary platform that I spend so much of my time working on and thinking about.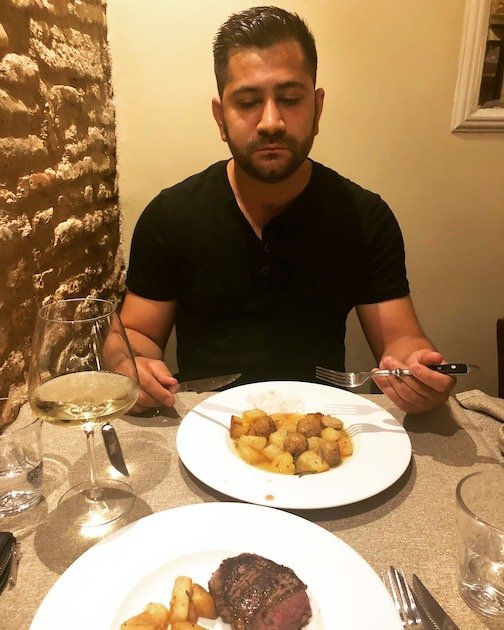 Random picture of me enjoying a delicious dinner in Rome
About Me
I've worked on the Steem blockchain at Steemit for about 10 months now and I've thoroughly enjoyed every minute of it. Working with @vandeberg on a daily basis has accelerated my understanding of the Steem blockchain and working with blockchains in general.
I became a software engineer because I felt it gave me the power to change the world, and I see that very opportunity here in this blockchain and I know, that given the right environment, together we can take it to the next level.
I started programming as a hobby at an early age writing BASH scripts and PHP websites. After a brief and miserable venture into a traditional business industry during college, I finally decided to convert this hobby of mine into a profession and pursue computer science as my major. I spent the first five years of my career developing software for the financial industry. And while this enabled me to build my skills as an engineer (and become a proficient debugger), I found that it didn't quite satiate my desire to innovate; to make a meaningful impact on the world. When the opportunity to work for Steemit arose, I couldn't help thinking to myself that at this point in my life, why not take a risk and be a part of something new and exciting? I wanted to return to my passion - creating things.
My Values: Freedom of Speech and Censorship Resistance
So why Blockchain? Because I believe in freedom of speech and the importance of censorship resistance. I think words are power and it really gives people, especially in countries where their rights are suppressed, a voice in a world where their voice might be otherwise silenced. So blockchain - blockchain is what makes it all possible. The fact that those who decide to participate only broaden its reach across the globe is something to be treasured, really. It allows a system to run without borders, freely - it's a big deal.
It's about time that we stopped placing our trust in big corporations who don't always have our best interests in mind. Business entities, not unlike organisms, always operate with their own self-interest in mind, which may or may not align with the interests of people like you and I. Right now we have a unique opportunity to disrupt the world as it exists today; and I'm excited to be a part of this revolution. We're only at the beginning and everyone here reading this is an innovator in their own right.
Why Steem?
Then why Steem? Well, Steem has a proven track record of providing a service to users throughout the world, allowing their voices to be heard and distributing value amongst its users. Steemit has unique experience in the marketplace. It isn't just talk, it's a reality. Every innovation builds upon the last; and we have a great opportunity here today because we are at the forefront of that technology. There are many improvements on the horizon that could really change the landscape of Steem - SMTs and even MIRA - extending our runway into the foreseeable future. Steem has the potential to take this whole form of social media to the next level. Steem is fortunate enough to have attracted a vast community of intelligent people, and now the Steem Proposal System gives us the power to propel this platform forward into the future together.
Community
The success of Steem can directly be attributed to its community, and that is something I am proud to have the opportunity to contribute to. The Steemit team has uniquely talented and dedicated individuals within it, and I am excited to continue working on this platform and product. Together we can positively impact the trajectory of technology in our society. Tomorrow's technology is here today and I see a bright future in it for all of us.