Ello everybody,
Who am I? I'm this guy!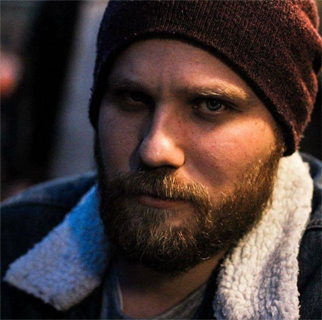 The name is Sam or @grizzlynaut, a jack of many trades, master of a few, and normally not as serious as in this picture.
(need to learn how to scale these..)
So where to begin? Somewhere between the beginning and now? Let's try and keep it short.
Born and raised in the Appalachian Mountains of south-west Virgina. Matured on the flat fields of the Netherlands.
For 21 years I had been fortunate enough to have lived in one of the more incredible countries of the world. (though it took me some time to realize it) In those years I spent a lot of time working and building a career in media and expanding my creative abilities. One day while waiting for my dad to arrive at the Amsterdam airport, I suddenly saw someone who looked more like my grandmother walking towards me than my father.
My subconscious decided then and there that this would no longer do. Soon after I had to accept the fact that despite how beautiful and alive the city of Deventer was, and how much it had become my home, I was deeply unsatisfied with my life and work and amount of time I had spent with my family. And so after years of fighting the fear of leaving everything I had worked for, I ended my career as an art director, sold what I could and headed back to my place of birth.
And so here I am typing this out while huddled next to a wood stove to keep warm in a log cabin on a wooded hillside worlds away from the life I used to have. It's been 10 months since I left my old life and I don't regret it one bit. I miss my home and friends and so many things but I am happier than I have ever been on my own.
What am I doing now?
Fortunately for me, one of my lifelong friends has given corporate life the finger and has asked me to help start a food truck. My reply to this was of course " I'm on board". And while helping my father with his work this has been one of my main focus since my arrival.
But before I left my old life I had started already taken steps towards a new one. I made an ever-expanding list of skills and crafts I wish to possess such as sewing, brewing, distilling, cheese making and much more. Some of which I am already quite handy at.
My philosophy is: "If they could do it a hundred years ago then so can I". And seeing how that already puts me around the 1920's. I need to get a move on before we get to the splitting of atoms and such.
In time my creations will be shared through here for viewing and perhaps on my website grizzlynaut.com.
I'm excited to start sharing the build of my own business, creations, and newly acquired skills with you. And don't worry this will probably be the longest post I will ever type. I'm sure if you have bared to read this far you can tell it isn't my strong suit.
But hopefully, you will choose ride along with me and witness my miniventures and sometimes megafails in exploiting my potential, expanding my knowledge and planetary exploration.