Unmotivation of Entrepreneurship in time of crisis in Venezuela 💖
💓💓💓
"Hi Steemit, finally our first post, this is our story what started as an illusion today is a dream come true, I hope you like it!"
This is my entrepreneurial adventure
All this crazy idea of ​​entrepreneurship in Venezuela begins like this, more than two years ago, good to be exact the holy week of 2016 was in March for that year, reviewing my social networks which was Facebook note a very striking necklace of an anatomical heart Definitely beautiful, but they did not sell it in Venezuela but in Ecuador and coincidentally I have a cousin there for that same time I write to him and I tell him that I want him to buy it I paid for it, with the CADIVI quota Venezuelans know that I I mean, I'll tell you it was a government currency exchange company which was very accessible.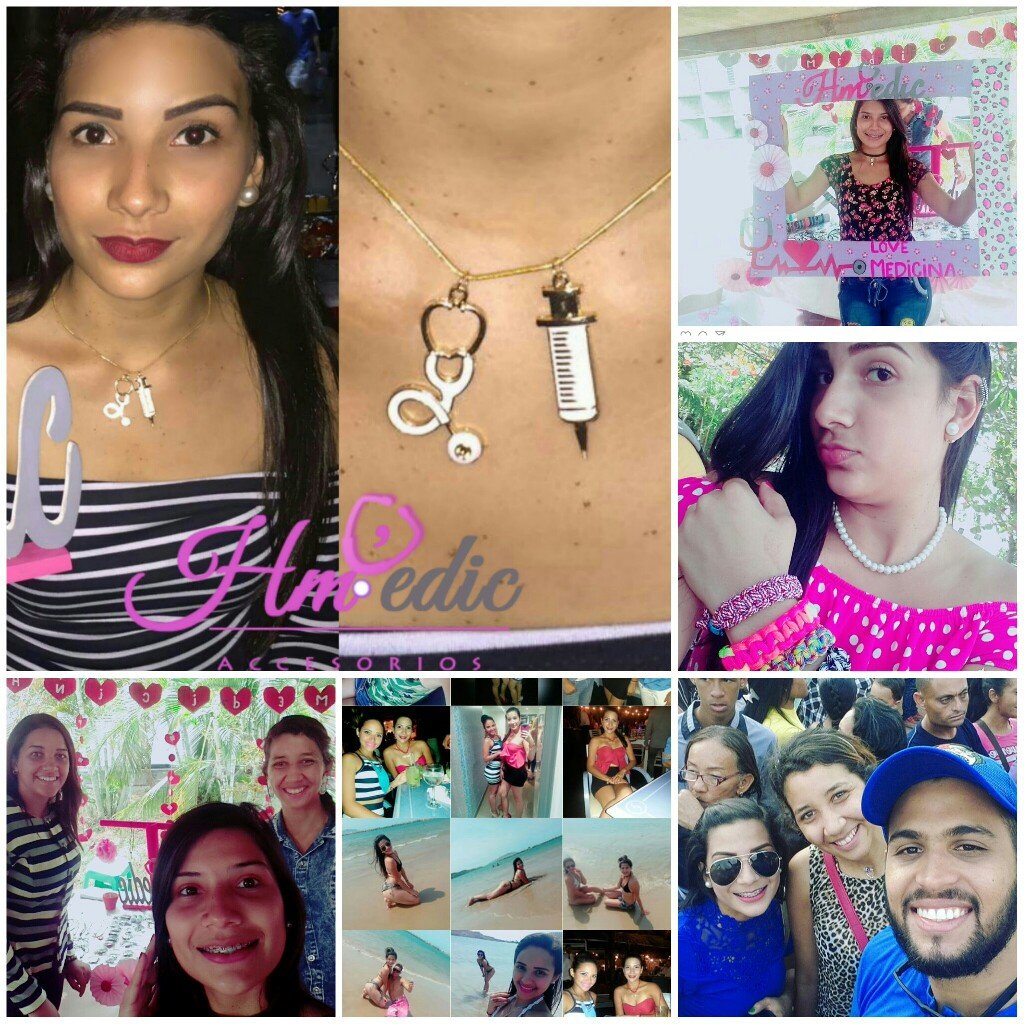 When my cousin realizes that it costs $ 50 he tells me you are crazy or that you pay me I would buy it, my heart broke but in my mind the restlessness.
In those days I had too much free time and I liked to dig into social networks and I got an Instagram page with some simple medicine charms for daily use, nothing like the jewel I had seen on Facebook but I'm in Venezuela and without dollars Well I could not demand at that time.
In my family circle, 70% are merchants, so it came to my mind, just as I wanted that facebook necklace. There will be many students of health sciences with that illusion I could sell to my classmates.
But I wanted to go further I wanted a name with my initials and a very famous Instagram account like the one I had found and the ones I already wanted to be the owner of my time to study and have some extra income to help my parents with the career, I wrote to a friend who is very creative and expert in that design topic because I wanted an original logo with my initials and something related to the Medicine career which I study.
He told me but you can call it HMedic and I do like it but I need something, I tell you, after a while I passed this beautiful logo that you will see in all our images. True, it is beautiful, simple, precise and direct, it says many things in one.
When was your first step?
On March 25, 2016 I decided to open the social networks of Hmedic Accessories and started this great adventure which I do not regret. today with more than 15K on instagram it was not easy to reach that amount but it was also impossible to call the attention of the public and to cross the borders of Venezuela.
Where was our first exit to the public?
In November of that same year I got an information about a Christmas event that lasted two months, my mom says it's perfect for the city to know your work and have an extra income for Christmas shopping.
How was the first day?
It was quite a challenge to take my work to the street, because I was afraid of the criticism, of the acceptance of the people of my city who, although they give health sciences, do not all become familiar with them. The time came when I did not have the table as the red tablecloth organization with white, I went running to a fabric store very close by the most economical fabric to work only that day to start, when I arrived it was very short the fabrics for the table looked horrible My mom told me she takes out the few necklaces that you have to sell, because at the end of the opening people started to visit the booth and when they got to mine they loved my products, my creativity and how they started selling that day I sold what I had paid for the post for two months. Super happy and motivated I went home sastifecha by the acceptance of the public.
# Participated Events? Well the first the Christmas fair in the Orinoco ride the most beautiful sunsets, then we participate in the Expo Bolivar undertakes more than 70 entrepreneurs in the city and since then we have said present in all the convents of the city medicine congress, exhibitions, fairs up livestock, carnivals, radio programs all events that gave us a space to be present there.
Has the page always been successful or has it had some processes?
We did not always sell, we did not get to the public as we wanted the first 7 months as a page we had very little interaction with the public and sales were very low, my friends from the university did not pay attention as I thought in principle and did not buy, the Christmas fair was two months but some disastrous events took place in the city (public disorder, looting) and sales dropped.
Nothing else you sell, create and personalize for medical students?
noo that is totally false the name is a familiar brand to avoid plagiarism and to be able to innovate, since our first envento our viewers proposed us to apply to other topics other careers and we said no.
What brings Hmedic accessories to Steemit?
To create original content, when entrepreneurs say there will be Hmedic presnte saying if you can. the creators of the designs and administrators of the store vitual we are @hierro21 and @angelishi sii as you see the picture we are sisters.
Also to show all the students and our public on Instagram or on facebook that they can be creators of original content, which can be paid and that Steemit does pay, not like many pages that consume their time and dedication and the payments never arrive .
# What content will bring hédic to steemit? Hmedic comes with everything from crafts, experiences in events, clinical cases, motivation for entrepreneurship in times of crisis Venezuela, scientific research classes, medical books and all the content in the branch of science of HEALTH that is possible.
Why use WordPress?
Well for more than a year we wanted to open a page with a domain, to upload all the possible content to help students to motivate them to move forward, a page with a product catalog a shopping cart, because also
HMedic wants to open an anonymous company, to go from a virtual store to a physical store.
"Until here this beautiful post I hope you liked it as I liked to do it! Leave me a comment and tell me what topic you would like to do post and essays!"
💓💓💓
---
💓💓💓
---


🎸 Sigueme! | @hmedic 🎻

http://hmedic.vornix.blog/2018/07/21/llegando-a-steemit-un-emprendimiento-en-venezuela/