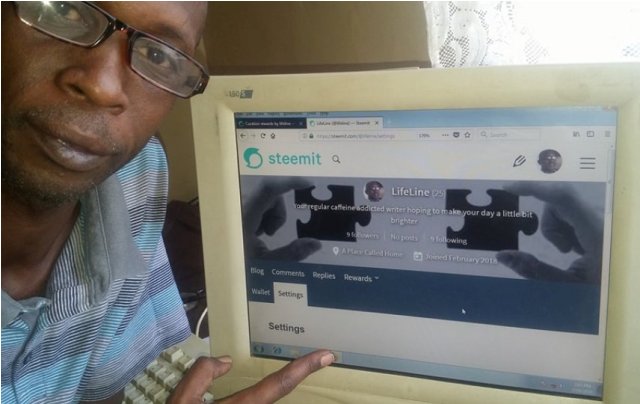 Which other Steemit newbie like me wasted a lot of time searching for a magical fill-in-the-blanks Introduction Post template that everyone would read as soon as you hit POST? I figured that would be too boring, robotic even, and decided to do it my way. I discovered Steem at Bitcoin Stack Exchange, a Q&A site for bitcoin fans. Steemit looks like a great place to be in 2018 and beyond.
My official name is Sammy Kamau and since my pile of "personal details" keeps growing by the day, let me point out a few specifics worth mentioning:
Nationality
• Kenyan (Not hard to find on a world map or marathon running events)
Age and Family
• Earliest 40s. Married father of two noisy boys and a lovely daughter who never stops laughing. We have a dog called Voice who barks at everyone and everything. I guess you can now picture the amount of decibels emitted from our home on weekends. My wife handles the difficult task of trying to keep things quiet around here but with little success. Good thing our closest neighbors are retirees who hardly venture outdoors, so no complaints have been filed yet.
Occupation
• Ghost-hunter. Well, that's not entirely true but I'm a ghostwriter who's always hunting for ghostwriting opportunities. Let me know if you have one – I mean a writing gig not a disturbed spirit from the Afterlife.
Religion
• I grew up in a Presbyterian home but I'm good with any faith that promotes peaceful co-existence through non-violent means.
Zodiac Sign
• Leo but it doesn't really matter because I haven't read horoscopes for decades. I remember dating a girl who lived her days according to horoscope predictions. That was before the Internet when people read their stars on newspapers. She'd check the stars every morning and adjust the rest of her day according to the predictions. That's why we fought every time the newsroom astrologer wrote, "You may have a disagreement with a loved one today." And that's how I lost faith in good old Zodiac.
All-time Favorites
• Food: Avocado in/with anything including noodles (guaca-pasta Bolognese?)
• Music: Blake Shelton, Chase Bryant, Jason Aldean, Keith Urban, Sam Hunt, Carrie Underwood, Osborne Brothers, etc. I guess that makes me a country boy but I can still twist these not-too-old bones to any good tune. I recently heard my loud 9-year old son spitting some garbled sounds he called "Man's Not Hot", or something to that effect. I loved it. I mean loved seeing my son trying to rap, not the song.
• Sports: Basketball, Soccer, Tennis, Boxing, and long distance running. Disclaimer: I don't play any sports, least of all boxing. I only engage in sports activities from the safety of my TV couch.
• Movies: I'd love to say I have a list of favorite movies but honestly the list keeps changing after every few days. Black Panther has not yet made it to that list, and may never do. My current favorite is that Morgan Freeman movie where three old men rob a bank and walk away scot free. What was the name? I still remember that famous quote: "It's the role of the society to take care of its elderly." I took some fresh flowers to my late dad's grave the weekend after I watched that movie and wished I'd done more for him while he was still with us. If you still have your old folks around, do check on them before Easter Weekend.
• Books: I'm a typical writer without a favorite genre. My current reading list includes Fiona Harrold's Be Your Own Life Coach and Rick Hansen's Buddha's Brain. I'm reading a lot of self development literature lately.
It's hard to describe myself sufficiently because I'm bound to be biased, naturally. I may not tell what I've swept under the rug but it will probably come out as we engage further in this wonderful platform. All I can say for now is that I'm glad to be here and trust there's plenty more I can share with the Steemit Universe.
Meanwhile, keep on STEEMING!