Who are Localize-it! And what to expect in the near future
This introduction has been long due, but behind the scenes, there has been quite some work done to get things started without interruptions or problems. Now it's time to introduce ourselves!
Who are we?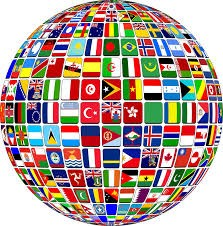 source
Localize-it! was founded by me, @misslasvegas. I feel there is a great need for quality translations and localization in this sector, meaning cryptocurrency and Blockchain. There are translators and translation companies everywhere in the world and online, but not many are specialized in crypto and/or Blockchain if any at all.
With more than 20 years of experience in the translation and media sector, I know like no other just how important it is to have the right people for the jobs that present themselves. A translator who is specialized in translating technical information can be completely useless translating medical files, and vice versa.
During my work in the past few years, I have come to realize that it's often not even relevant that someone has the highest education in the business if they have no interest in the subject.
The best translators have knowledge and passion for (their) language and are passionate about the subject. When you combine these two, you will have a success story.
I feel very blessed to have great, devoted people on the team, who will undoubtedly help with the creation of our own success story.
A little bit of background information
Some of you will probably still know that a little more than two years ago, Utopian started a project that awarded contributors to open source projects with Steem. Utopian has since left Steem, but the project has definitely left its mark.
One of their categories was the translation category, in which open-source projects could be translated in return for an upvote by Utopian (often quite substantial, especially during the higher prices of Steem at the time). However, what happened was that some 'translators' weren't actually translating, but used Google translate, etc. Utopian put the category on hold, and about six months later, DaVinci.witness took over the translation category. This time with people who knew their languages and with better means to check the work, as well as better procedures for hiring the right people for the job. I've worked with DaVinci for almost a year, both as a translator/language moderator and as a staff member.
I will forever be grateful for the opportunity to work in the field of translations, completely online and on the Blockchain. I've learned a great deal about how to do things, and how not to do it when you're working with individuals spread out over the globe. However, the system we worked with was flawed because we only translated Open Source projects, and were still 100% depending on Utopian for the upvote to reward our translators, with some putting in the work without any reward because there weren't enough upvotes to go around. Most people would probably agree that this is not the right way to handle this. This became painfully clear when Utopian left Steem and pulled the plug on all the projects they were supporting. There had to be a better way!
My idea and Steemfest
Just after Steemfest 3 in Poland, we managed to attract our very first paid translation project at DaVinci.
@steemmonsters was going to be translated into Korean and I personally had the honor of scouting and hiring the translators for this job, since we didn't have a Korean team yet at the time.
I felt that we could do many more projects like it. Unfortunately, when Utopian left, DaVinci dissolved as well and we never had the chance to see how far we could go. But where others may have seen failure, I saw an opportunity.
Many of the translators still wanted to translate. Personally, I didn't see why they shouldn't be able to continue and get paid for the work they did.
I started working on getting a rough plan together about how we could work with our translators, and reward them accordingly. By the time Steemfest 4 came around, I was ready to pitch my ideas to whoever wanted to hear.
There were still a lot of things to work on but this would all work itself out as time went by.
When an opportunity presented itself at Steemfest to present my ideas during a round table talk, I went in with nothing more than just that: ideas.
The day before, I found something that was quite relevant to the subject, and I ended up using it in my talk. Have a look at the picture below.
It's quite obvious that they used Google Translate to translate this dish. It's not hard to figure out that the translation went wrong somewhere but most people will laugh about this. When they end up ordering this dish, they will know it's not what the text implies and probably more eatable...😆
However, if we take this example looking at most businesses, we need to look at it a bit differently. Just imagine that you've just started a Blockchain-related company, and you want to market your product to a wider audience in several countries. You get your Whitepaper translated into a couple of languages and then send these translations to potential investors and/or clients. You wouldn't want any of these translations to turn out like the one above, right? Exactly. It would be a sure way to lose valuable clients!
The round table talk turned out to be a very valuable time spent. At first, people didn't even know about it and I had a friend literally drag people in to listen (@anomadsoul, thank you!). But what started with nothing, became something great when all of these people gave me some great ideas. So here we are.
I believe that the members of my team can deliver quality work when it comes to Blockchain and crypto-related translations. Not just because they know their languages but because they have a passion for the subject.
In the next few weeks, I will post updates about the project here. I will also start to introduce more of the members of the team. I am proud to say that we have half of the members of the Korean team who worked on the Steemmonsters translation on board.
The plans for the near future
In the past few months, I have been working on getting a great team together. I've also been talking to others in crypto space and I am working on attracting clients and a few collaborations are being established. The start has been made but more about this later.
There is still a lot of work to do so I better get to it!
Applications
We're still taking applications for several languages. Please get in touch with me on Discord (@misslasvegas#6566) if you are interested in joining the team either as a translator or proofreader.
I'm looking forward to hearing from you!
Thank you for taking the time to read the introduction!