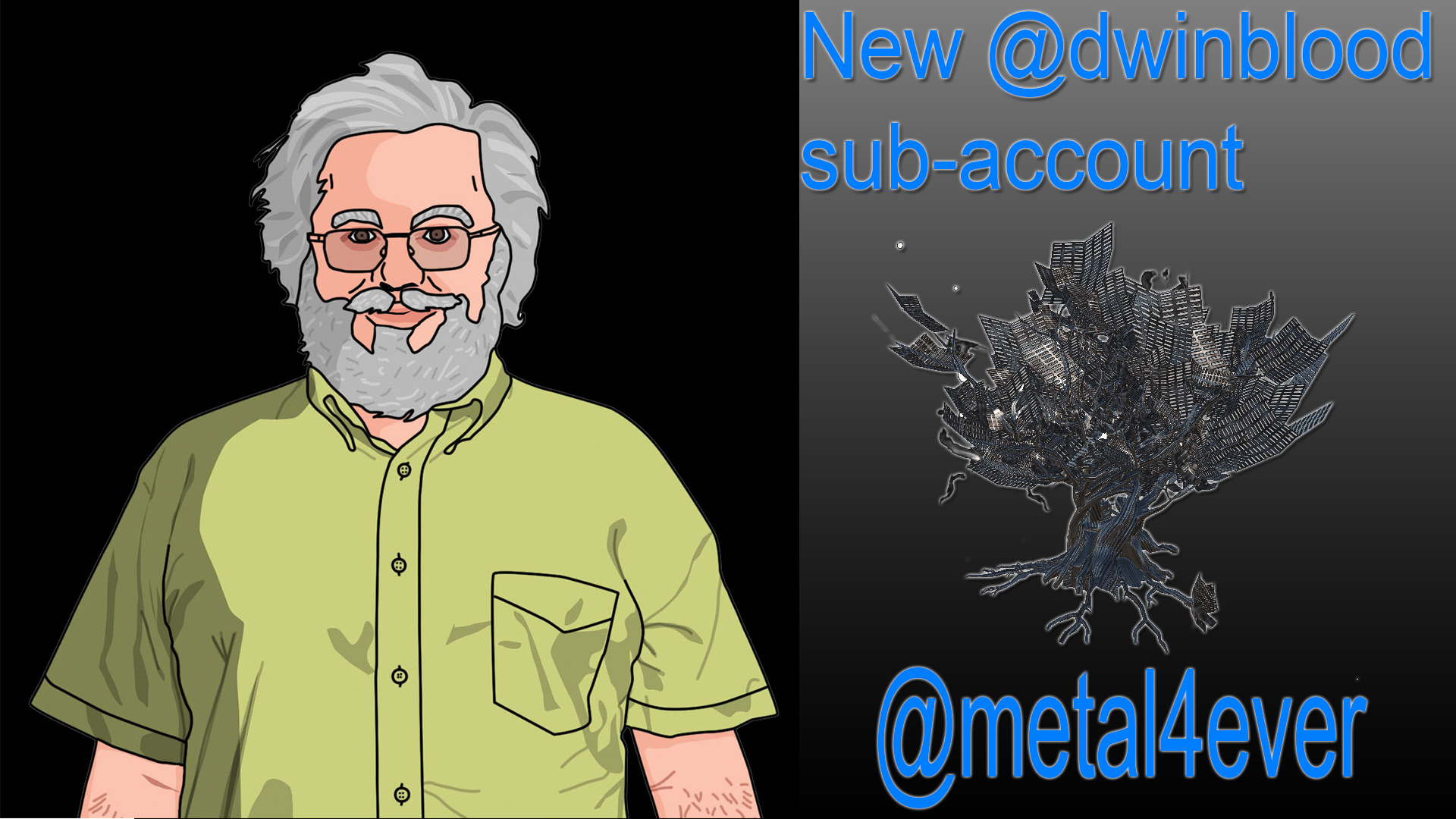 Introduction
Hi,
My name is Deva Winblood. I am known as @dwinblood and I have been using steemit since July 2016. On my @dwinblood account I post about a wide variety of topics. Not everyone that follows me may be interested in every topic I write about. I have decided I am going to start numerous smaller accounts. These accounts will focus on specific topic types. I will resteem my older posts on that topic from @dwinblood so that they are easy to find for you and for myself in one place. I will resteem other people's posts in that topic as well if I want to.
The big deal is that I will likely start writing a lot of my original works on the various sub-accounts and I'll simply resteem them on @dwinblood. I will likely still occasionally write originals on @dwinblood, but the quantity of posts written on that account will decrease. If you are interested in everything I write then simply keep following @dwinblood. If you are interested in a specific topic but not some of the other things I write about you could stop following @dwinblood and instead follow my sub-account for that topic and you will not have to worry about seeing the things I write that you are not interested in.
I already have a few accounts:

I am now going to create several accounts as I get enough steem to purchase them.
They each will have this introduction post as their first post. It will be slightly customized for each to represent what that account is intended for.
Music - This will be all my music related posts regardless of musical genre.
Metal - This will be metal music related posts
Stories - This will be fictional stories that I have written as well as the place for future posts
Gaming - This will contain gaming related posts
Game Dev - This will contain game development related posts
Steemit - This will contain steemit and steem related posts and tutorials
Anti-Socialism - This will contain my anti-Socialism, anti-communism, and anarchy related posts
History - This will contain my history related posts
I am not very good at keeping my identity secret. It also takes way more effort to maintain. I decided I would be completely transparent about which accounts are actually me.
That is my plan...
I will also institute something I've been testing with @newsagg. I will keep 75% of the SBD rewards for my posts. The other 25% I will kick back to people who voted for my posts based upon the value of their vote. This is kind of like a reverse UP VOTE bot. If you vote for me then I'll reward you in some way based upon how I benefitted. I may not do this for every up vote. I start with the highest sharing amount and then divide that and get smaller and smaller in what I share back. I will never share less than $0.01 SBD when I send thank you's. If your vote is less than $0.02 in up vote you may not get a reward, but then again you might. I reserve the right to stop doing this if it doesn't work out, or to change the percentage. If you want to see an example of how this works look at the wallet on the @newsagg account. I have been doing this for awhile there. Though the percentage I've been doing there lately is to give out 33% of the SBD to voters.
This account you are looking at now is for
Metal Music Posts - Resteems and Originals
If that subject is of interest to you and you like my works, and my aggregation of the topic please consider following this account. By splitting my activity up I can also determine which of my works people find the most valuable rather than having them all dumped in one place.
The initial resteems for this account will be quite large as I resteem everything that I've written on steemit that should be here. After that though it will slow down a lot.
It will not let me resteem posts older than 6 days so here is a list of all the posts I would resteem here. (Oldest to newest)