I'm gonna make the earth a brighter place, a safer place and, help the human race with my own two hands . This lyrics embody the vision and intention i have in my heart, to spread and project during my lifetime. Before going on with the introduction, please dedicate 2 minutes to the following clip for a greater understanding of our mission. Enjoy 👐
Greetings fellow stemians,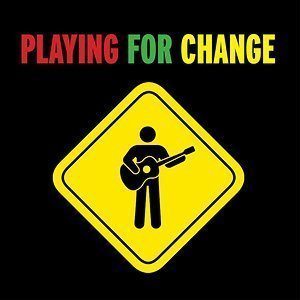 I feel great to have found this place, and i look forward to witness what this new technology,
can bring up in this world .
I am a one of the members of the
Playing For Change
movement (PFC), and i decided to bring it a step further and present it to the Steemit community, to spread the word that there are still many great people out there, and to raise awareness that there're also many souls in need for our support and love.
Some of you might have heard about it, and some might have even interacted with it and enjoyed what what it has done for the people, for the world and chose to further support it in its actions . But for those who don't know, kindly let me tell you about it:
What is Playing For Change and, what is its mission ?
Playing For Change is a movement created to inspire and connect the world through music; it's born from the shared belief that music has the power to break down boundaries and overcome distances between people. The primary focus is to record and film musicians performing in their natural environments and combine their talents and cultural power in innovative videos named as: Songs Around The World .
About Playing for Change
Playing For Change was born in 2002 as a shared vision between co-founders, Mark Johnson and Whitney Kroenke, to hit the streets of America with a mobile recording studio and cameras in search of inspiration and the heartbeat of the people, as a musical journey.
In 2005, the "Stand By Me" clip was recorded as a Song Around The World with Ben E. King classic which, featured other musicians from across the globe united in song. This video has now received more than 110 million Youtube views and catapulted the ​movement of creating a global family to spread peace through music.​ Ever since then​, the Playing For Change crew has traveled the world recording and filming musicians, creating Songs Around the World, and building a global family.
Creating Songs Around the World inspired Playing For Change to unite many of the greatest musicians met throughout their journey and so the Playing For Change Band was formed . These musicians come from many different countries and cultures, but through music they speak the same language. The PFC Band is now touring the world and spreading the message of love and hope to audiences everywhere.
The true measure of any movement is what it gives back to the people; therefore the Playing For Change Foundation was created — a separate 501(c)3 nonprofit organization dedicated to building music and art schools for children around the world, and creating hope and inspiration for the future of our planet.
The Change We Seek?
Born from a common belief that music has the power to break down boundaries and overcome distances between people, Playing For Change is a true example that no matter how many things in life divide us, they are never as strong as the things that bring us together. Using the universal language of music, Playing For Change is for the people and endeavors to unite humanity, one heart and one song at a time.
I will therefore keep an update here with the latest projects, news, behind the scenes clips and pictures and other goodies will be shared for those who wish to be part of this global family.
This is it for now, and with our own hearts, we wish you a blessed day. 👐
---
''Extreme poverty is not like rain or sunshine. We can decide it should go away. Not alone, but all of us, together.''
Joseph Wresinski, 1917-1988