Butter Chicken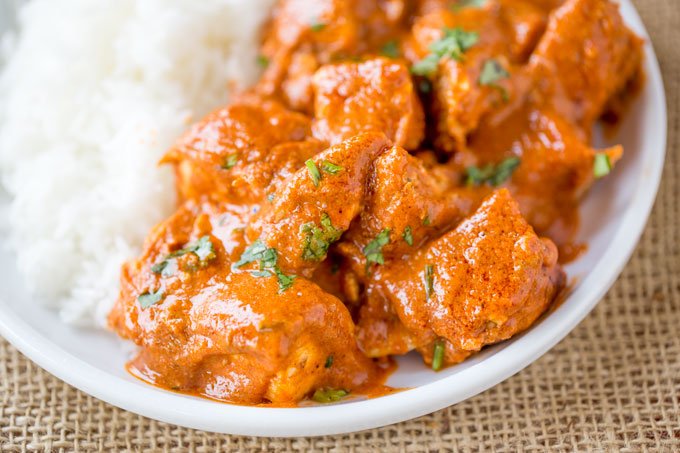 Recipe
https://www.allrecipes.com/video/1332/chicken-makhani-indian-butter-chicken
Rogan Josh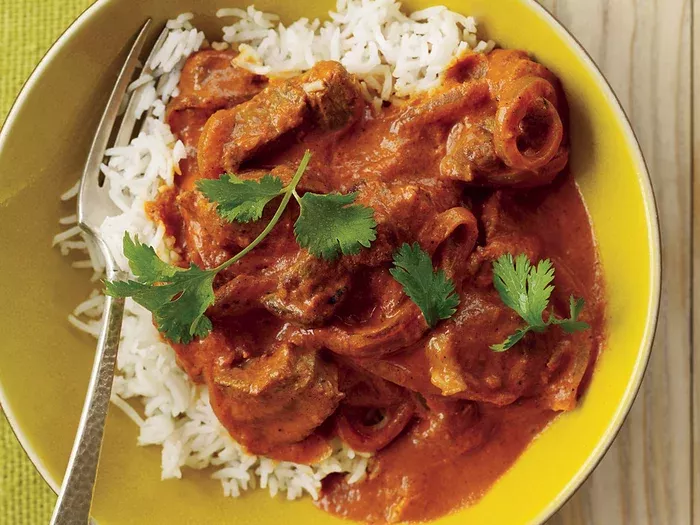 Recipe
INGREDIENTS
2 1⁄2 cm fresh ginger, peeled and coarsely chopped
8 garlic cloves, peeled
4 tablespoons water
275 -425 ml water
10 tablespoons vegetable oil
1 kg boneless lamb shoulder or 1 kg stewing beef or 1 kg diced chicken
10 whole cardamom pods
2 bay leaves
6 whole cloves
10 peppercorns
2 1⁄2 cm cinnamon sticks
4 medium onions, peeled and finely chopped
1 teaspoon ground coriander
2 teaspoons cumin seeds
4 teaspoons paprika
1 teaspoon cayenne pepper
1 teaspoon salt
6 tablespoons plain yogurt
1⁄4 teaspoon garam masala
fresh ground pepper
DIRECTIONS
Put the ginger, garlic, and 4 tablespoons of water into the blender. Blend well until you have a smooth paste.
Heat oil in a wide heavy pot over a medium heat, brown the meat cubes in serveral batches and set to one side.
Put the cardamom, bay leaves, cloves, peppercons and cinnamon into the same hot oil. stir once and wait until the cloves swell and the bay leaves begin to take on colour.
Now put in the onions. Stir and fry for 5 minutes until they turn a medium brown colour.
Put in the ginger garlic paste and stir for 30 seconds.
Add the coriander, cumin, paprika-cayenne, and salt. Stir and fry for 30 seconds.
Add the fried meat cubes and juices.
Stir for 30 seconds, now add 1 tablespoon of yoghurt, stir until well blended .
Add the remaining yoghurt, a tablespoon at a time in the same way. Stir and fry for another 3 minutes.
Now add 275ml of water if you're cooking lamb or chicken and 425ml of water if you're cooking beef. Bring to the boil, scraping all the browned spices off the sides and bottom of the pot. Cover and cook on low for an hour if you're cooking chicken or lamb and 2 hours if cooking beef, (or until meat is tender.).
Every 10 minutes give the meat a good stir. When the meat is tender take off the lid, turn the heat up to medium, and boil away some of the liquid.
All the fat that collects in the pot may be spooned off the top.
Sprinkle the garam masala and black pepper over the meat before you serve and mix them inches.
Samosas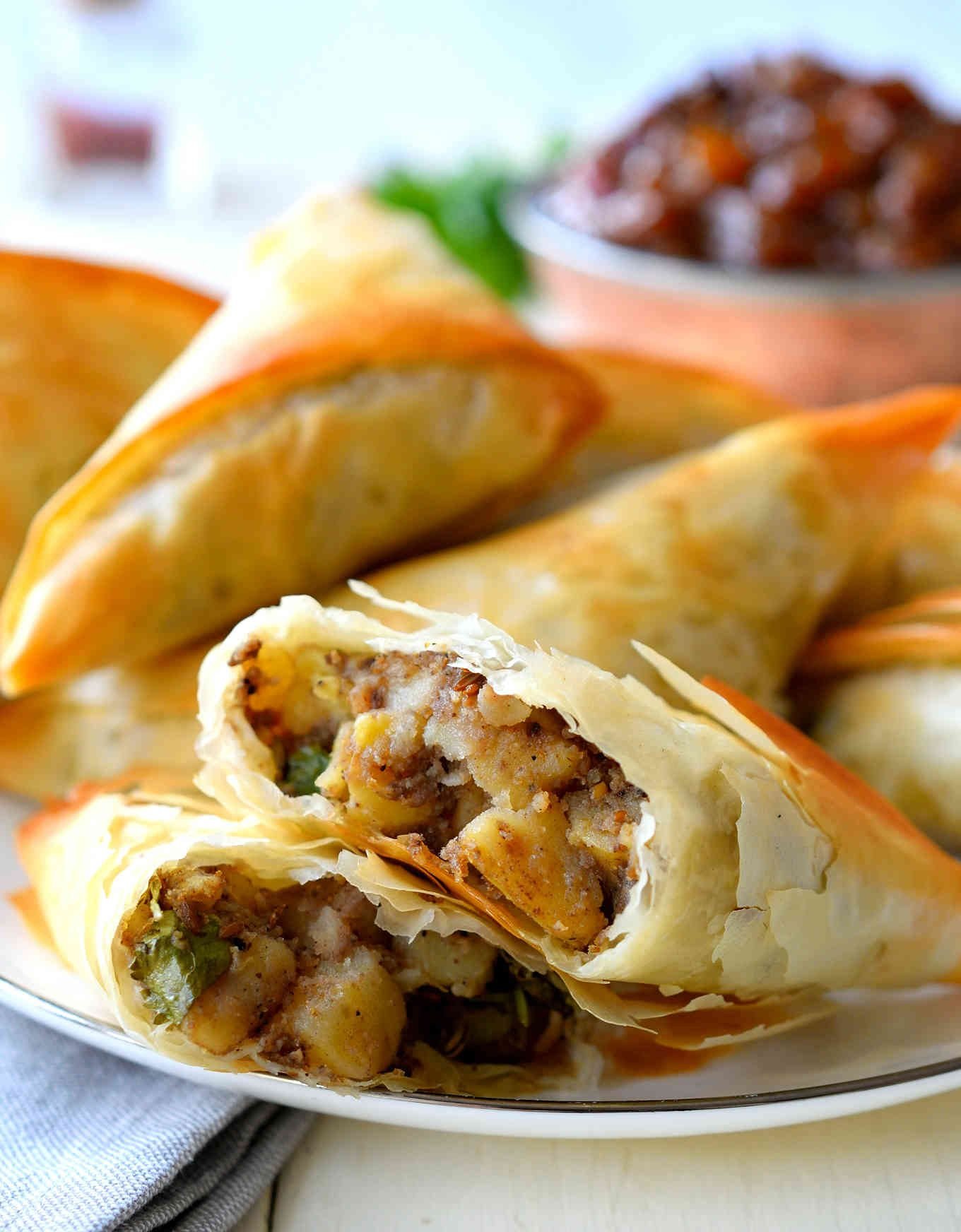 RecipeINGREDIENTS
Samosa Dough
2 cups Maida
2 tablespoon Vegetable Oil
1/4 teaspoon Salt
1/2 cup Water + a few tablespoons extra
Samosa Filling
2 tablespoons Oil
1 teaspoon Coriander Seeds
1/2 teaspoon Saunf (fennel seeds)
A pinch of Methi Seeds (fenugreek seeds)
1 tablespoon Ginger Paste (freshly ground ginger)
1 teaspoon Garlic Paste (freshly ground garlic)
1 teaspoon chopped Green Chillies (or Jalapeno)
2 teaspoons Red Chilli Powder
2 tablespoons Coriander Powder
3/4 teaspoon Turmeric Powder
1 tablespoon Raw Mango Powder (Amchoor)
1/2 teaspoon Garam Masala Powder
2 large Potatoes, boiled, peeled and mashed
6-7 Curry Leaves
Salt to taste
Oil for Frying
INSTRUCTIONS
Samosa Dough: To start making the samosa dough or pastry, mix together flour and salt and add oil. Rub the oil with the flour till it resembles bread crumbs. Start by adding 1/2 cup water and knead it into a firm dough. You may need a few extra teaspoons of water but add as you go. The consistency of the dough should be firm and smooth. Cover the dough with a damp cloth and set aside while you make the filling.
Samosa Filling: Heat oil in a pan. While the oil is heating, crush the coriander seeds, saunf (fennel seeds) and methi (fenugreek seeds) roughly and add it to the pan. Fry the spices till aromatic but be careful not to burn them. Add ginger, garlic and green chillies and stir fry for a minute or two. Add the remaining spices, mashed boiled potatoes and salt. I like to use a potato masher to just mash everything together and then mix it. Add the curry leaves right at the end, give it one more good mix and then set the mixture aside to cool.
Wrapping the samosas:
Take a lime sized bowl of dough, roll it between your palms till smooth and dust it with flour.
Roll it out into a circle which is less than 1 mm thickness and about 6 inches in diameter.
Cut the rolled dough in half. Pick up one half and brush it with a little water along the straight edge of the pastry.
Now take one edge of the straight side, and place it on the other edge of the straight side in such a way that the dough forms into a cone (watch the video for more clarity). Pinch the corner of the cone so that its sealed. Place a tablespoon and a half of the filling in the cone, making sure to fill it only 3/4th of the way. Brush the inside of the unfilled dough with a little water and seal it by pinching the edge together. Repeat till all the dough is used up. Place the samosas on a greased tray making sure they don't touch each either and cover them with a damp cloth.
Frying the samosas: Heat about 2-3 inches oil in a pan. To test if the oil is hot enough, add a tiny piece of dough to the oil and if it bubbles and floats on the surface, your oil is ready for frying. Add the samosas to the oil making sure not to overcrowd the pan, and reduce the flame to a simmer. Fry the samosas on a low flame till golden brown on either side. Its important to fry them on a low flame, or the pastry would be raw from the inside and golden brown on the outside. Take them out on a plate lined with paper to absorb any extra oil and serve them immediately with ketchup, coriander chutney or tamarind chutney.
Malai kofta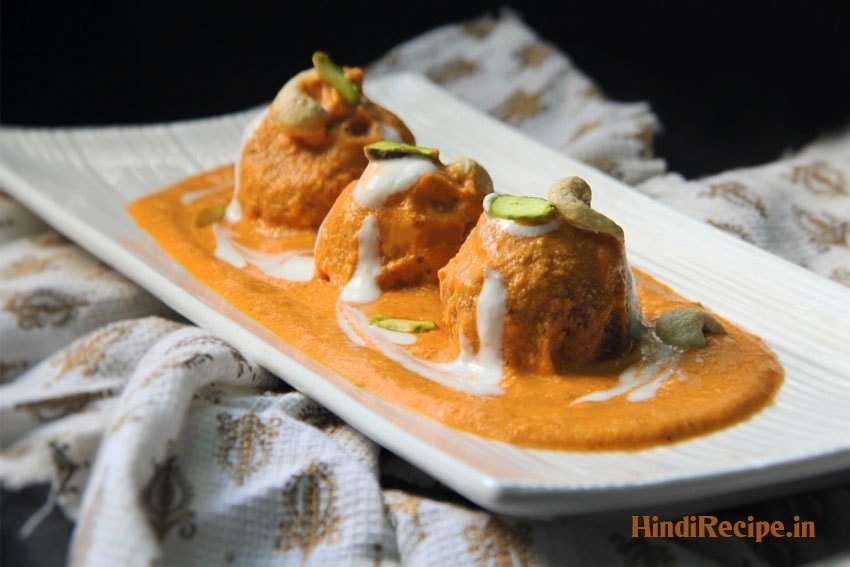 RecipeIngredients for 2 Servings
70 grams paneer
2 medium chopped tomato
1/4 cup cashews
2 tablespoon melon seeds
1/2 teaspoon poppy seeds
1/2 teaspoon crushed to paste ginger
1/2 teaspoon crushed to paste garlic
1/4 teaspoon powdered green cardamom
1/2 teaspoon red chilli powder
2 pinches salt
1/2 tablespoon mustard oil
1/8 cup yoghurt (curd)
1 teaspoon all purpose flour
1 tablespoon fresh cream
1/2 teaspoon garam masala powder
1 bunch chopped coriander leaves
1 green cardamom
How to make Malai Kofta
STEP 1
To make this delicious Malai kofta recipe, pressure cook the tomatoes with cashew nuts, melon seeds, poppy seeds, ginger, green cardamoms, red chilli powder, salt and 1 tbsp oil. It will be cooked in 1 whistle. Once done, allow the mixture to cool and grind it in a blender. Then add yogurt and mix it well. Keep it aside.
chop
STEP 2
Meanwhile, take a bowl and mash the paneer it using your hands. Add in green cardamom powder, salt, flour and mix well. It should be of a little thicker consistency. Then take small portions from the mixture and shape them into koftas.
1
STEP 3
Then take a pan and add oil in it. To make this recipe even more delicious replace regular refined oil with some ghee. This will make this traditional recipe aromatic and rich in taste.Heat it over moderate flame. Once the oil is sufficiently hot, carefully place the koftas in the oil and deep fry them. Once slightly golden in hue, transfer them on tissue papers to drain the excess oil.
shutterstock_794802739
STEP 4
Next, strain the mixture and transfer it in a pan. Heat it on high flame and bring the mixture to a boil. Add in the garam masala along with the cream. Then, in a serving bowl add the deep fried koftas, pour the gravy. Garnish with some more cream before serving. In the end, garnish it with some fresh coriander leaves and serve hot with roti or chapati.