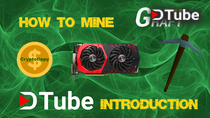 ---
Hey, everyone, this is my introduction video to Dtube and the first episode in my mining series, EP01 how to mine graft a coin still in its ICO faze graft allows you to store popular crypto and buy things from merchants. Then merchants can then hold the coins or sell them for local fiat. I plan to do a vlog type post, later on, to tell you a bit more about myself and my hobbies I'm into plants cacti quadcopters and video games as well as crypto related things I plan to bring to the table for D.tube. Thank you for taking the time to watch my video and please leave a comment on how I can improve my videos in the future.
Graft website: https://www.graft.network
---
Graft pools:
https://graft.spacepools.org
http://us.pool.graft.network USA/NA
http://eu.pool.graft.network Europe
---
Timeline so you can skip ahead
---
0:00 / 1:34 Dtube introduction and graft explanation.
1:35 / 5:25 Cryptonote easy miner AMD and Nvidia CPU's setup. https://tinyurl.com/cryptonote-easy-miner
5:58 / 7:09 Claymore Cryptonote CPU miner setup. https://tinyurl.com/claymore-cpu
7:10 / 8:27 Claymore Cryptonote AMD GPU miner setup. https://tinyurl.com/claymore-gpu
8:28 / 11:55 ccminer Nvidia GPU setup. https://tinyurl.com/ccminer-nvidia
pending balance not updating check this part of the video 5:28 / 5:52
---
Batch file for ccminer, ccminer-x64.exe -a cryptonight -o stratum+tcp://pool.graft.spacepools.org:3333 -u YOURWALLETHERE -p x
---
▶️ DTube
▶️ IPFS