Hello World!!

I want to use this opportunity to introduce @steemjetcharity to the steemit ecosystem and to the whole crypto universe.
Some times, I ask myself "Why do we exist?.. Where do we exist? And How do we exist?
I will try as much as possible to make this post Constructive, Precise and Aim-descriptive
I felt so bad after finding out last years almost immediately after my Birthday Celebration that my Birthday 5Th September is a very remarkable day in the whole world. It is actually the day the whole world celebrate CHARITY... I was dim not to know on time... My bad🤦‍♀️🤦‍♀️🤦‍♀️🤦‍♀️.. I have actually thought of this initiative long ago but i wanted to introduce it close to my birthday 5Th September.

I was always motivated by the words of #steemjet sponsor @dimimp
Steemjet is the world's first and largest humanitarian-charity with on-chain accounting.!!!
Find it here!!


It is never too late to start, I discussed this initiative with most of my team and friends in the platform(@lifeofdarlington, @kristenantia01, @yungchief, @gutzygwin @empato365) and their advises motivated me and i decided to start @steemjetcharity. I actually dedicated or named this initiative after #steemjet community sponsored by @dimimp because the family has supported my talent so much that i can't thank them enough; they are actually the ones that has brought me this far. Please accept my profound gratitude and sincerest appreciation.

AIM
It is very obvious that too many lives in this world actually needs help to survive.. This initiative is aimed to touching lives(being the reason behind someones smile).... It is very practical that Human want is freaky unsatisfactory but me and you cold still be the reason why some saddened face smile again. Our Aim;
1 To visiting Hospitals in local areas and payout the bills of some hopeless patients as much as we can..." IT IS POSSIBLE.


Image source
2 Some areas in the hinterlands has not clean water to drink(someone may ask me "Am I the State Government?) But still to drill a Bore Hole is actually less than $1000. which most of us can personally afford... IT IS POSSIBLE

3 Some People live in a perforated and wretched houses, which Hurricane and cyclones has keep in the figure that only the structure differentiate it from an open space. With you and me, we can actually buy some piece of zinc to help fixing the wholes. IT IS POSSIBLE
4 Many kids in the rural areas study without writing materials and on a tattered school uniform( some one may ask. how do we achieve all these?) But remember.. we can not start, until we start . We will patch this cloths for them and buy materials as much as we can. IT IS POSSIBLE

5 Visiting the Charity Homes (Motherless Babies Home) and assist them with their daily needs as much as we can. Me and My friends has actually made this move before now but was hooked because of fund. I promise to Cary this team along in this project !!! Never give in!!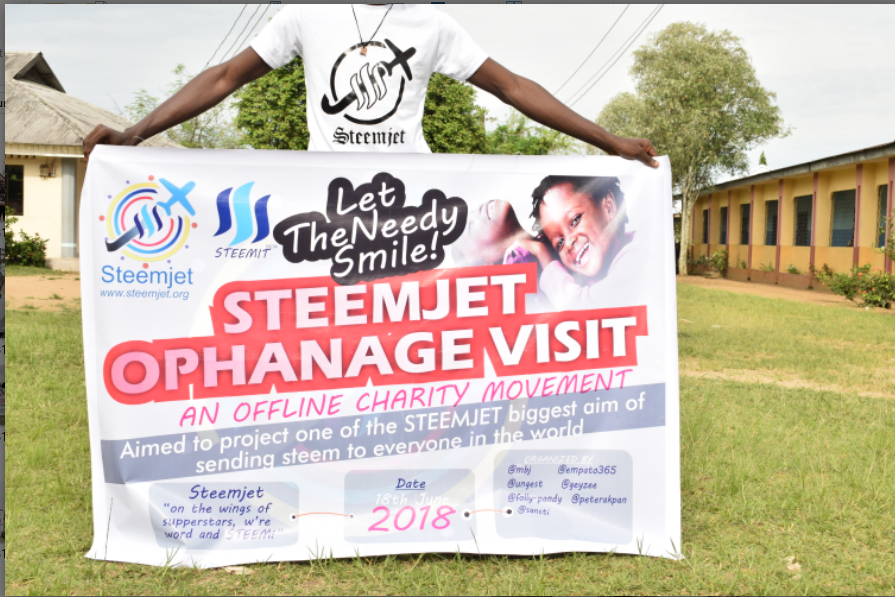 If I starts listing them all here, then this page won't be enough
HOW WE WILL WORK
On every move we make, a post will be published on this blog with a short video of the event.
CALL FOR SUPPORT
_
We appeal to everyone on the Steemit platform to support this initiative no matter how little. Your little support may be what will give that young boy hope to continue living.!
Whatever support we are getting should be in liquid steem and should be sent to this account @steemjetcharity. We would have preferred a little delegation, but waiting for a period of 7 days for post payout is quite long. Any minute wasted doing nothing someone out there is closer to his grave, so why wait and do nothing when you could actually put a smile on somebody's face. What good is life if we can't make people around us feel happy?
_
We need all the support we can get to carry out this project, it's not an easy task but we can start from somewhere, we can help make peoples dream come true.
SPECIAL CALL FOR SUPPORT
We hereby call on the almighty @dimimp, the sponsor of the world's first and largest humanitarian-charity with on-chain accounting #Steemjet!! to help us!!! Sir please let it not look as if we are demanding!! WE CAN KICK-START THIS PROJECT WITH AT LEAST #5000 STEEM FROM YOU SIR!! AND PROBABLY HELP FROM OTHER STEEMIANS WHO WISH TO HELP. AND VOW TO USE IT FOR WHAT IT IS AIMED.
We will keep you updated through post with videos about all out visits, sir @dimimp, We may not be able to complete this mission without your support!!!

Again!!
Anyone who wish to support us should send their tokens to @steemjetcharity, remembered!! nothing is too small!!


Final Word
Remember, If you give a poor child and grain of rice!! He/She can never remember to forget you!!

If you wish to join the TEAM.. please let us know so that we will keep you posted about the movements!!

THANK YOU ALL AS WE LOOK FORWARD TO HEARING FROM YOU

Be that as it may, the richest soil uncultivated produces the rankest weed!!!


May Good God help us in this journey of no personal profit!!!
I am still you boy @mbj