The nerves get to the markets as more China companies get blacklisted. Time to raise cash mostly in insurance (against the flow) with some in Japan and Europe. Back onto the corn futures wagon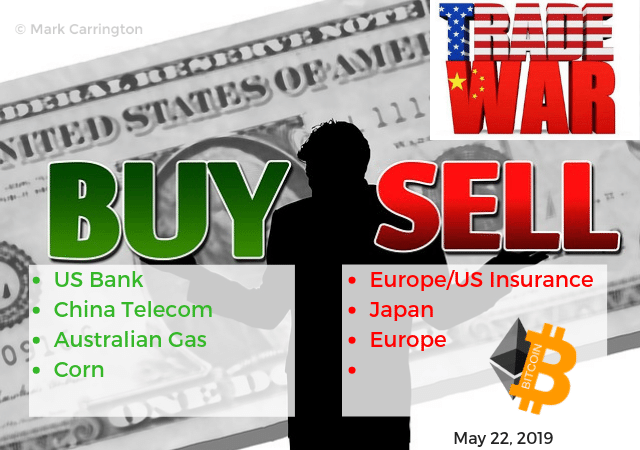 Portfolio News
Market Rally
Markets are jittery but not panicking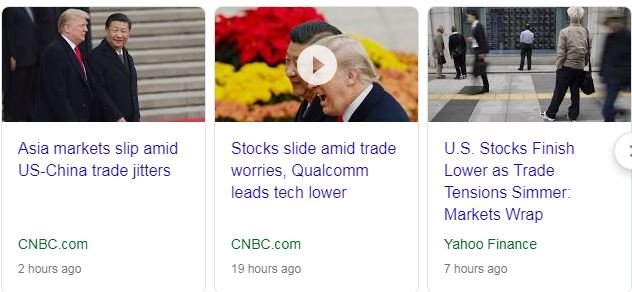 The war of words on trade continue. Premier Xi says China is doing another Long Road campaign. The last time they did that it was Chairman Mao and the results were amazing. The big difference between China and Western politicians. China can do a "long road" - the West cannot. Donald Trump has until November 2020. Emmanuel Macron has until European elections on Sunday. A bit concerning for my portfolios is the slide in oil prices - the global growth worries are coming back
I am sure pleased I exited Qualcomm (QCOM) in the Monday selloff with an antitrust court ruling smashing price down 10.86% = lucky escape for me.
Britiain Bumbles
Not a lot to add to the headlines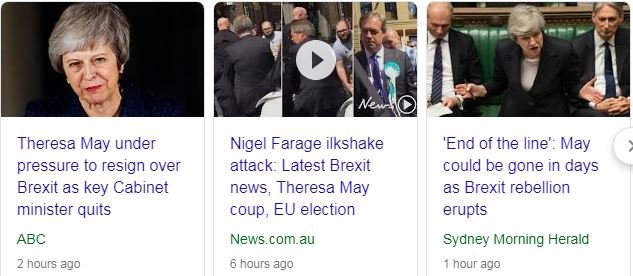 Thesesa May makes the last gasp bid as a Remainer to get an Exit plan passed. Losing her House leader, Andrea Leadsom, is not good news - the British Pound pumps below the Brexit lows some more BUT not at its worst for 2019 yet.
L Brands (LB)
It took more than push up bras to bolster the earnings of portfolio holding, L Brands, with price popping 12.74% in after hours market.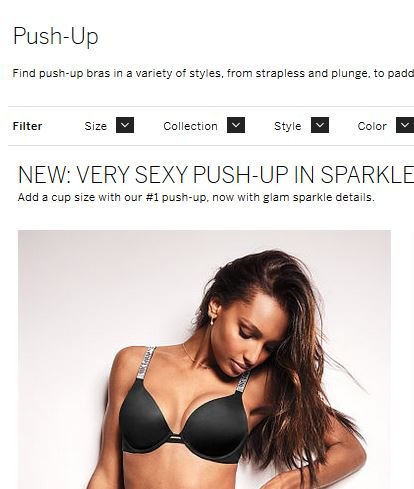 It was the beauty business driving results. I had looked earlier this week to add LB to my covered call list with a 10% margin. I knew earnings were coming along and I held off. Tonight.
https://www.victoriassecret.com/vs/bras/push-up
Insurance
Insurance stocks have been holding up through the selloff and is why I picked them as candidates for sales.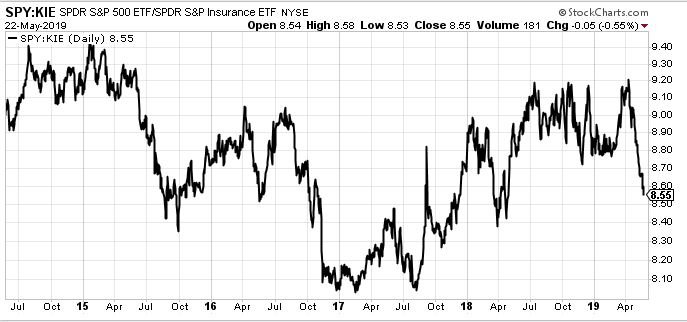 A quick step back using buy:sell charts of the insurance sector using iShares Insurance ETF (KIE) and SPDR S&P500 ETF (SPY). [Means: Buy the first named stock and sell the second named stock. If the chart goes up the first named stock is outperforming. If the chart goes down the second named stock is outperforming]
This ETF is equal weighted making it a good representation of the whole sector. For two years from 2017 the sector under-performed with a few attempts at fighting back. Since the start of the recent selloff it has begun to outperform. I have noticed this in my portfolios with prices of insurance stocks making 52 week highs periodically.
Insurance profits are driven by underwriting income, which rises when economies grow, and investment income, which rises when markets grow. Hidden beneath investment income is a requirement to hold high levels of fixed interest securities, which fall in value when interest rates are rising. The drop in US interest rates since January 2019 has underpinned insurance investment income.
The next buy:sell chart looks at a market capitalisation weighted ETF (SDPD Insurance ETF (IAK). This shows the same patterns with a much more marked turnover.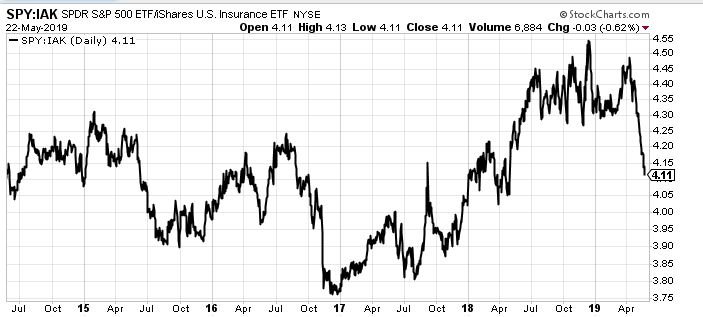 Do take note of the numbers on the right hand column 8.10 to 9.20 for KIE and 3.75 to 4.50 for IAK. That is the percentage improvement of buy stock (SPY) vs the sell stock (KIE or IAK). The equal weighted ETF (KIE) has done half as well as market capitalisation weighted ETF (IAK). This tells me that the bigger insurance companies have done proportionally better. A stock picker could now step into IAK and identify prospective laggards and invest specifically in those.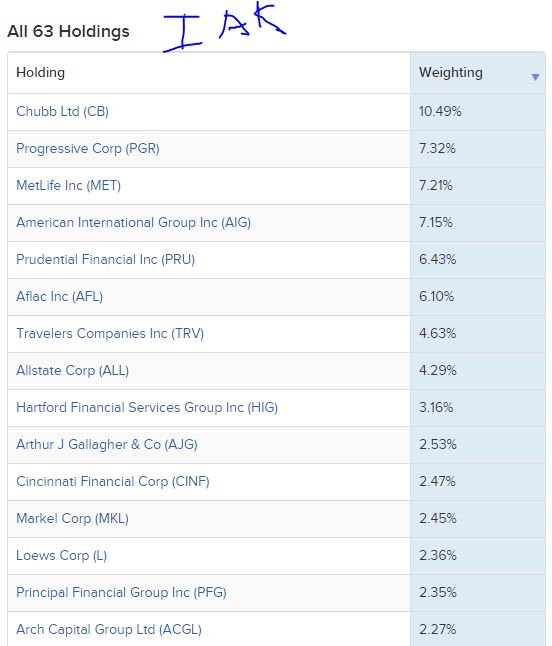 Bought
Goldman Sachs (GS): US Bank. With price dropping below tangible book value per share, I added a small holding to average down my entry price in one portfolio. Ex dividend date is May 29 and will pay $0.85 per share. Idea from Jim Cramer.
Leigh Creek Energy Limited (LCK.AX): Australian Gas. Price dropped 15% when the ASX questioned a gas reserves report. The reply from the company tells me that the ASX person does not understand the oil industry and its methods at all - nor does the broader market who panicked. I read the query and the reply and averaged down my entry price to capture some of the slide.
China Mobile Limited (941.HK): China Telecom. Been watching the charts for a while to see when price is going to make a bottom and reverse. Today was the day with price reversing off the lows and making a higher high. I averaged down my entry price with a doubling of position though position is well below standard size.

Too bad that today's price action looks like it wants to test that low again (red and white number on chart)
Corn Futures (CORN): I could not help myself and I replaced one contract on a reversal on a one hour chart. The hour after trade entry and action overnight made me look totally stupid by bedtime. I looked less bad this morning at market open.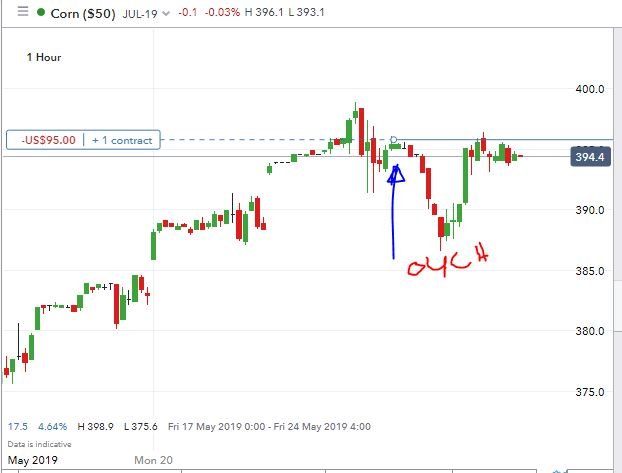 Sold
Most investors are not good at taking losses. I am one of those. Time to step up and release capital to fund better opportunities. I have a large slug of unpaid university fees to cover for two of my (now adult) children before June 1, when they get indexed again. That feels like a better opportunity than the current markets. Here we go on the SELL button.
Vodafone UK (VOD.L): Europe Telecom. Initially bought on a Price to Book valuation less than 1 and as a credible number 2 to British Telecom in UK and somewhat hedged against the British Pound. Nothing really worked as they kept acquiring and not building profits. 37% loss since December 2016. This closes out the last British Pound position in this portfolio leaving cash to be be spent when I visit UK in July. I do retain this in one other portfolio.
Zurich Insurance Group AG (ZURN.SW): Swiss Insurance. Closed December 2019 strike 320 call option for 23% blended profit since March 2015/January 2016. The March 2015 contract was a loser with the January 2016 one a 189% winner. Price has been hovering around and over SFr 320 for some time now - time to exit as time is running out. And my wife's job is transferring to Zurich Insurance end of May, which means I could become restricted from holdings.
Wisdom Tree Japan Hedged ETF (DXJ): Japan Index. In one portfolio I am holding this ETF and the Wisdom Tree Japan Small Caps ETF (DFJ) and some individual stocks. The small caps ETF is 64% profitable. I still believe in the Japan story and felt that small caps would survive the trade war better than large caps so I exited large caps for 3.6% loss since July 2014. That has been a long road.
SPDR Stoxx 50 Europe ETF (FEU): Europe index investing has been a story of being dragged down by the banks and negative interest rates. I am out of patience and closed the last index ETF holding in this portfolio for 2.6% profit since November 2012.
American International Group, Inc (AIG): US Insurance. 13% blended loss since February 2015 and January 2017. Part of this holding came from an options assignment at $65 vs trade price of $52.45. Lesson in there - sell the stock and take the loss on the options contract rather than try to ride it out. Dividend yield has been 2.6%.
Axa SA (CS.PA): French Insurance. 13% loss since January 2018. This holding came from an options assignment at €25 vs trade price of €22.40. A different lesson - this purchase happened before Axa acquired XL Group which the market hated at the time. I have retained 200 shares to see if patience is the lesson.
Cryptocurency
Bitcoin (BTCUSD): Price range for the day was $544 (6.7% of the high). The bad old days of 7 to 8% volatility are back. Price chooses to drop through support at $7761 and test lower. Next level down is $7322. The Craig Wright noise does not help.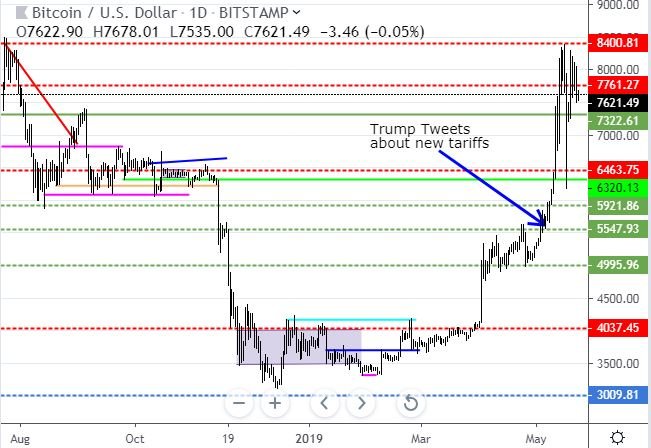 Ethereum (ETHUSD): Price range for the day was $21 (8% of the high). Price seems to be making its mind up about direction favouring going down to support but still stuck between two levels. Feels down is the thread.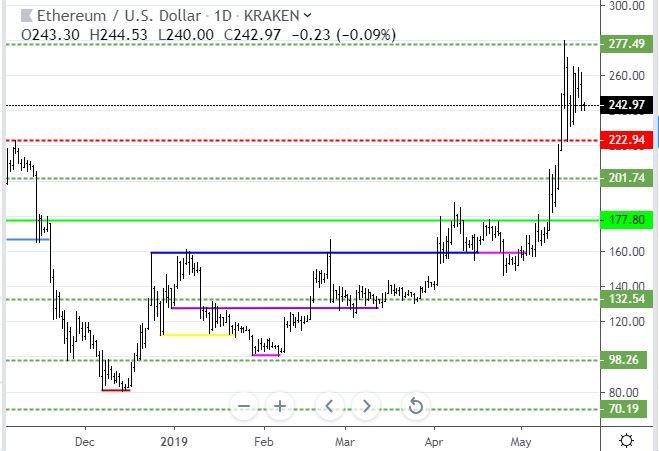 CryptoBots
Profit Trailer Bot One closed trade (1.58% profit) bringing the position on the account to 7.93% profit (was 7.91%) (not accounting for open trades).

PT Defender continues defending 13 coins. Not fully fixed yet. KNC trade is a PT Defender trade
New Trading Bot Trading out using Crypto Prophecy. No closed trades
Currency Trades
Outsourced MAM account Actions to Wealth closed out 5 trades on GBPNZD, CADJPY, EURUSD, GBPUSD for negligible profits for the day. The trader finally shifted to selling GBP to make profits. Trading looks a bit flip-flop to me. Trades open on CADJPY and XAUUSD (breakeven)
Cautions: This is not financial advice. You need to consider your own financial position and take your own advice before you follow any of my ideas
Images: I own the rights to use and edit the Buy Sell image. News headlines come from Google Search. Bra and ETF mix images are credited below images. All other images are created using my various trading and charting platforms. They are all my own work
Tickers: I monitor my portfolios using Yahoo Finance. The ticker symbols used are Yahoo Finance tickers
Bitcoin: Get started with mining Bitcoin for as little as $25 http://mymark.mx/Galaxy
May 22, 2019