About 1 month ago, the mainstream media were all talking about a possible recession. The yield curve inversion was a hot topic. The search terms "yield curve inversion" and "recession" surge to multi-year high on Google Trends.


Source
If you are not one who follows the stock market closely, you probably still have the impression that it might be taking a hit. Yes, the S&P 500 index did take a hit in August and dipped almost 7%. However, things have changed recently and the market rallied strongly in the past 2 weeks. What is going on? Despite all these chatters on a possible recession, I think we still have one last run left in the stock market. Here is why...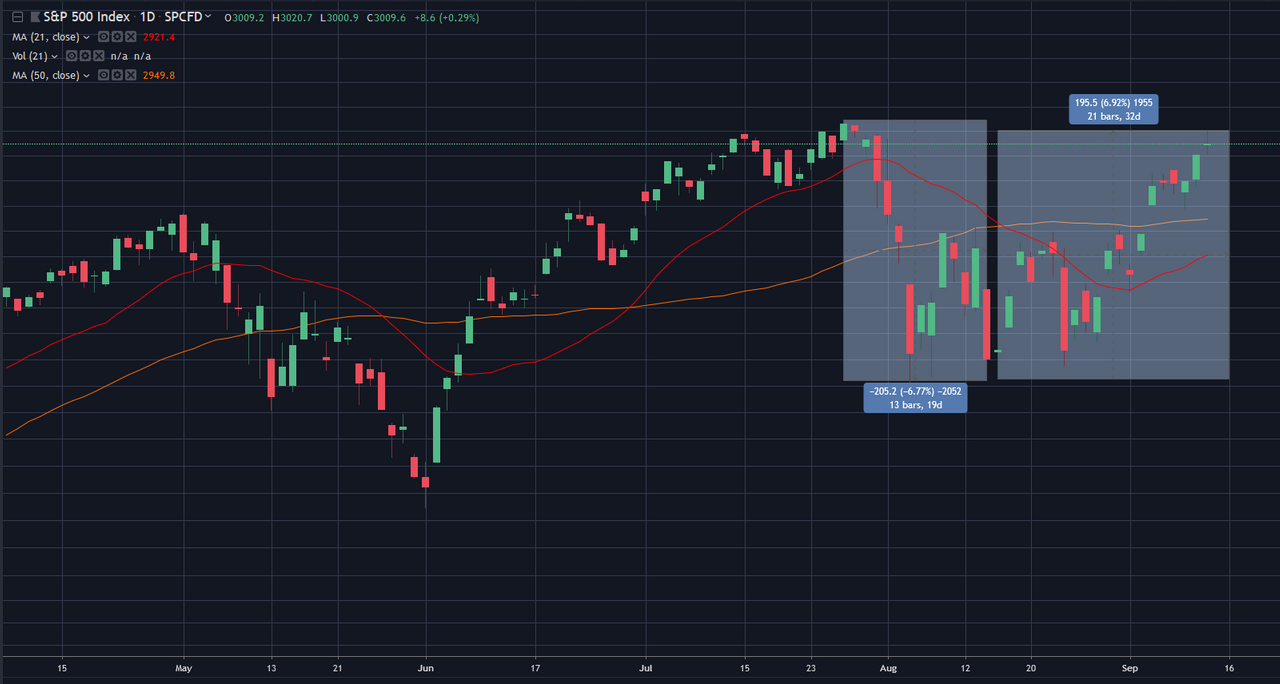 Source
---
Yield curve inversion? Yes, but there is always a lag time
The inversions of the 10 year yield curve and the 2 year yield curve have been pretty accurate predictors of recessions. An inversion can mean that investors see more risk in the short run than the long run. Therefore, it is usually a sign of near term weakness and eventual slowdown to a recession. However, it is important to note that there are usually a 6 months to 2 years gap between each inversion and recession.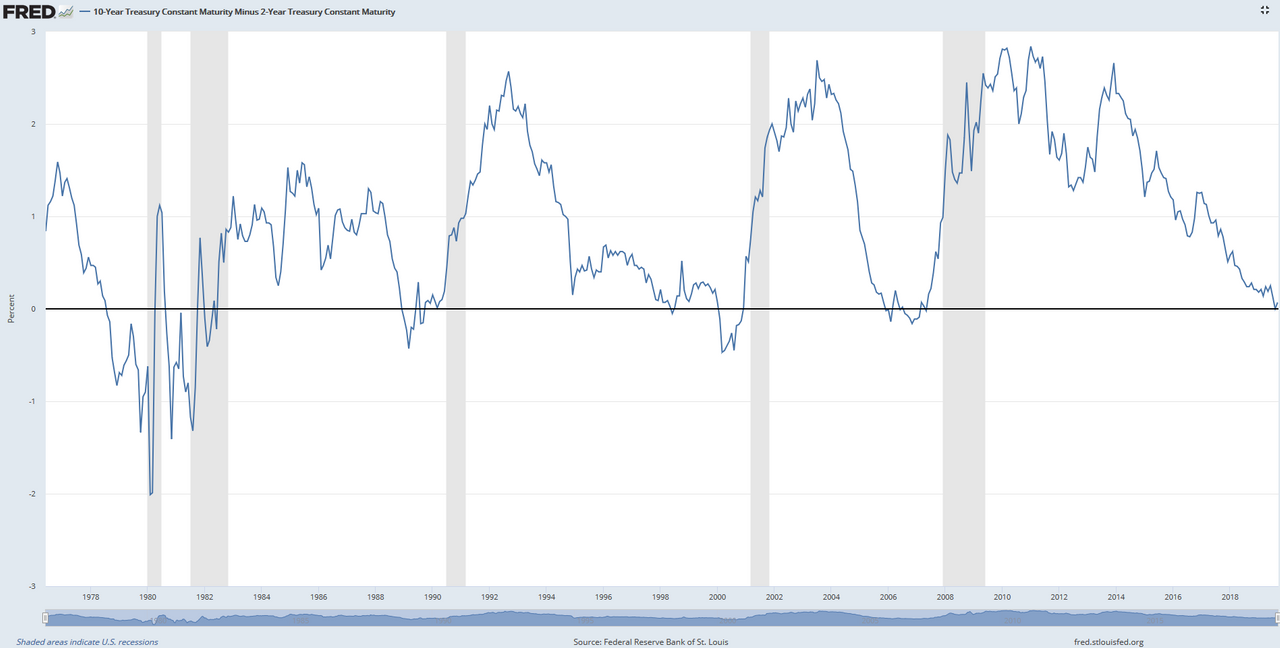 Source
In addition, from the graph above, the yield curve has barely inverted this time round. All previous recessions are preceded by a clear yield curve inversion. Hence, the mainstream media are kind of overplaying the event. For what reason? Hmm... I might have a possible explanation which I will cover later, so please read on.
---
There is still room for Feds to lower interest rates
The US Federal Reserve interest rate is currently standing at 2.25%. It is still near historical low but there is still room to go lower. And as long as it can still go lower, the Feds will be pressured to do it. Even though lowering rates may not necessarily avoid a recession, why would they take the risk of not lowering rates and get blamed later if there is one? In fact, US President Trump recently tweeted and suggested that the Feds should introduce negative interest rates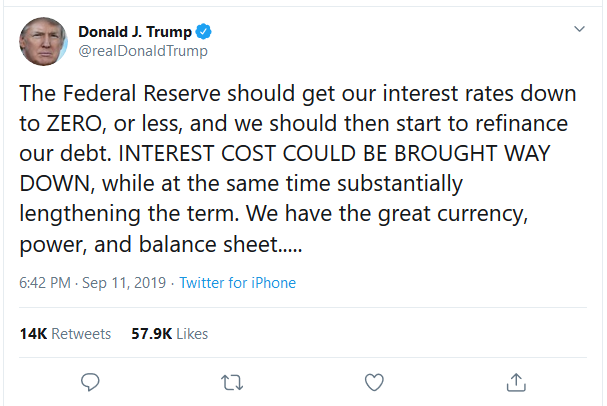 The stock market will take the lowering of interest rates as a buoyant news and rally on it. The fact that there is still much room to 0% interest rate, I think the stock market will continue to be pushed up by the lowering of interest rates.
---
Trade war is all within Trump's game plan
If you are in Trump's shoes, what will be your primary concern? Will it be the US economy? Will it be the increasing wealth gap? Will it be the affordability of basic healthcare and education? Probably not. I think what is on the top of Trump's mind is the 2020 Presidential Elections.
Trump's approval rating is not great and he knows it. From the aggregated poll on FiveThirtyEight.com (screenshot below), it is clear that he is not that popular. The worse thing that can happen right now is a recession which may dampen his chance of getting his second term.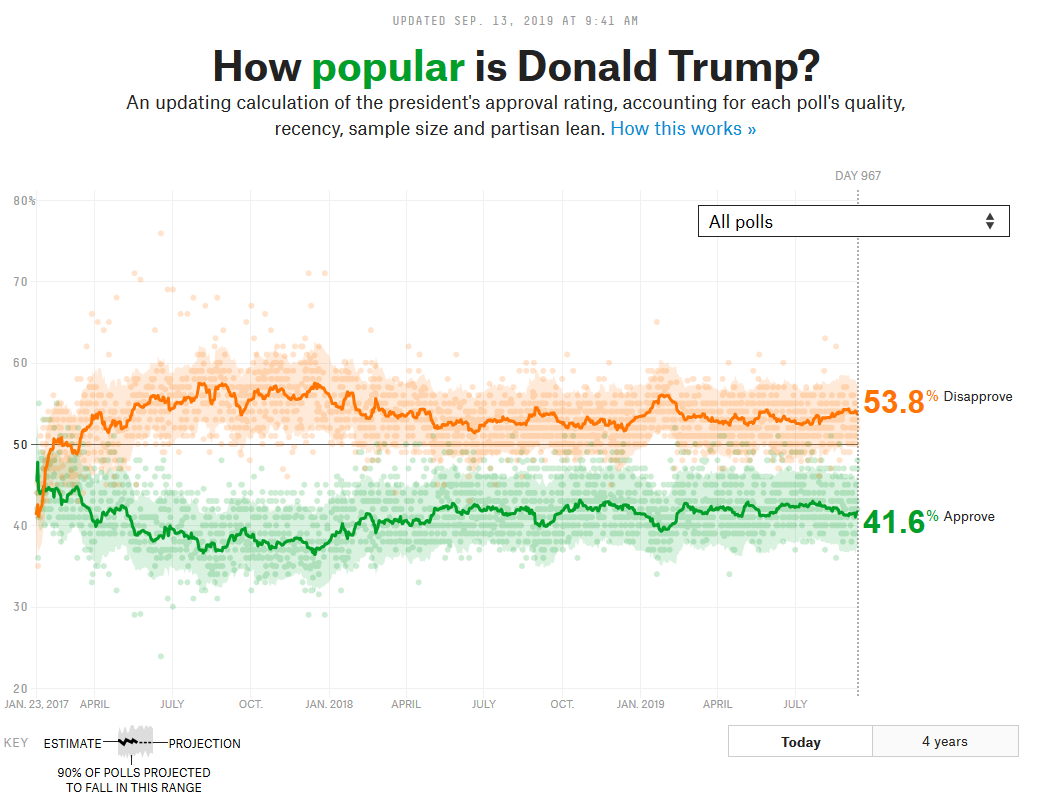 Source
However, Trump is a shrewd businessman and he knows what he can and cannot do. He knows the cards he can play to at least kick the can down the road so that the recession doesn't hit him before his second term is secured. We know that he cannot directly order the Federal Reserve to lower interest rates. However, he can at least show his displeasure on Twitter and add on some pressure. Besides that, he can also play the game of trade war to create a sense of danger. A threat that might cause the US economy to slowdown leading to a recession. With this potential threat, he gives the Feds all the reason to lower interest rates.
Hence, I think the trade war is all in Trump's game plan. Not only does it create the sense of danger which aids Trump to manipulate the Feds, it also serves as a diversion from media attention of his lack of accomplishment in his first term. If all these go according to plan, I think the stock market will continue to scale higher until the end of 2020, giving Trump a boost for his bid to be re-elected.
---
Smart money are moving in
I remember seeing a quote circulated online which says,
"Don't listen to what people say, watch what they do"
It is from an unknown source, but it makes a lot of sense. When there were a flurry of negative news in the middle of August, the stock market, despite being volatile, did not suffer a huge drop. This indicates a dissonance between news and the market action. Why? I have a conspiracy theory. I think the mainstream media were deliberately led to focus on negative news so that smart money (large financial institutions) can move in to buy stocks at a bargain.
Based on this article, we are seeing the smart money flow index rising since the start of 2019. This coincide with the correction in late 2018. Always remember that the smart money have more information that common folks like us. Hence, it is always wise to focus on what the market is doing than what is reported on the news.
In addition, according to Alessio Rastani (an technical analyst on Youtube that I am following), the smart money is heavily shorting gold. Gold is usually the default safe haven asset when the stock market is not doing well. If the smart money is shorting gold, that means they are expecting gold price to drop which naturally implies that stock is likely going to rally. Below is the video where Alessio discussed about this.
In this situation, my hunch is telling me the smart money are accumulating since January 2019 all the way till last month. The last month dip was just created for the smart money to accumulate further. Potentially, this might be the final stage of smart money accumulation. The next phase will be for mainstream media to start focusing on some positive news and slowly let the FOMO seeps in. When the FOMO is at the highest, that is when the smart money will sell.
---
Conclusion
With all these being said, I am not saying that the global economy is rosy and well. I think stocks are still very much overvalued and I stand by the analysis I made last year. A slowing economy does not always immediately lead to a stock market crash and that is what I think is happening. However, as the can is kicked further down the road and the bubble gets bigger, I expect the next crash to be as bad or even worse than 2007/08. Even though I think the stock market can still run up for a while, I am also being cautious not to chase it too much as any black swan event can suddenly result in a drastic move in the market.
By the way, this is not a financial advice and I am not a qualified financial adviser so please take this article with a pinch of salt. I will love to hear what are your thoughts on this.
---
The "Raise to 50" Initiative
Under 50 SP and finding it hard to do much on this platform? I might just be able to raise your SP to 50. Check this post to find out more!
---
This article is created on the Steem blockchain. Check this series of posts to learn more about writing on an immutable and censorship-resistant content platform: