Today, MONEYNET would like to share a story from GOSNU.B, one of our MONEYNET community users, that has been gaining a considerable amount of attention this week. If you have any ideas you want to share or further questions regarding the article, please ask in the comment section below.

Why I invested in MONEYNET and what I expect
Translated from GOSNU.B's posting
Link:https://www.moneynet.co.kr/free_board/3814246
I'm sure you guys all heard about Moneynet, at least once, if you are a crypto-investor in South Korea. (FYI:Korean cryptocurrency community website) From the very beginning of the 'crypto-boom' until now, Moneynet has been helpful both for so many people who want to learn what cryptocurrency is as well as to serious investors looking for data, latest news and advice.
In the meantime, Steemit became the world-wide No.1 crypto-social media — taking over from where Reddit was, particularly in North America — with features like speed, voting systems as well as incentives for content quality. Finally, the market capitalization of Steemit ranked top 37th with $225,750,610 USD (35,195 BTC) as of Sep 20th, 2018. (coinmarketcap.com)
Who could even possibly imagine that? I'm not saying that MONEYNET will turn out exactly as Steemit did. What I'm saying is that, with features and potentials like what Steemit has — which MONEYNET converted and localized into Korean style based on MONEYNET's own values and loyalty from existing users — it surely will bring people that has never used to before.
MONEYNET has been reliable by showing its achievements and solutions, not to mention that it will be listed on a South Korean cryptocurrency exchange next month. Once it's listed, I think it's just a matter of time before it becomes the major platform replacing other traditional social media platforms in Korea.
Check these out below from Coinpredictor.io. MONEYNET's growth value(%) is way higher than key competitors' (such as UUNIO, Foresting) in the media & platform industry sector in South Korea.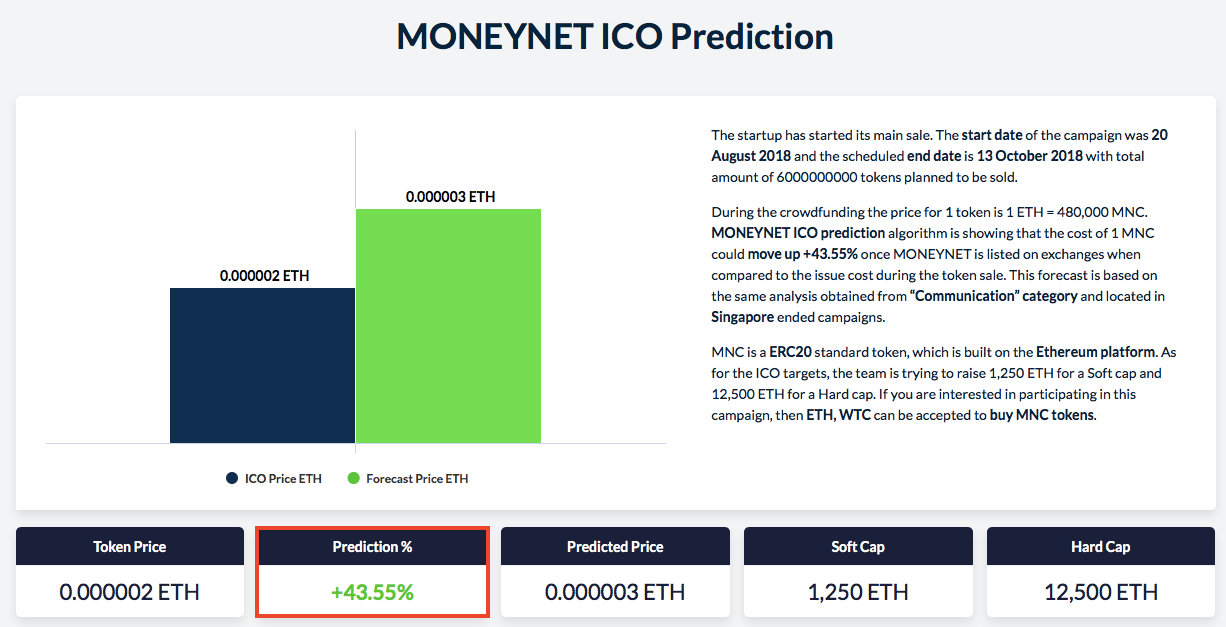 MONEYNET ICO Prediction (Coinpredictor.io)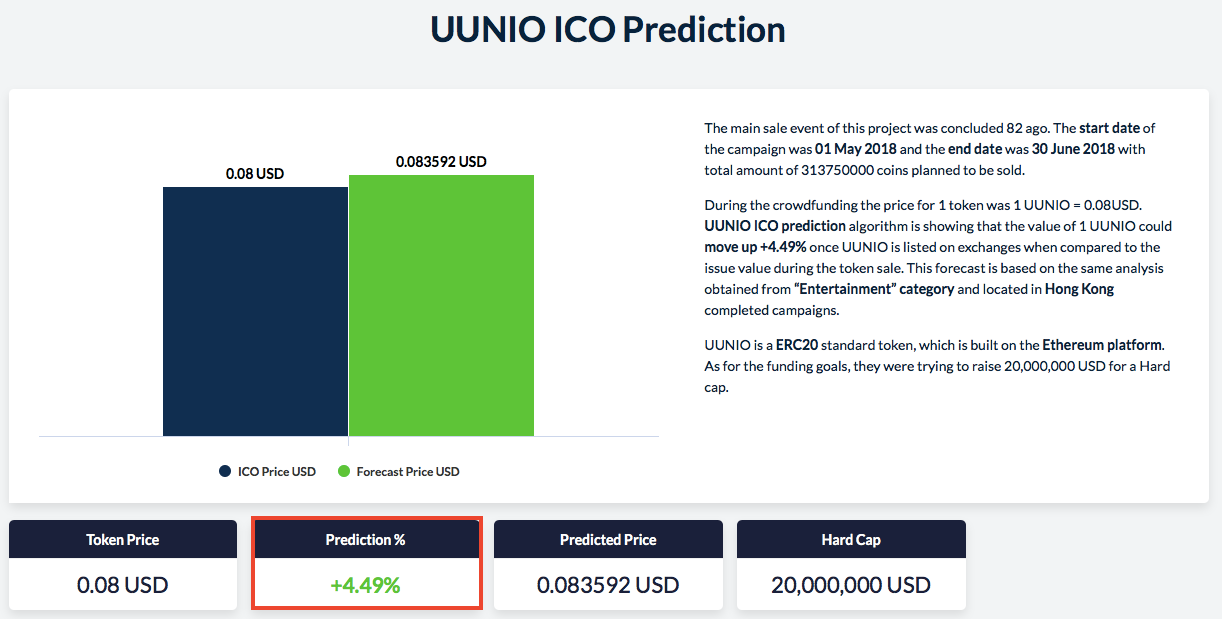 UUNIO ICO Prediction (Coinpredictor.io)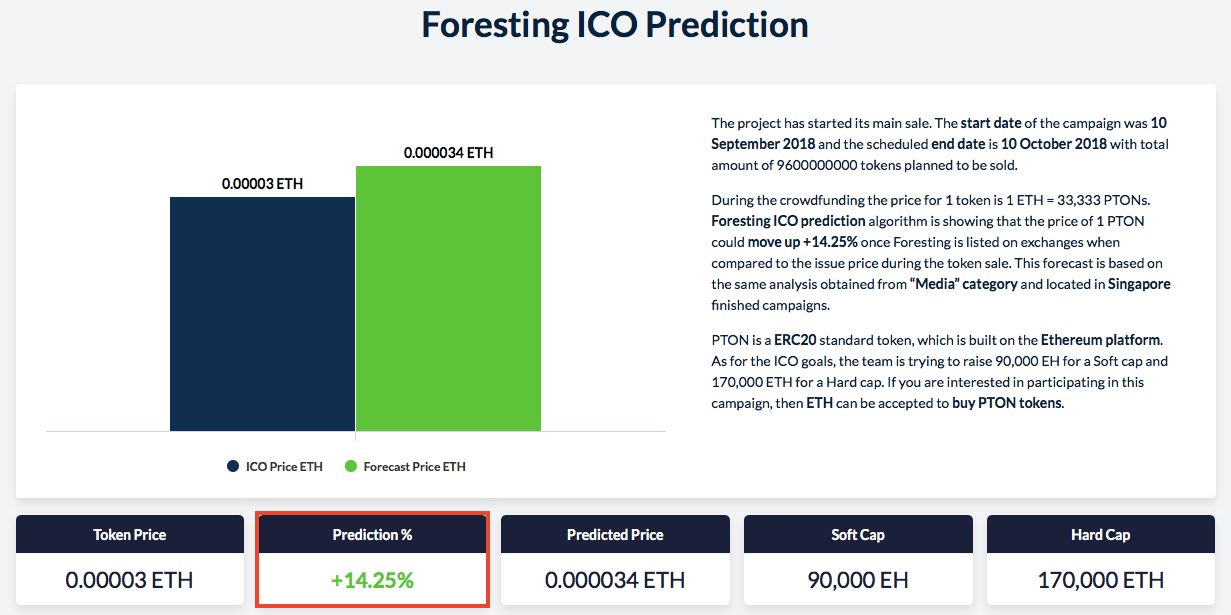 Foresting ICO Prediction (Coinpredictor.io)
What I think we need to see is, most importantly, whether it's ready before we invest. Competitors like UUNIO and Foresting are launching ICO to raise funds, so that they can provide the social media platform which Moneynet already has. Well, Moneynet already has the platform and mobile app as well as users. I honestly think competitors providing similar service in South Korea cannot really compete with MONEYNET ICO, when it's confirmed that MNC will be listed while other competitors are still in the process.
There will be obstacles, for sure, like regulatory issues or hacking/scamming risk, just like any other crypto and ICO investment risks that investors should be aware of. However, it wasn't always easy either for companies like AfricaTV and YouTube to grow, especially in their early phases. Who knew that these can be as successful as they are now? And those who could see the potentials and opportunities? Only those few people could make profits by investing in the right company at the right time.
As one of many serious and experienced investors, I've been asked why I chose MONEYNET. Here's what I think: When you can see the potentials and opportunities for growth, dealing with high risk, you finally deserve the high return. Of course, you need to have the right information and data resources to make the right decisions. I hope this helps answer your questions. Wish you all the best!