Even fun players would say yes, intuitively. This hand kinda plays itself. But how do we prove it with numbers?
Anche per chi gioca a poker per divertimento, la risposta, intuitivamente, sarà si. Questa mano si gioca da sola. Ma come lo dimostriamo matematicamente?
---
The Hand
La mano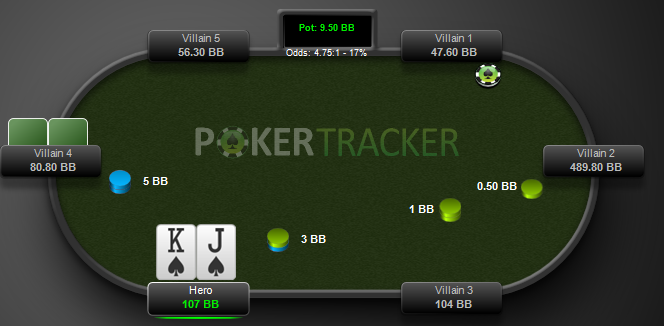 I open KJs UTG for 3bb, totally standard. MP (unknown player) 3bets us to 5bb. Everyone else folds. I'm never folding to mini-raises preflop, even with garbage like T7o, it would be too weak, plus pot odds are great (17%).
Apro KJs, primo a parlare, per 3bb. Ci tribetta un giocatore sconosciuto, fino a 5bb. Tutti gli altri foldano. Non foldo mai a un mini-raise preflop, neanche con mani spazzatura tipo T7o, sarei troppo exploitable, in più le pot odds sono fantastiche (17%).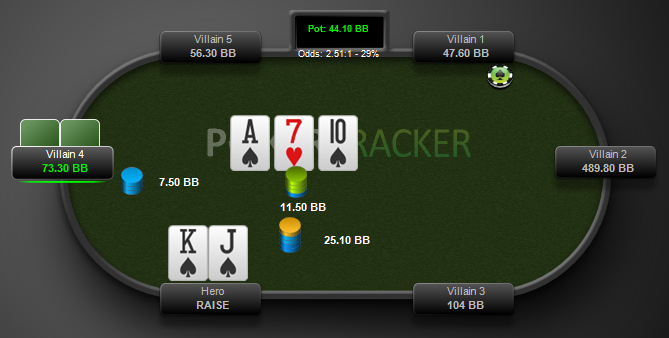 Flop is one of the best in the world. We can make the nut flush draw with 9 spades cards, and the nut straight with 3 queens (3, not 4: don't count queen of spades twice). With 12 outs on the flop, we have about 12x4 = 48% equity against out opponent.
So we check-raise him. I honestly hope he goes all-in, but he calls.
Uno dei flop migliori al mondo. Possiamo fare colore nuts con 9 carte di picche, e scala nuts con 3 donne (3, non 4: non contiamo la donna di picche due volte). Con 12 out al flop, abbiamo circa il 12x4 = 48% contro il nostro avversario.
Quindi lo check-raisiamo. Onestamente spero vada all-in, ma si limita a chiamare.
If he went all-in, we would be at 41% against his strongest range, with great pot odds to call:
Se fosse andato all-in, saremmo stati al 41% contro il suo range più forte, con ottime pot odds per chiamare:



(calculation with free software Equilab)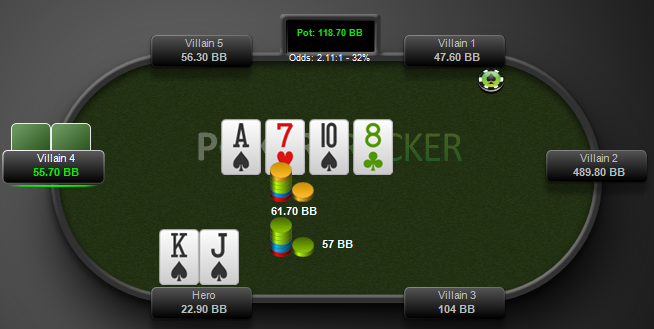 Turn is a 8, not the best card, but a great one. Cause now we make a straight with a 9, adding 3 outs to our hand. 15 outs at the turn = 15x2 = 30% equity. We shove for about a pot-sized bet. Of course it's the right play, but how much right?
Il turn è un 8, not la carta migliore, ma un'ottima carta comunque. Ora possiamo fare scala anche con i 9, aggiungendo altre 3 out alla nostra mano. 15 out al turn = 15x2 = 30% equity. Andiamo all-in per poco meno del piatto. Ovviamente è la giocata giusta, ma quanto giusta?
---
We need a free Fold Equity Calculator: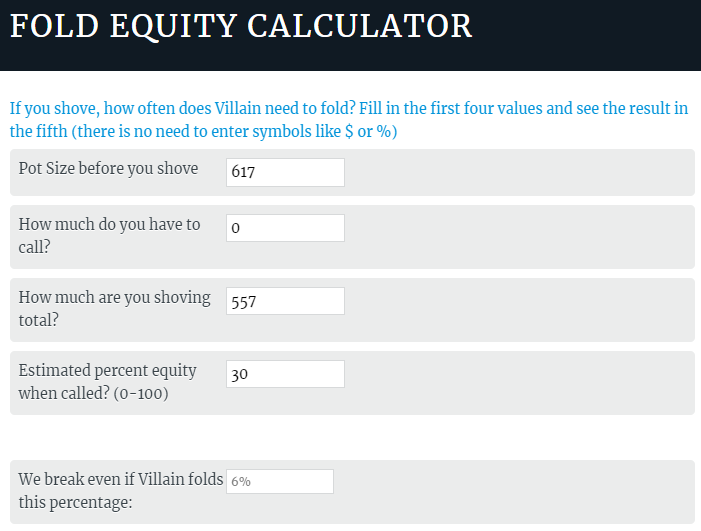 Se l'avversario folda il 6% o più, la nostra giocata è profittevole
6% means he can even call with most top-pairs and we'are printing money. And let's consider he would be in a tough spot here. I think I would fold AJs here.
Vuol dire che anche se chiama con la maggior-parte delle sue top-pair (un asso) stiamo stampando soldi. E consideriamo che è in una situazione abbastanza difficile. Penso che folderei AJs qui.
---
Result / Risultato