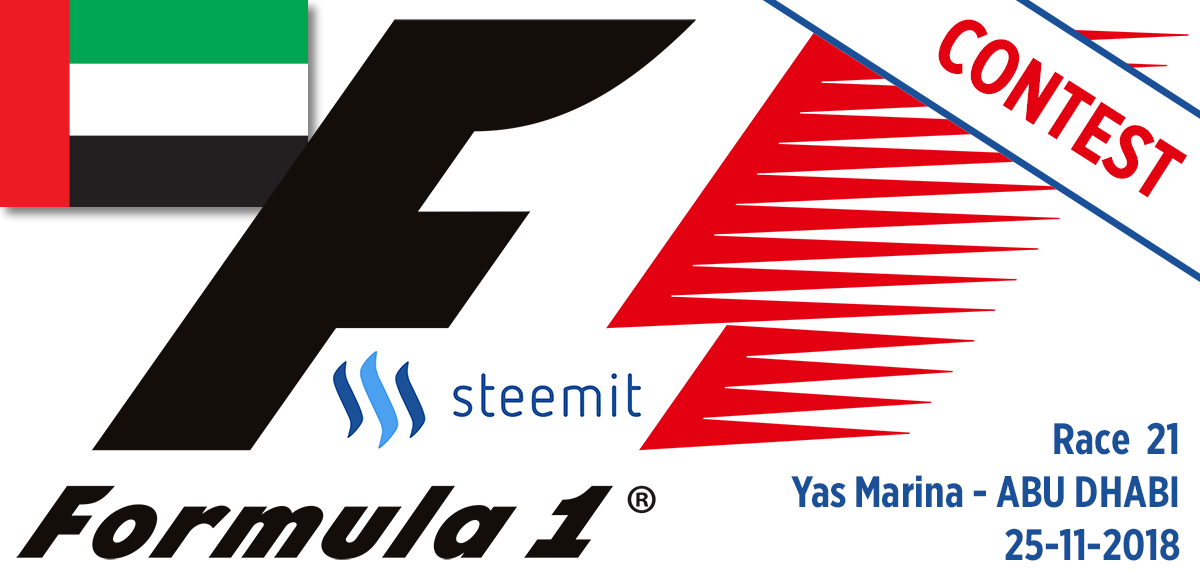 | GP | 1° | 2° | 3° |
| --- | --- | --- | --- |
| Abu Dhabi | - | - | - |
| Brasile | Hamilton | Verstappen | Raikkonen |
| Mexico | Verstappen | Vettel | Raikkonen |
| USA | Raikkonen | Verstappen | Hamilton |
| Japan | Hamilton | Bottas | Verstappen |
| Russia | Hamilton | Bottas | Vettel |
| Singapore | Hamilton | Verstappen | Vettel |
| Italy | Hamilton | Raikkonen | Bottas |
| Belgium | Vettel | Hamilton | Verstappen |
| Hungary | Hamilton | Vettel | Raikkonen |
| Germany | Hamilton | Bottas | Raikkonen |
| Great Britain | Vettel | Hamilton | Raikkonen |
| Austria | Verstappen | Raikkonen | Vettel |
| France | Hamilton | Verstappen | Raikkonen |
| Canada | Vettel | Bottas | Verstappen |
| Monaco | Ricciardo | Vettel | Hamilton |
| Spain | Hamilton | Bottas | Verstappen |
| Azerbaijan | Hamilton | Raikkonen | Perez |
| China | Ricciardo | Bottas | Raikkonen |
| Barhain | Vettel | Bottas | Hamilton |
| Australia | Vettel | Hamilton | Raikkonen |

GP di Abu Dhabi, Yas Marina
Siamo arrivati anche quest'anno all'ultima gara del campionato di F1, ad Abu Dhabi, sul circuito di Yas Marina.
Forse il più bello e spettacolare dei circuiti "moderni", l'unico in cui la gara inizia con la luce del sole e termina dopo il tramonto.
È una pista completamente pianeggiante, realizzata a livello del mare.
Con il campionato piloti ormai vinto da Hamilton e quello costruttori dalla Mercedes, le squadre migliori non hanno granché su cui gareggiare. Discorso diverso invece per i team minori che cercano ancora di conquistare gli ultimi punti per la classifica finale.
Qui la Ferrari non ha mai vinto, e le Mercedes hanno dominato le edizioni degli ultimi anni.
Sarà la "solita storia" anche questa volta? Gustiamoci l'ultima gara per scoprirlo.
---
Regolamento del concorso
Dovete upvotare il post manualmente almeno al 50%.
Resteem non obbligatorio, ma ovviamente può aiutare a far aumentare il valore del post portando nuovi concorrenti.
Si raccolgono qui, commentando, i pronostici per i primi tre classificati. Ad esempio 1. Vettel - 2. Alonso - 3. Verstappen.
Potete votare fino alla partenza della gara. L'orario verrà controllato anche attraverso GinaBot su Discord e SteemWorld.
Vengono assegnati 3 punti a chi indovina il primo classificato, 2 al secondo, 1 al terzo. La somma dei punti, farà la classifica dei vincitori, che eventualmente si divideranno i premi: 30% - 20% - 10% del valore del post in SBD al momento del pagamento, dopo 7 giorni.
Ricordo che il vincitore del nostro campionato incasserà un premio pari al 20% di quanto rimasto del totale che è stato raccolto da tutti i contest e non già assegnato.
In egual modo (20% del "resto") per il vincitore del pronostico sul vincitore del campionato del mondo piloti (Hamilton).
Aspetto i vostri commenti e pronostici.
In bocca al lupo a tutti!

Abu Dhabi GP, Yas Marina
We arrived this year at the last race of the F1 championship, in Abu Dhabi, on the Yas Marina circuit.
Perhaps the most beautiful and spectacular of the "modern" circuits, the only one where the race starts with the light of the sun and ends after sunset. It is a completely flat track, built at sea level.
With the drivers' championship now won by Hamilton and the Mercedes manufacturers one, the best teams do not have much to compete for. Different situation instead for the other teams that still try to conquer the last points for the final classification.
Here Ferrari has never won, and Mercedes have dominated the editions of recent years.
Will the "usual story" this time too? Let's enjoy the last race to find out.
---
Rules of our contest
Manual upvote at least at 50% needed.
Resteem not mandatory, but could increase the post value bringing new players.
You have to make your choice here in a comment, for example: For example: 1. Vettel - 2. Alonso - 3. Verstappen.
The limit for voting is until the start of the race. I'll do a check using Ginabot on Discord and SteemWorld.
Who get the 1st position will raise 3 point, 2nd place 2 point, 3rd place 1 point. The sum of the points will make the ranking. The ones in the same position will divide the prizes: 30% - 20% - 10% of the final value of the post in SBD at the moment of the payment, after 7 days.
I remember that the winner of our championship will receive a prize equal to 20% of what remained of the total that was collected by all the contest and not already assigned.
Equally (20% of "rest") for the winner of the prediction on the winner of the world diver's championship (Hamilton).
I remember you to choose your World Champion at the end of season. This time, in case of dead heat, who made the choice first will be upper in he chart.
I'm waiting for your comments and your choices.
Gook luck to all!

General Ranking

Immagini CC0 con diritti di modifica
CC0 Image labeled for reuse with modification