These colors represent a lot for Jamaica and its inhabitants, as well as every Jamaican should know their meaning.
Each country that has among its national symbols a flag or banner, must know what each color of it means.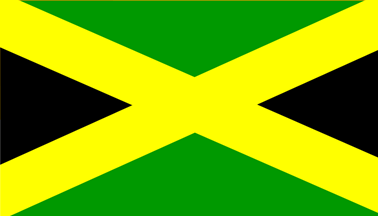 The Flag was made by me using POWER POINT
I am going to tell you here, the meaning of each one, for when we visit this tropical country and we meet one of its inhabitants, we say "hello, I know what the colors of your flag mean.
First of all the Jamaican National Flag was adopted on August 6, 1962, now the colors:
---
Green: is the hope for the future, like the hope that each country has and the agricultural wealth, the land that is worked to feed that nation, its main agricultural products: coffee, sugar. And as for the minerals their Bauxite deposits.
Black:symbolizes the strength and hard work that I represent for the Jamaican people who achieved their freedom and independence from the British colony, after having been slaves of these.
Yellow: is the bright sun of Jamaica and also the hope of a better and prosperous future for them.
A curious fact: the Jamaican flag was chosen through a contest.

---
Posted via ReggaeSteem | Reggae Culture Rewarded