Back in 1998, I was fresh out of the Navy, married, and just got my Spouse Visa for life in Japan. I landed a job at Sagawa, which is basically the UPS of Japan. I was supposed to be an English-speaking liaison for representatives of other companies.I worked in an 8-story warehouse in Kawasaki, on the 4th floor. There were only 2 other foreigners in the building, so in true Japanese fashion, I was introduced to all of them. They were both Americans, one girl that didn't last long, and Dave.
On the 6th floor of the building was the Dell distribution center. That's where Dave worked. He was from Detroit, and we immediately hit it off. He somehow ended up in Japan via some reason or another, and went to an American high school in Tokyo. I would go up there to talk trash with him on my breaks, and we went to business Japanese classes after work twice a week. A lot of times we would skip class and drink beer on the curb in Ebisu, or go to an izakaya (one time, the owner of an izakaya we went to gave us raw horse - about 30 dollars worth - and we wondered if the horse wasn't one of the losers from the race track that was next to where we worked). Dave gave me a MiniDisc with some hip-hop that he and his friend had made, and I was blown away. Dave and his high school friend Guiseppe called themselves "Dose Catz". Dave is the 2nd guy:
http://dl.dropbox.com/s/33s646heq9qzusr/dose_catz-dose_catz.mp3
I started going to Dave's house on the weekends to write raps and record. During my adventures skating around Yokohama and Tokyo, I had met a few Japanese guys that DJ'ed, and I had some experience fumbling with turntables and mixers. I also had a friend in Grand Prairie that DJ'ed breakbeats and house. This was different. He had a sampler, an 8-track recorder and a microphone, and I had never seen anything  like it. I would rap about hustling and getting rich and funny stuff; Dave was more about the skill. I eventually modeled my first studio after his: I got an Akai sampler, a Tascam 8-track recorder and a Roland drum machine.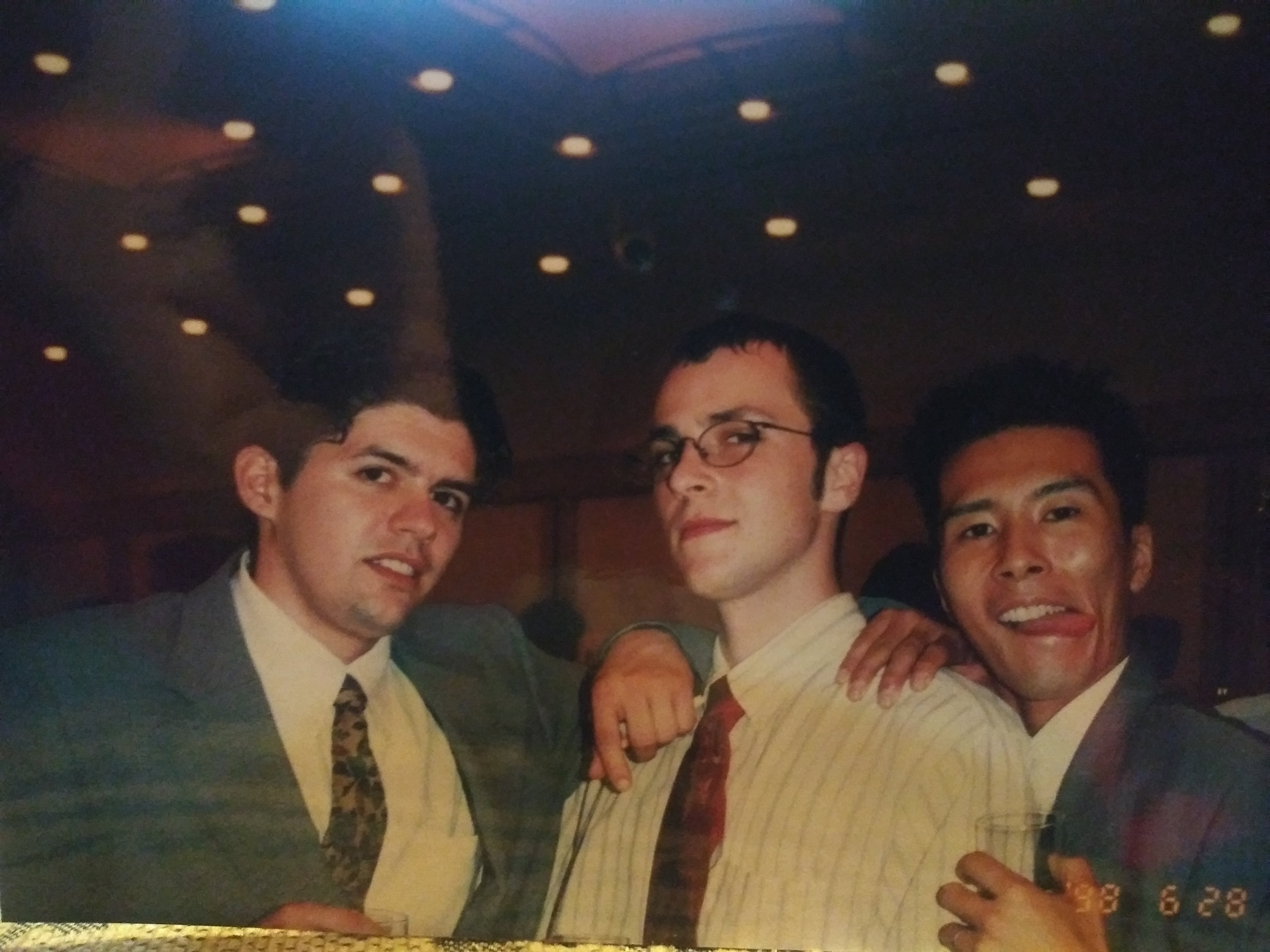 Dave in the middle, Jyouji on the right
In all actuality, I probably only went there 3 times, before I quit working at Sagawa and started working at a nightclub in Tokyo. We drank Suntory whiskey and wrote on the fly, then recorded. I had no idea what I was doing, but it was unlike anything I had ever done before and some of the best times I ever had. We still hung out after I started the nightclub, but we rarely recorded. I haven't seen Dave since 1999. I went a different direction with the music, especially after I left Japan and ended up at Cedar Creek Lake in Texas.