For All My New "Steemians" or "Minnows"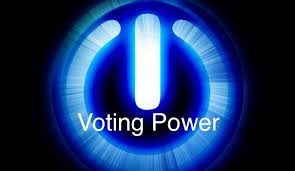 You've been on steemit awhile now but you haven't got much success. You have been told to create quality posts and be patient but your patience is beginning to wear thin and your creativity has come to a grinding halt.
But still you preserve- you upvote, you comment and you have a new strategy every week that seem not to help with your payout and now you're wondering - what gives?
I will tell you that your problem might be something that you do not know about and how it is hurting you.
Have you ever noticed that sometimes you upvote and get one amount maybe $0.02 and then you upvote and get $0.01 and maybe other times $0.00
It is something that I didn't know about and when I found out about it I was shocked! I just didn't know and it was hurting me more than helping.
Wanna know what that is?
How many of you have heard about voting weight? I sure did not hear about it when I started or know what it is.


So What Is Voting Power And How Does It Hurt YOU

You see, the more steem power you have acquired, the more your upvotes will depend on your voting power percentage.
We only get a certain amount of upvotes per day so we have to be careful how we use it. Ideally, you want to start off our day with 100% voting power and then take it down to about 85%.

Golden Rule #1 Your voting power will decrease with each upvote you make. After 100% voting power each upvote will decrease your voting power by 2% per vote.
You want your voting power percentage to be above that 80%-85% mark to make sure that you are getting the highest curation rewards.
So if you have been upvoting and not getting any curation rewards, this might be the culprit taking away your rewards.
When I checked mine, I was at a 30%, getting no curation rewards but was hitting that upvote button like a monkey on steroids When I realized my mistake, I stopped- gave myself a 24-hour vacation from voting so that I could get up to 100%.

Golden Rule # 2 Your voting power will start to recharge at a rate of about 20% each day. So if you deplete your voting power too quickly it will take quite some time to recharge to be at 100% again.
The best place to check your voting power is steemnow.com@yourusername
As a general rule now, I will upvote about 3 posts and then check my voting power. Because I try to keep mine at 90% I don't do all my upvoting all at nights like I used to. I spread them out during the day, allowing my voting power to get recharged again before I upvote.
Golden Rule #3 I know you hear you can do up to 20 votes per day. But just to make sure you protect your voting power, keep your upvote of 11-15 per day. You want curation rewards but you want to make sure you are getting maximum rewards for your upvotes.
So if you want to find success on steemit by getting the most curation rewards, then make sure your voting power stays above that 80% mark. And check it multiple times a day so you know when is the best time to upvote to get the highest curation rewards.
Hope your voting power become your best friend on steemit and bring you success fast.
Let me know if this tip has helped you. I would love to get a feedback from you.