If history truly marks important events for humanity, April 11, 2019, will be marked as a dark day when society has failed to do justice for someone fighting for justice while being persecuted by the morally corrupted governments all around.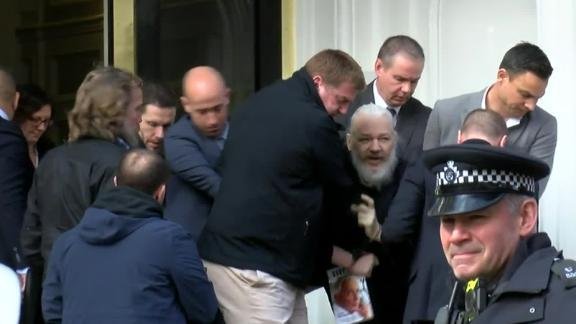 Source
EXCLUSIVE: Assange arrested & escorted out of Ecuadorian Embassy
If you haven't heard, Julian Assange has been arrested earlier today by the UK police. The UK desire to arrest Assange came from their marching orders from the US all along, as we suspected. They admitted such in a police statement:
Julian Assange, 47, (03.07.71) has today, Thursday 11 April, been further arrested on behalf of the United States authorities, at 10:53hrs after his arrival at a central London police station. This is an extradition warrant under Section 73 of the Extradition Act. He will appear in custody at Westminster Magistrates' Court later today (Thursday, 11 April).
WikiLeaks called it last week. It was a matter of "hours to days" as their inside source said.
BREAKING: A high level source within the Ecuadorian state has told @WikiLeaks that Julian Assange will be expelled within "hours to days" using the #INAPapers offshore scandal as a pretext--and that it already has an agreement with the UK for his arrest.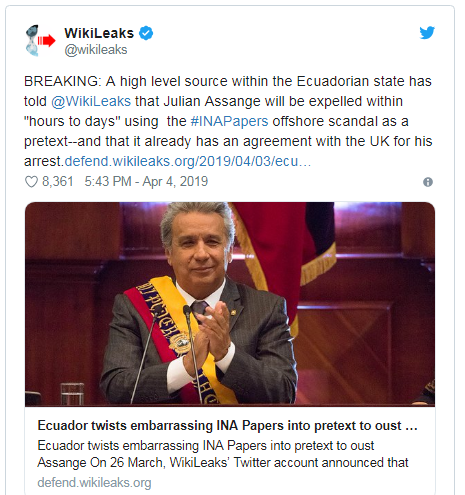 Source
The ploy to deny attempts to expel Assange by the Ecuadorian government demonstrate the constant deception and lies employed by governments in their pursuit and maintenance of power in society.
The events of the last week should serve as a wake up call to all the sleeping masses who think they can trust the government to be truthful, or to uphold a semblance of real justice in the world. The only justice they care about is their justification to do what they want, to justify their actions of authoritarianism and tyranny as they all support the master overlord model that most all governments impose on all societies.
The mainstream media is complicit is carrying out a grave injustice against real authentic media in the world. With few exceptions, they've largely supported the corrupt aims of governments to silence and punish Julian Assange and WikiLeaks for daring to expose the dark behavior and tactics of governments and corporations around the world.
If the media truly was about getting to the truth, they would have hailed Assange and WikiLeaks as true symbols of what the media is supposed to stand for: serving the public by exposing the truth.
Sadly, many in society are still too far under the somnambulistic sleeping spell of statism to see reality for what it is. They side with the government as their father figure protector-savior who shields from from the evils of the worlds. Assange and WikiLeaks is seen by the masses as a threat to the state's supremacy to get away with immoral activity, thereby jeopardizing their own security at the expense of others.
As many rejoice at Assange's arrest, especially the morally-corrupt in governments across the world, today is a dark and sad day for those who have their eyes open and the more evolved capacity to think for themselves.
Society has failed a warrior for truth and justice. Humanity is slipping back into a new kind of dark age, where information and truth is all around but we are largely too ignorant and blind to bother seeing it or taking it in. False intellectualism is rampant as the elite's mindset becomes indoctrinated and cemented into current and future generations.
The events surrounding Assange show how we are not only failing him, but failing ourselves. Humanity is falling. We continue to fall from the graces of goodness and morality. We are the fallen angels who sink lower that what our truer, realer and higher potential can have us be.
---
Posted from KURE
---
Thank you for your time and attention. Peace.
---
If you appreciate and value the content, please consider: Upvoting, Sharing or Reblogging below.


me for more content to come!
---
Like what I do? Then consider giving me a vote on the Witness page :) Thanks!

My goal is to share knowledge, truth and moral understanding in order to help change the world for the better. If you appreciate and value what I do, please consider supporting me as a Steem Witness by voting for me at the bottom of the Witness page.