In a turn of events, Ecuador has denied reports that they were planning to revoke Julian Assange's asylum at the Ecuadorian embassy in London, where he has been since 2012.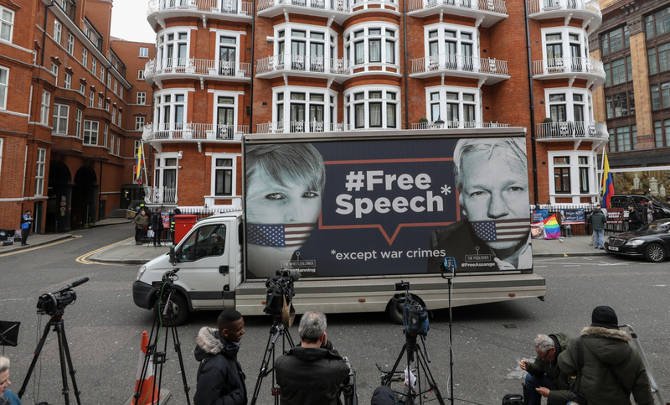 Source
Initial insider sources reported through WikiLeaks said that Assange's fate of being expelled from the embassy was to be decided executed in a matter of "hours or days". But now, according to Bloomberg, Ecuador is denying having planned the expulsion of Assange.
But many are skeptical of this denial. And rightfully so,since governments lie all the time, just as the U.S. had denied any charges existed to arrest Assange, even though we all knew they did exist. The statements from Ecuador that they aren't going to expel Assange are likely due to a change of course from mounting pressure, forcing them to back down.
The largest pressure to be applied seems to be from the UN. The UN Special Procedures twitter account tweeted about the plans to expel Assange from the Ecuadorian embassy, with the expert on torture Nils Melzer saying he intended to investigate the case:
UN expert on torture @NilsMelzer expresses alarm at reports #WikiLeaks founder Julian Assange may be expelled imminently from #EcuadorianEmbassy in London, saying he intends to personally investigate case.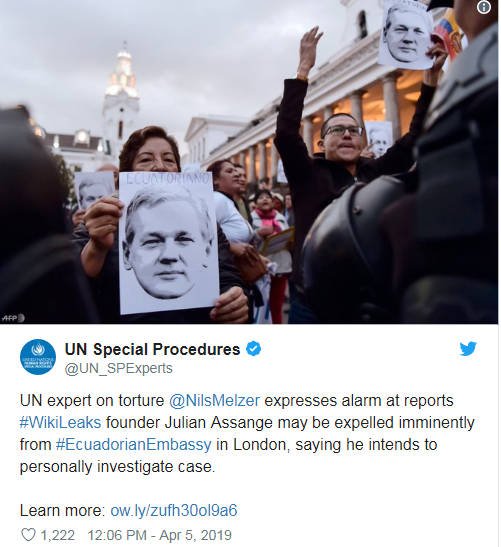 Source
The UN Special Rapporteur on torture Nils Melzer pointed ot how a termination of the asylum would result in "violations of [Assanges] human rights":
In my assessment, if Mr. Assange were to be expelled from the Embassy of Ecuador, he is likely to be arrested by British authorities and extradited to the United States," he said. "Such a response could expose him to a real risk of serious violations of his human rights, including his freedom of expression, his right to a fair trial and the prohibition of cruel, inhuman or degrading treatment or punishment.
I therefore urge the Government of Ecuador to abstain from expelling Mr. Assange from its Embassy in London, or from otherwise ceasing or suspending his political asylum until such time as the full protection of his human rights can be guaranteed.
This is quite the about face ofr Ecuador, considering the Foreign Minister of Ecuador previously tweeted about mechanism to revoke Assange's asylum. Snowden tweeted about it yesterday:
Why do you suppose the Foreign Minister of Ecuador would choose today of all days to start tweeting about mechanisms for unilaterally revoking asylum claims?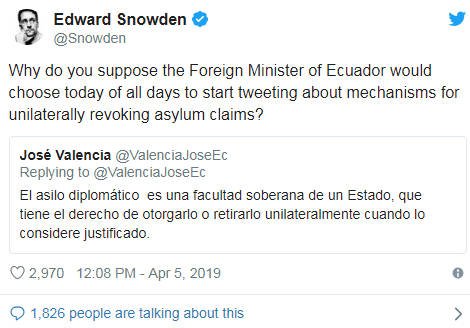 Source
Cassandra Fairbanks, who recently met with Assange amidst growing tension inside the embassy last week, also tweeted about the distrust in the Ecuadorian government's recent statement: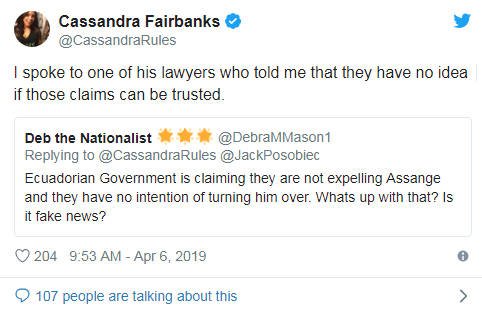 Source
Among the supporters were some Yellow Vests who attended a protest in front of the embassy, along with Cassandra herself who tweeted a video of the event.
If Ecuador is dropping the plan to expel Assange as they say, this is a huge win as a result of public support for Assange. Thanks to the loud voices from within WikiLeaks and supporters around the world, especially in London in front of the Ecuadorian embassy. The pressure of free speech has forced Ecuador to back down.
---
Thank you for your time and attention. Peace.
---
If you appreciate and value the content, please consider: Upvoting, Sharing or Reblogging below.


me for more content to come!
---
Like what I do? Then consider giving me a vote on the Witness page :) Thanks!

My goal is to share knowledge, truth and moral understanding in order to help change the world for the better. If you appreciate and value what I do, please consider supporting me as a Steem Witness by voting for me at the bottom of the Witness page.