Here is the link to my first #newbieresteemday post. It contains the links to @mudcat36 and @davemccoy 's Newbie Resteem Initiative. This is my week 20 posting. First weekly post was made on Jan. 14, 2018. The reach that #newbieresteemday tag has had is phenomenal.
---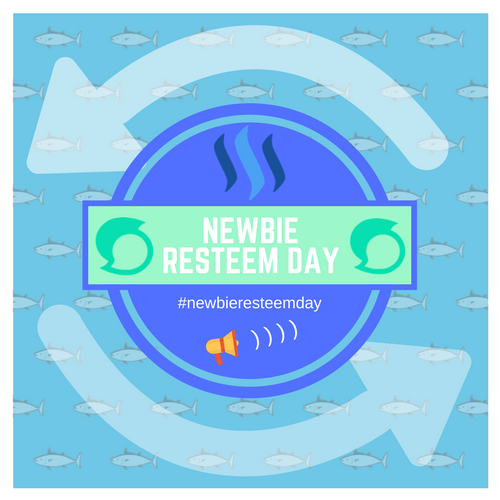 Image created and provided by: @amariespeaks
          So, if you are new to steemit and meet the criteria below I will try to help at least one individual that responds:

• a steemit newbie, that has a rank of not more than 45
• has a good and quality blog
• has less than 90 days on steemit
• I will only resteem One post, and that is not a guarantee
          If you would like your blog to be resteemed, read, commented on, and voted on, leave a link to one of your blog post in the comments below and I will try to help. If you have a question I will try to answer it, or direct you to someone or a post that may be of help. Steemit can be overwhelming at times, but there are people that do try to take the time and help others.


Where you can Find us
@newbieresteemday
- This is our primary account, and the one that does the majority of the resteems, although most members will resteem a few post. On our home blog page you will find on the banner the link to our discord chat room.
@newbiegames
- This is our page that we utilize to highlight and support games and challenges, and where we occasionally run our own games and challenges for the not just the new users, but for all users of steemit. We try to feature games and challenge that do not have overly complicated entry rules, and mos of the games do not charge even a vote to play, it is if you have the Vote Power available always appreciated to vote on a game you are playing in, as most of the smaller games rely on the post pay out for the awards pool.
Discord Chat Room - Here is where you can go to find all kinds of help, or to just find someone to chat with. We have a lot of information and assistants rooms on the left hand room links, and a post promotion dropbox that people use to find new content from members to look over.

          I continue to promote
@apolymask
Information Finding Contest. I have met so many nice people and helpful people, and some pretty damn fine quality postings and conversations through those postings. It does not matter that you may have different thoughts and opinions, people are still very respectful of your right to think how you want to think.
          Current rounds:
We are getting very close to the end of season one so now is the time to jump in and try to qualify for the final 16 rounds picks.
          The beginning of IFC (Information Finding Championship), and Newbieresteemday initiative, were very close to each other, and I have been a member and a participant in both since the start up of each. I have truly enjoyed myself, and met some wonderful people, and had many good conversations with both groups.

          "The Marketplace" is an offshoot of IFC and the IFC discord chat room. We have several game/challenge participants, over 30, and a lot of followers of the games. In the IFC Discord room we have passed 100 or more users, and the numbers still keep growing. We have pretty much built/grown generically a "Community". All communities need a place to shop, and relax, so there was a desire among the community residents for
"The Marketplace"
.
          If you need something, an Item, or a service, why not think of placing a "Want Ad" in Thursday's "The Marketplace Weekly Flyer". It gets issued each and every Thursday just drop a want ad in the weekly-flyer room, and I will place it in the Flyer. Each Thursday I profile one of the vendors.
---

Designed by @charisma777 clicking image takes you to @dustsweeper
          @dustsweeper, What is it you ask. It is a program you, as a new user need to seriously think about looking into. A vote or a post payout that does not add up to at least $0.020 will be under steemit terms and algorithms be dusted. That means it goes poof didn't happen. Your vote is gone. With @dustsweeper they will come by and insure on day 5 or 6 that any votes you received that did not make it past the dust level will be lifted up. Here is a link from @davemccoy that explains it better than I can. Turning Dust to Gold. Reading of the comments will give you a lot further insight into the program.
          Every new user really needs to view the above information. Okay my next Item and tool. I use this a lot and think it is one of the most valuable tools for steemit. It is called steemworld. It is a data front end to steemit and more. Here is my Steemworld page: https://steemworld.org/@bashadow, simply replace my name with yours and you will see a new world of steemit information in an easy to use and extremely user friendly format. I can not say enough about how wonderful this tool from @steemchiller is. He is always working to make it better and more useful for us. As a new user you may have heard people talking about mentions and shout outs, well here is a tool to see who is talking about you, on steemit.

          So that pretty much concludes my weekly @Newbieresteemday post. Week 20 has come, with it being the big holiday weekend in America I thought I would put this one out a little bit early. The time is going by so quick. So if you are new, have a really nice post, want a vote, or a resteem let me know. If you have a post or want help with formatting your post let me know. There are still a lot of people that are willing to help, just because they care. If you have a question about any of the above items I have presented in this week's issue, I will be more than happy to help and answers the questions I can, and those I can not, I will try to send you in a direction that may help