The Karma App is a decentralized app on the EOS blockchain created by @dallasrushing. KARMA is designed to incentivize users to do good in the world and receive KARMA for helping out mankind.
This post is intended in both ways:
To share the word and my beliefs on this great project, and share some ideas for @dallasrushing on how it can leverage the great community and projects from the Steem Blockchain.
Here is what I will cover:
--
1-There are many reasons why I believe this project will be a success
2-Some Ideas to Help Extend the word and grow the Community for the KARMA app
3-The TEAM creating KARMA and its Advisors
4-KARMA Token Distribution and Holders
5-KARMA on Exchanges
6-KARMA price thoughts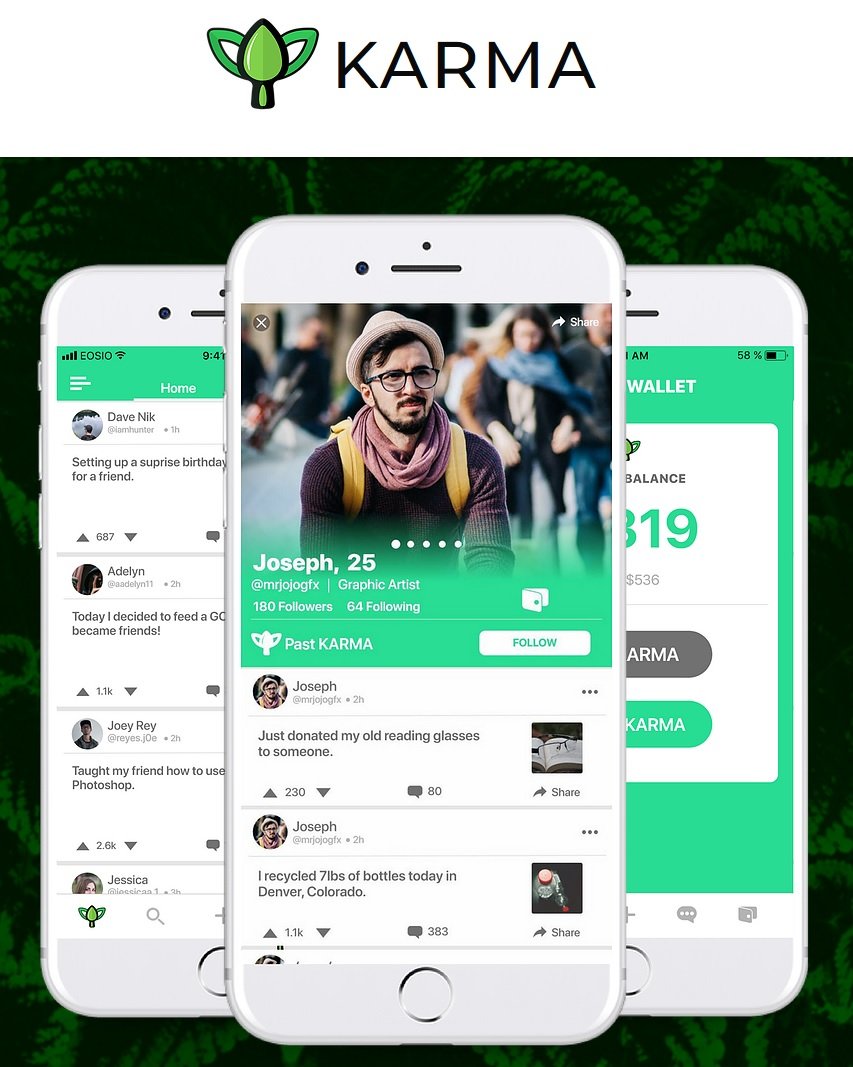 As the Karma website mentions:
Do Good, Earn KARMA


Image Source
1-There are many reasons why I believe this project will be a success
--
1- It has an excellent team and advisors board
2- Its idea of rewards is based and proved by the Steem Blockchain (2 years old)
3- There is already a great community on EOS that will start using and sharing the word on the Karma App once launched.
4- There is a huge project on the Steem Blockchain created by @starkerz and @anarcotech (#promo-steem and the Steem Ambassador) that has proved this idea/concept works. Although #promo-steem is more focus on promoting steem, both Karma App and #Promo-Steem aim to reward quality contributions. While steem looks to reward sharing the word on steem, it also rewards when people do good by using Steem. So, this is were both projects meet.
2-Some Ideas to Help Extend the word and grow the Community for the KARMA app
--
1- On the token distribution page of the site it mentions future Airdrops. I believe that Airdroping to Steem Holders, will help KARMA app grow significantly, since the Byteball airdrop on Steem proved to reach over 200,000 users in just 1 or 2 weeks.
2- There is a another huge project called @oracle-d created by @starkerz and @anarcotech that can help spread the word on KARMA App hugely. You can check the introduction post here: https://steemit.com/oracle-d/@oracle-d/introducing-the-oracle-d-platform-now-live
In the introductory project promoted by @oracle-d (The Decenternet), @oracle-d was able to produce over 80 posts, which have gathered a combined total of more than 6000 upvotes. To date (in just around 2 weeks), over $3300 in rewards have been distributed to these authors.
The important thing here, is that the project gets several posts from different well known steemit users that help expand its social reach, and also its Google SEO reach.
@dallasrushing, you may contact @starkerz and @anarcotech to know more about this if you are interested.
3-The TEAM creating KARMA and its Advisors
--
The founder of KARMA is @dallasrushing who is a very active person and well related on the Crypto Sphere, actively on Videos explaining about crypto markets, the EOS blockchain, and its new born project KARMA.
Here one of the latest interviews to @dallasrushing speaking about KARMA and why he believes it will change the world. You will get a great understanding of the project in this video.

After checking more on the project's website I found @lukestokes was one of its advisors. And that does not surprise me, since he is always after projects that look to make the world the place we all want to live in. This is aligned with his belief. @lukestokes is always looking for ways to help people understand blockchain easily.
Both @dallasrushing and @lukestokes as an advisor give a large clue for me, that this project is going to be succesful. @dallasrushing mentions on one of his videos that the release of a minimum viable product is a few weeks or month away. So, this means this will be a real world application soon.
For more videos from @dallasrushing and the KARMA project you may visit his youtube channel.
Congratulations for this fantastic project @dallasrushing !
4-KARMA Token Distribution and Holders
--
KARMA has completed its First "Fairdrop" (The way the team calls its Airdrop to EOS token holders). More Airdrops Will Be Announced Soon.
A total of 2,869,148,946 KARMA was airdropped on a 1:9 ratio to EOS holders. This means if you had 100 EOS on the snapshot, you received a total of 900 KARMA.

5-KARMA on Exchanges
--
KARMA is currently listed on 3 Exchanges:
Big.one
Chaince
OTCBTC: In case you prefer not to do a KYC, OTCBTC is definitely your choice to buy KARMA.
6-KARMA price thoughts
--
I believe KARMA is currently undervalued. It is trading at around 0.1 USD cent (this is ten times less than 1 cent), and this means that with an aproximate 10 billion coins in circulation, its current marketcap is just around 10 million.
It may go down a bit, who knows, but I think its upside potential is huge, and considering the minimum viable product will be available soon.
My thoughts are that it is a great time to buy KARMA.
What are your thoughts on the project? Did you hear about it previously?
Hope you enjoyed the reading!
Regards, @gold84
DISCLAMER:
The information contained within this post shall not be taken as financial advice. I am not a financial
advisor and none of your investing should be carried out based on any information presented here. You can
lose all of your money by investing. The following information is for educational and entertainment
purposes only.