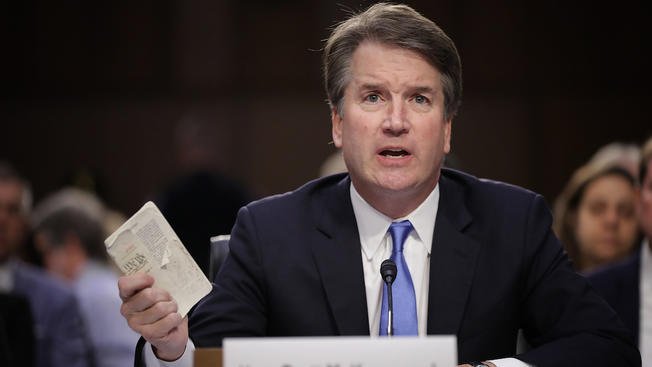 Breaking News Every Day
---
If you live in the US or are at all paying attention to American politics, there has been a single developing story dominating every news outlet - the nomination of Judge Brett Kavanaugh to the Supreme Court and allegations of sexual assault by Dr. Christine Ford. This has become the most longstanding scandal during the most politicized presidency of the modern era, and rightfully so. A lifetime supreme court seat is in many ways more impactful than any 1 or 2-term presidency and a Kavanaugh's successful nomination would mean a Republican dominated judiciary for the foreseeable long-term.
And the airwaves, both those of the mainstream and alternative outlets like YouTube, have been a battleground of speculation, attack, and defense. Anyone and everyone has an opinion, all fueled by sympathy, politics, and personal observation, especially after the official testimonies held just a few days ago. Personally, I've been overwhelmed by everything that continues to come out of the woodwork and am torn on a number of levels of how I should feel or think about the situation.
But my feelings are irrelevant to what I want to discuss today. The idea that has haunted me most about this whole ordeal is actually not at all concerned with Kavanaugh's innocence or guilt. With an FBI investigation forthcoming, we'll soon learn whatever truth is left to identify in the coming weeks/months and I'm sure there will be swift action either way.
The most troubling thing to me is how this entire affair has been handled by the Senate Judiciary and the implications of what this all means in both American politics and the life of a single person moving forward. No matter what happens with Kavanaugh, I think we've already all lost to some degree no matter where each of us fall on the politic spectrum.
Two Extreme Scenarios
---
To work this out, let's consider the extremes and converge at a common understanding of what has happened thus far and the implications.
Brett Kavanaugh is found guilty of one or more of the major allegations. His nomination will likely dissolve and many Americans will celebrate a win both for human rights and political standing. In the most extreme case, Republican representatives will also be spotlighted for trying to push Kavanaugh through knowingly with an understanding of a questionable past.

Christine Ford's allegations don't stand and the process continues from an already irrevocably damaged point. In the most extreme case, the Democratic Party will be spotlighted for leveraging an unsubstantiated claim unjustly and strategically to shove away the Republican nominee.
There is of course a whole gray spectrum between these two polar possibilities, including some evidence but not enough for a guilty verdict, the undermining of Dr. Ford's credibility, and many more that are in general more likely. I wouldn't be surprised at this point if any of these options come to be seen as the truth. None of this will likely change the majority of public sentiment and I believe that at this stage, few are still interested in the actual court position over the question of guilt.
The problem is that in either extreme, we've all lost tremendous faith in the political system and the tactics used by either or both sides will warp how we view justice in cases to come. Let's be very clear about what has happened thus far - Dr. Ford (and the Democratic Party) has put forth an unsubstantiated claim about Judge Kavanaugh. I use the word unsubstantiated not to infer truth or untruth, but to plainly describe the lack of evidence and more importantly, an official verdict outside of the Senate hearings in an official court case. This goes back to my earlier statement that my personal opinion on the affair is irrelevant. Dr. Ford's testimony may very well be true, and a part of me wants to sympathize and stand by what she has said thus far. It may very well be untrue for a number of reasons, and a part of me wishes this man with a solid professional record will be less marred by this whole process.
The Court of Public Opinion
---
With all that being said, the biggest issue I have, during this time where complete innocence and complete guilt are both eluding any confident verdict, that the way this was all dealt with has already enacted tremendous harm on many people involved. And the lack of real evidence has lead the general public in devolving into mass speculation as if this were a reality show. I say this with great disdain for both political parties and ends of the spectrum. This hearing is being conflated with a number of larger issues including the experience of sexual assault victims, political malfeasance, and countless 'beer' memes, either to mock and discredit the judge or completely undermine Ford's testimony. The airwaves are filled with "I feel" or "I believe," phrases that I think should have no standing when it comes to this process. People are chiming in and taking sides simply because of their political views or gender-oriented ones. This seems terribly wrong to me.
As a (attemping rational) liberal myself, I actually have more criticisms of what the Democratic Party has done during these past few weeks. More so than actually trying to deduce the truth, this allegation has been leveraged as a scandalizing mechanism, more meant to cloud Kavanaugh's nomination than anything. If the truth were paramount, a review and potential investigation would have been held outside these Senate hearings before being introduced to the public in this raw form. This all sets a precedent that any unsubstantiated allegation holds water in these types of hearings, that any person's reputation and livelihood is subject to public judgement. Whether there is actually political collusion or not, this was a politicizing opportunity for the Dems and they took every advantage of it. Kavanaugh may be guilty, but Dr. Ford has been dangled in front of the public either way.
My guess as to what the outcome will be is that the FBI investigation will unlikely reveal any substantial new evidence, at least not enough to punish the judge in any way, and we'll be back to square 1 of political squabbling over the seat. I'm afraid this will give more credence to the "fake news" rhetoric of the political right and the tactic used by the left will hurt them in the future.
Guilty Until Proven Innocent
---
In the era of Twitter, YouTube, and other forms of popular social media, the power of the courts hold less and less weight. To millions of Americans, Kavanaugh is a rapist, Ford is an innocent victim, and the Democrats are the champions of the marginalized. This worldview won't change with any verdict or conclusion, and has concretized even before any official investigation. This is a problem.
Even if this were all found to be true, I don't believe this helps any real liberal or humane cause. It may seem like a win for victims, but this crumbling of the judicial process is an apolitical regression.
Again, I'm not saying I believe Kavanaugh. But it troubles me deeply that this decision has already been made by public sentiment. This is nothing new in the modern era of televised media, but it becomes all the more permanently damaging. I know many of my left-leaning friends would be appalled to hear my reasoning on this and I completely understand their own perspectives, but I always want to believe that justice leans on the side of innocence. Kavanaugh might be a "privileged, wealthy, white fratboy" that deserves little empathy from anyone according to many, but I'm starting to see how damaging this circumvention of the rightful legal process is to him, his family (his children in particular), any of us that might find ourselves in some form of a similar situation where some accusation in itself is enough to destroy your reputation and livelihood. I pray that the guilty are punished, but let's be crystal clear, at this point there is no guilty party and tremendous punishment has already been distributed.
---
That's all I've got today, as I'm already exhausted spelling out these paragraphs. Let me know what you think below.