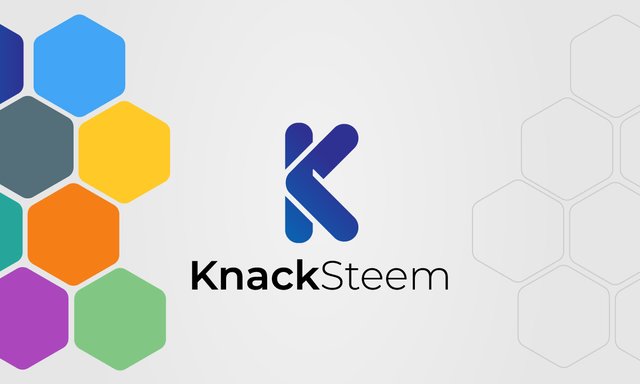 I have talked about this project a lot. Well, I don't think I'll stop talking about it.
I'm not a paid prophet sent to preach about Knacksteem. Neither do I write these articles to get into the good books of the project owner.
I became interested in Knacksteem, after reading the first post published by the project owner.
I was greatly intrigued by the project owner's plans. Not just plans about the platform. But, what he wishes to achieve via the platform.
Here are the plans outlined in that post, just in case you can't go through the rigors of reading it.
It is in our interest to attract people all around the world to contribute via this platform. By doing so, they will feel happy for doing what they are truly passionate about.
We want to be a hub where awesome content is showcased to a larger community, thereby receiving a lot of support and feedback.
We have plans for integrating SMTs once they are launched.
We will keep optimizing the site and make sure that we give the best possible experience for our users.
We will try to be as decentralized as possible in truth and fairness to all our community members.
We hope to solve a variety of both minor and major issues that passionate content creators face in today's world.
After reading that article, I immediately decided that I was going to be part of the project in any I could.
The next article published by on project's blog cemented my resolve to be part of it.
In that article, the aims and objectives were laid out concisely for everyone to see.
Once again, I was amazed by the objectives of the project.
Diversification of Economy through Media
Job creation
Skill promotion
Skill acquisition
Encourage Philanthropy/charity
Improve motivation, initiatives, and innovations.
Massive Steem Adoption
Legit information distribution
These objectives are not mere speculations. I critically analyzed the platform, and these objectives are achievable. Only if the platform is being used the way the vision was imagined.
What we've gotten from Knacksteem in the last two months are updates. Both major and minor updates.
At the level Knacksteem is right now, it should be one of the most active dApps on the blockchain. Sadly, that is not the case right now.
I'm certain Knacksteem has a bright future, but, it wouldn't hurt to see a glimpse of the great future now.
This article is a call for you to get involved with the project.
That is why I would be discussing the reasons why Knacksteem should be viral on the blockchain right now.
I would be discussing these reasons in no particular order.
These are the reasons why Knacksteem should be viral.
---
Decentralization.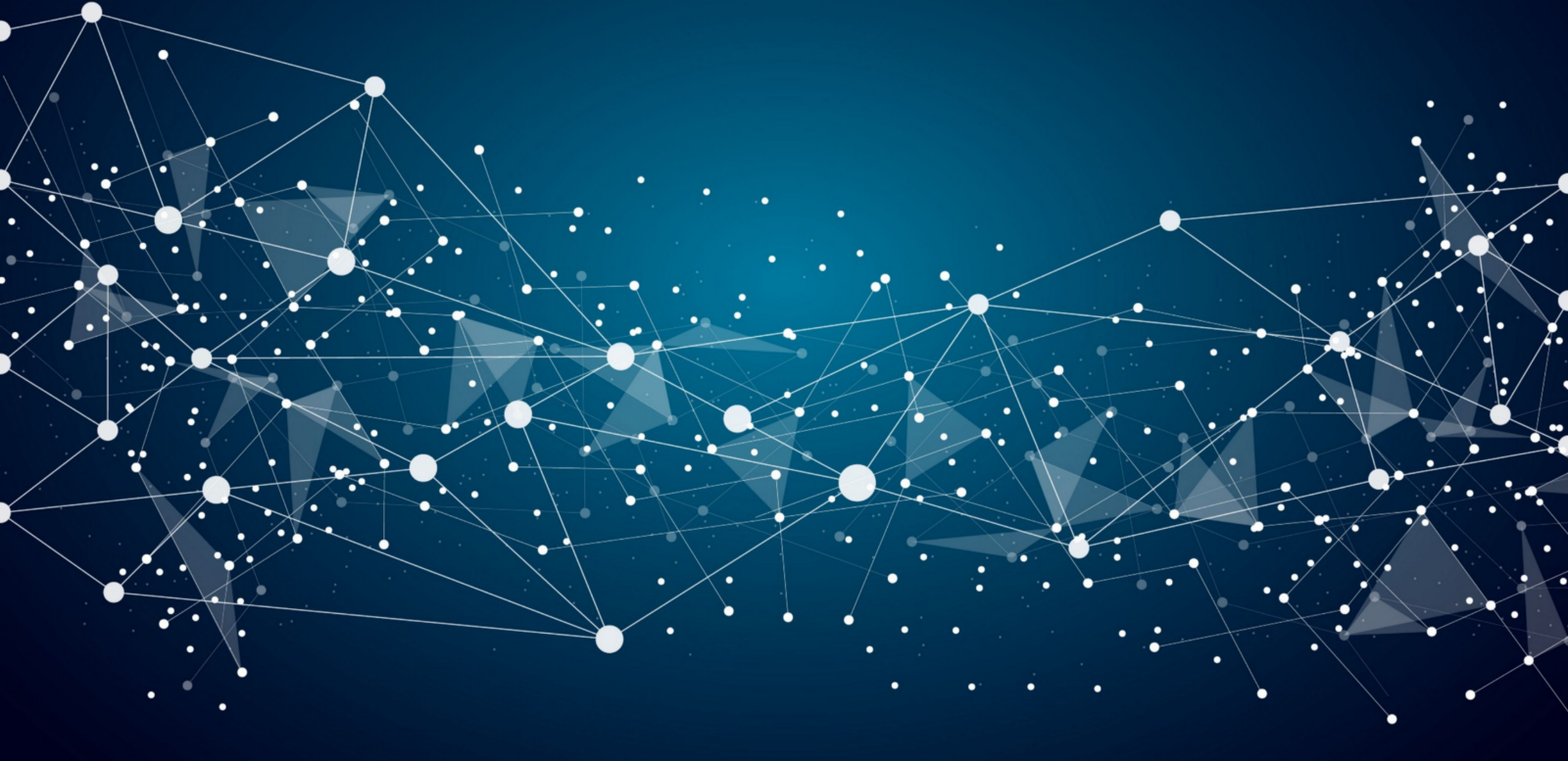 source
Decentralization is one of the characteristics of a blockchain.
The steem blockchain works with the principle of decentralization too. This doesn't guarantee that any platform built on it would be decentralized though.
The project owner has said Knacksteem would be decentralized and it is fair to say that it is. Although there is some form of centralization, that is totally necessary.
Zero utility charges.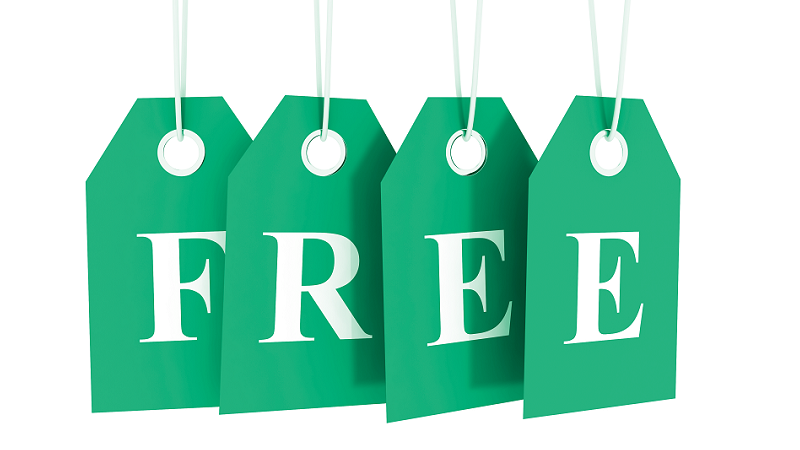 source
To use Knacksteem, you are not required to pay any amount of money to anyone, for anything.
This is not so special. You would say.
That is because virtually of steem based app are free to use.
However, in this case, the project owner isn't casting in his net in the blockchain but out.
There are platforms out there, offering similar services to that of Knacksteem.
On these platforms, users will have to pay to get their talents showcased.
You can put it this paying a service to render a service
That sounded weird, right? Well, it actually is weird.
It is senseless and unfair that I will have to pay to get my talent exhibited. Sadly, it is happening today.
Now, imagine how that person would feel when he hears about a platform where he could showcase himself without having to pay anything.
Without guessing, I know your answer is; he would be very excited and would be influenced to try the platform out.
Dedicated front-end.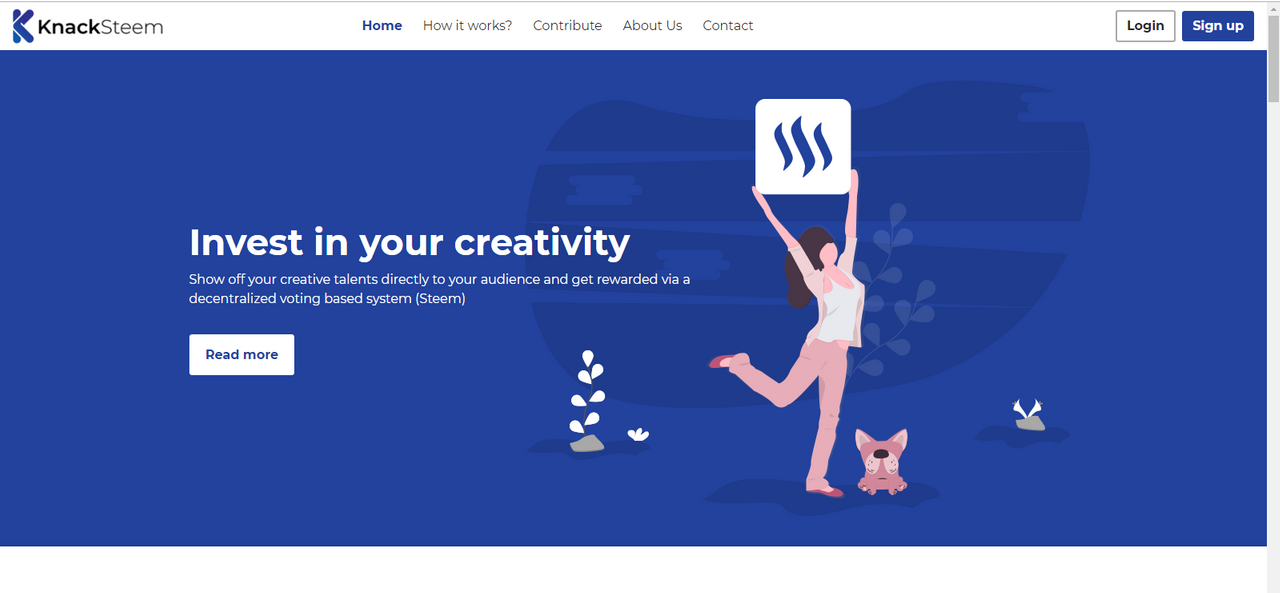 ---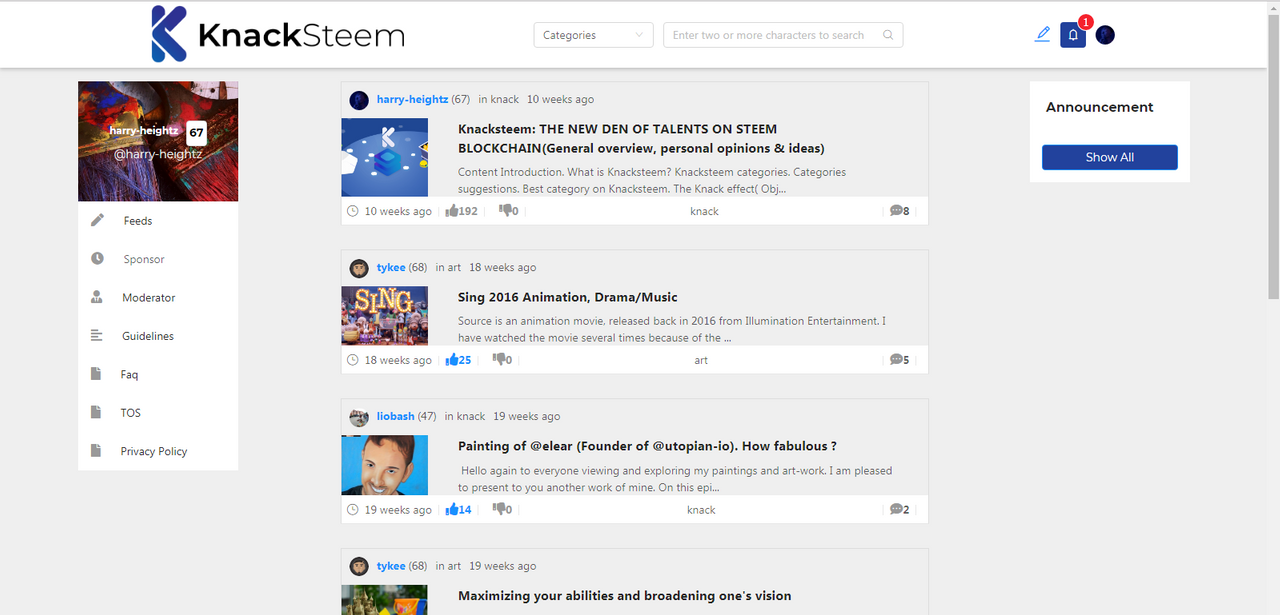 Weird title. But what I mean here is that Knacksteem has its own front-end.
The front-end is dedicated to only Knacksteem activities.
The project owner could have decided to be dependent on other steem front ends and manage activities from there.
If Knacksteem was done that way, it would be a lot stressful to keep track of activities on the platform.
The Knacksteem front-end is really easy to use. You don't have to read a manual or help guide to navigate around the website.
Relevant categories.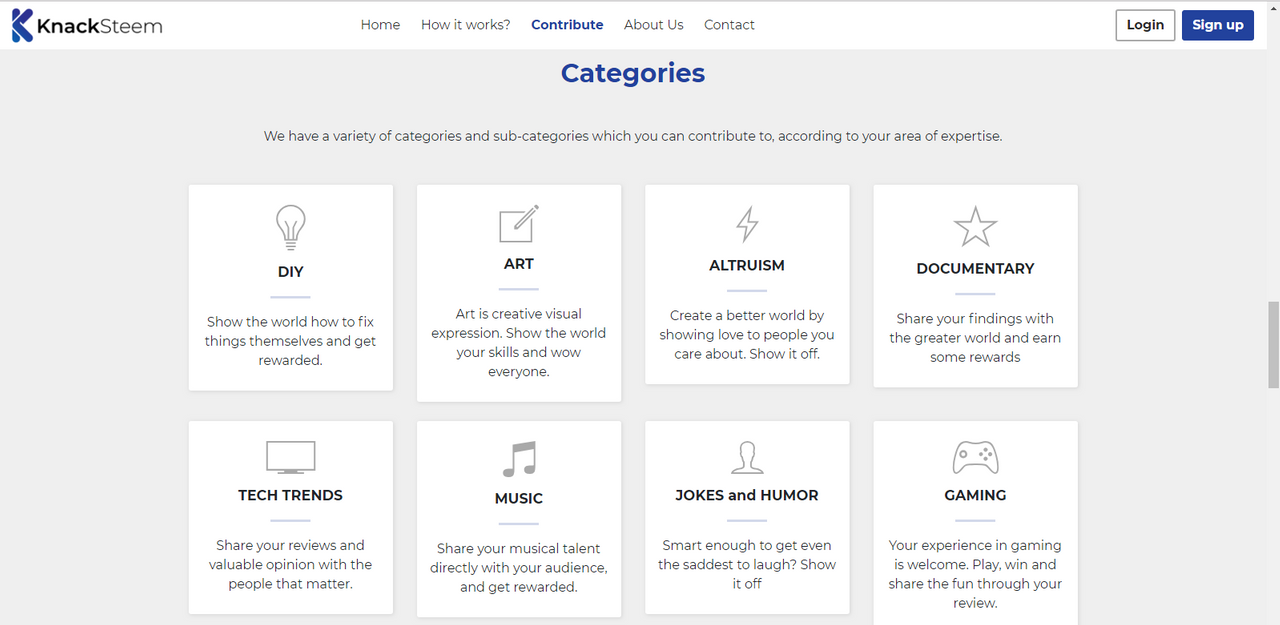 There are nine categories on Knacksteem. These categories help contributors use Knacksteem accordingly.
It would seem as though having only nine categories would mean some people would be left out.
Well, in my opinion, the categories available on Knacksteem right now are relevant. Aside from that, they cut across the varieties of talents that might exist on earth.
The categories on Knacksteem are;
Art
DIY
Music
Gaming
Documentary
Jokes & humor
Tech trends
Altruism
Fashion
I'd ideally love to call some of the categories on Knacksteem major categories. That is because the scope of the category is so broad.
An example is the art category. There are so many things that come to mind when you see art.
Art could be a drawing, painting, sculpting, heck! it could even be music.
So here's the problem;
A user sees art as a category but doesn't know what art-related content he can create.
This is why subcategories are important.
If there were subcategories, the contributor would know what kind of content can be submitted in a particular category.
That shouldn't be a problem for too long though. I hear subcategories would be available in Knacksteem 2.0.
But in a case where your talent doesn't align with any of the categories available right now, you can request for it. Although the request doesn't guarantee automatic implementation.
Open source.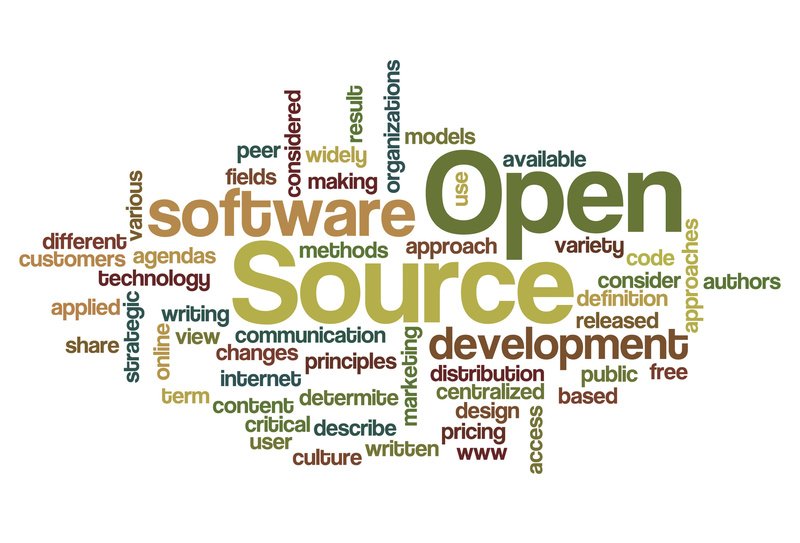 source
Knacksteem is open source. There are plenty dApps on the blockchain but a good number of them are proprietary software.
Being open source, Knacksteem has the capacity to grow and advance not only by the effort of the project owner. But by the effort of others who find the project valuable to them. This means anyone can be part of the project by contributing his/her quota.
Aside from that, since the source code is open and free, you can also fork the repository and develop your own.
That's very unselfish of Knacksteem.
Its own Currency.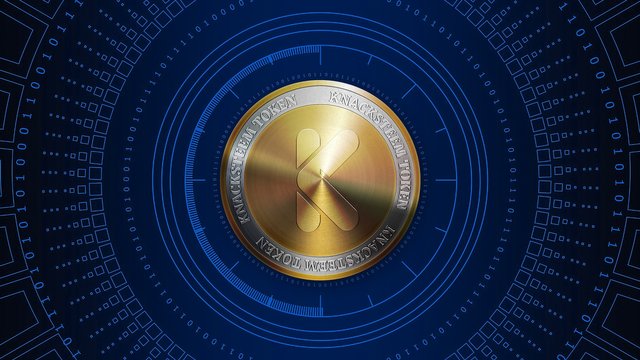 Knacksteem has its own currency or token rather. That is "Knacktoken".
Aside from Knacksteem, there are only two other platforms I'm aware of that have their own tokens. That is Steemhunt and Actifit. Although these tokens are just figures until SMTs are launched in May 2019(according to speculations).
In the last article I published, I went in hard about why Knacktokens are tokens everyone steemian should have.
First is the value that is attached to the token. Though its valueless at the moment, it will be huge in the future. That is because of how the Knacksteem structure is built.
Talents and skills are commodities that would never stop being sought after. Knacksteem is a platform dedicated to hosting great talents. Talents would be sought after on Knacksteem. These talents would be paid for in Knacktokens.
Okay, my illustration is a little bit off, but, you will understand fully when you read this article
Numerous benefits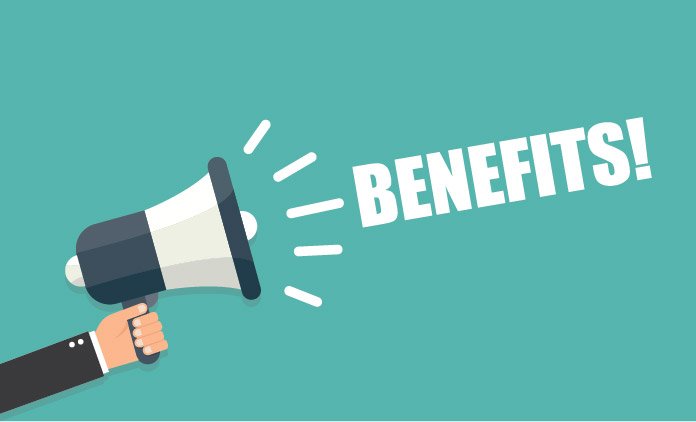 source
It would be pointless to engage in something that won't benefit us. That's not being selfish though, it's being reasonable.
Knacksteem has created a system where everyone becomes a beneficiary. Either as a contributor, a sponsor, or even a moderator.
As a contributor, you get these benefits from Knacksteem;
Rewards for your contribution:
As a contributor, any contribution you submit on Knacksteem has the potential to be rewarded. If it meets up with the standard of Knacksteem, it gets upvoted by Knacksteem's official account. In the case where it doesn't meet Knacksteem's standard, it could be upvoted by other steemians.
So you see, it is a win-win situation.
Exposure:
Aside from getting rewards, you are also selling out yourself to the community. Not just the Knacksteem community, but, the whole steem ecosystem.
Getting exposure is one of the ways talented individuals are ripped off their supposed income.
I once had someone tell me to do a job for her for free, that with her connections, I will gain exposure. I was bittered. She wasn't trying to expose me but exploit me.
Imagine doing a job with my own resources all in a bid to get exposed. Probably if I wasn't so good at what I did, I'd have accepted. But, I was damn good.
Knacksteem seeks to expose these talents to the community on the blockchain, and not exploit them.
But then, you have to be really good to stand out amongst the multitude of other contributors in the same field.
Skill acquisition:
Not only will you promote your own talent, but you can also learn from the talents of others.
In one of my articles, I explained how this is possible, especially with the DIY category on Knacksteem.
Contributions on Knacksteem, especially in the DIY category, are most likely to be tutorials. Tutorials on how to make stuff or fix stuff.
If you are open to learning, you can use that as an avenue to learn new things.
Diversification of Income:
Being a contributor on Knacksteem doesn't mean you can't be doing something else in real that fetches you money.
I know some people would like to see this opportunity as a job, but it really isn't.
Knacksteem isn't advocating that you quit your real job just to focus on being a contributor. If they did, I wouldn't even advice it.
But, it's a bonus when you have a job, and still, contribute on Knacksteem. That way, you are earning income in two ways.
Although I'm not tagging the rewards from Knacksteem as income. That is because it is not guaranteed. You can get rewarded for some post or not.
But still, when it comes, you can decide to tag it as an income.
Great stuff right? I know!
Earn Knacktokens:
Knacksteem has started distributing Knacktokens to contributors. These aren't the real tokens though, but a distribution count. But it's great to start storing them up in these early stages of distribution.
You know I already gave hint why these tokens will be really valuable when SMTs are launched. I wasn't joking about that.
If you can't get Knacktokens are a sponsor, you can do that as a contributor.
---
These are some of the benefits of being on Knacksteem as a contributor.
As a sponsor these benefits from Knacksteem.
Beneficiary rewards:
Knacksteem term their sponsors as SP delegators. As an SP delegator, you are entitled to 12% of rewards of any article posted on Knacksteem. This is calculated and distributed according to the amount of SP(Steem power) delegated.
So you can see that being an SP delegate has great benefits too. You don't have to create or publish any content, but you get your own rewards. However, the value of the reward you get greatly depends on the amount of SP you delegated.
Earn Knacktokens:
Knacktokens are not only available to contributors. Sponsors are also considered. But I think for sponsors, the amount of Knacktokens you could earn in this distribution phase is limited. According to this article, only 10 million Knacktoken is being distributed to sponsors. 100,000 Knacktokens are distributed daily. This means it will take 100 days to max out the distribution of Knacktokens reserved for sponsors.
I have forgotten the precise day token distribution started. I think it should be the 8th or 9th day today. This means you aren't far behind and can start earning more knacktokens than current delegators. You only need to delegate more SP than they did.
I delegated 300SP and here's my Knacktoken count today.
You can earn more than that in less than 3 days if you delegate more SP than me.
Why not become an early bird, delegate some steem and become a Knacktoken holder today!!!
To delegate, you can use any of the following links;
50SP,100SP,150SP,200SP,250SP,300SP,500SP,1000SP,1500SP,2000SP,50000SP,100000SP.
Customize
Make sure you have at least 15 SP left on your account.
To learn more about how Knacksteem distributes these tokens, both for sponsors and delegators, Read this article
---
So there you have it. 7 Reasons why Knacksteem needs to go viral.
There are so many other reasons though. But these are the ones I choose to discuss.
So why not spread a word about Knacksteem today?
You might reach out to a talented person who desperately needs a platform like Knacksteem.
Share a word about Knacksteem today!!
Join Knacksteem today!
Do you have a talent? Are you able to reach your appropriate audience with what you can do? Are you getting monetary value for your knack? If no, Join knacksteem!
Knacksteem is a community for talented individuals.
Why not join us today and share your amazing talent to over a million prospective viewers.
Visit their website to get started.
Contact.
For more information or inquiries, you can get in touch with Knacksteem on Discord
You can also reach them via other mediums listed below;
Summary.
In this article, I've outlined 7 reasons while Knacksteem is a platform that needs to go viral.
There are several other reasons though. When you become a member of Knacksteem, you will figure out those other reasons yourself.
I have spoken a lot about Knacksteem. I don't think I will stop here though.
There are a lot of behind the scenes development going on right now. But, I wouldn't want to let the cat out of the bag unofficially.
If the reasons I've stated in this article aren't enough to influence you to use Knacksteem, I don't know what else will.
Join Knacksteem today!
Links
Resources:
The content of this post is based on my knowledge of the project and mostly from my experience. The images used are screenshots of the platform on my device. Other images gotten elsewhere have their source links provided just below them.
Series backlinks:
Github profile: