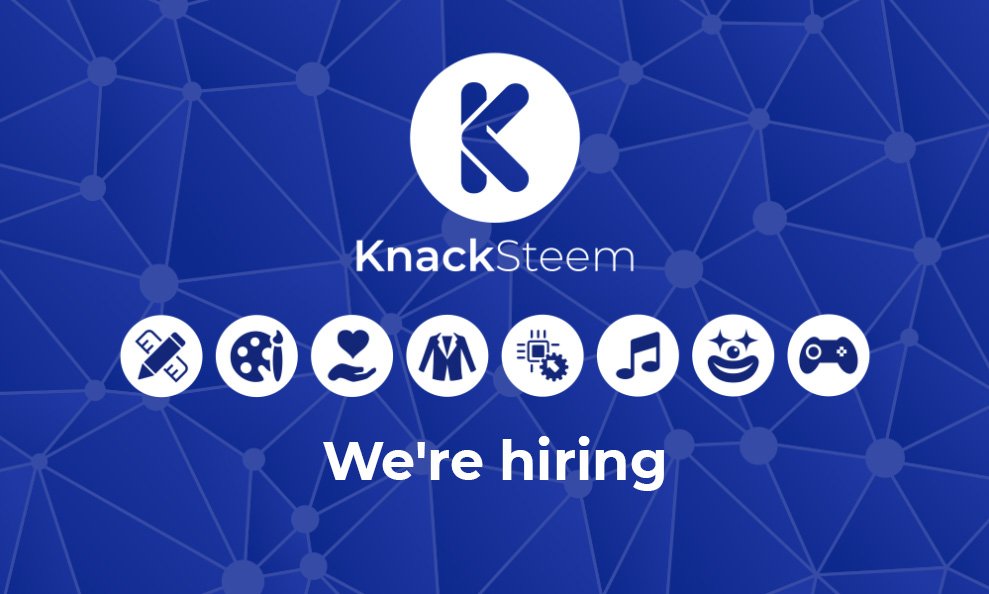 Little positive and forward steps, leads us to our desired destinations. The same can be said for starting up with small positive plans and ideas. Executing those plans and ideas will lead to great things. This is the story of Knacksteem which started with just a simple idea.
Why not create a platform to reward brilliant minds, and talented individuals, who are able to cultivate their talents, and produce tangible results that are beneficial to themselves, and the world at large.
Through determination and dedication, a reasonable amount of progress has been made on the project.
We have developed a stable front-end, laced with beautiful User Interface (UI) both on PC and mobile devices.
We are currently working on our own currency (Knack tokens) and a relative platform (Knackstore) which will infuse more value into the community. Both for contributors and sponsors.
There have been series of endless coding and developments, to ensure that we deliver all the plans in our roadmap within the timeframe we set to achieve them. This goes without saying that this platform has steadily progressed through the efforts of different individuals. These wonderful people have worked in different aspects of the platform to bring it to the level and, standard it is today. However, we are looking to make things more organized by setting up an executive managerial team.
We are pleased to announce that, Knacksteem is seeking to employ individuals in various positions.

Core Management Team
Chief Technology Officer (CTO)

Chief Marketing Officer (CMO)

Chief Content Creator (CCC)

Designer
The above positions are currently vacant. We are seeking brilliant minds to occupy these positions as soon as possible. Having an organized team structure is vital to achieving our future plans, which will be unveiled at a later time. These positions come with benefits as well as great responsibilities.
We strongly believe that there are great potentials and professionals on the blockchain capable of filling these positions. That is why this announcement is being made open and public. Furthermore, this shows our desire to make our platform transparent and fair. That said, these positions wouldn't be handed over to just anyone who applies for it. Inasmuch as we are trying to give everyone on the blockchain, a level playing ground by making this announcement public, we are on the lookout for the best minds. This means that you must be adequately certified for any position you wish to apply for.

Recruitment process.
Since our platform doesn't have a physical office building, the recruitment process will be done online.
To apply for any of the available positions mentioned above, send a copy of your curriculum vitae(CV) via mail to this email address recruit@knacksteem.org
Also, state the position you are applying for.
Eligible applicants will be contacted via mail and further instructions will be given to them.
We are hoping to get a lot of applications. We also wish all applicants the best of luck.

A little digression.
The major objective of this post is to make an announcement that we are hiring. But, we also want to use this opportunity to reach out to potential sponsors of our platform.
In our previous publication, we announced that Knacktokens and Knackstore are currently under development and will be available shortly.
There are numerous benefits of being a Knacksteem sponsor(SP delegator). First is;
Reserved amount of 10 million knacktokens to be distributed to sponsors according to the amount of SP delegated.
12% beneficiary of every post rewards submitted on Knacksteem.
These are the two immediate benefits of being a sponsor of Knacksteem.
Contributors on our platform are not left out this beneficial packages. Contributors will also receive Knacktokens alongside upvotes from our official account.
Each user(contributor) can earn a maximum of 250 KNT(Knacktokens) from a contribution.
Aside from rewards distributions, contributors(community members) on our platform are the top gainers of the platform. A good number of our aims and objectives are favorable to contributors.
We are also going to be conducting an ICO (Initial coin offering) of our tokens. This is to enable other investors either on the blockchain or not to get hold our tokens. We have reserved 10 million Knacktokens for this course.
Furthermore, we will be conducting 2 airdrop rounds of our tokens. The first round will be for early adopters of our platform. By early adopters, we are referring to people that will interact with posts made on the platform, either by upvoting the content, or, by commenting on the post. In the second round, we will be rewarding individuals who will help onboard new community members to our platform via a referral program.
Read the full article to get more information about Knackstore and Knacktokens. Also, explicit details of how these rewards will be distributed can be found in that article.

Thanks to our recent supporters
After our last update, we have received few delegations from some individuals who believe in the project. We appreciate the support.
Here's a table of our current sponsors and the amount of SP delegated.
To delegate, you can use any of the following links; 50SP,100SP,150SP,200SP,250SP,300SP,500SP,1000SP,1500SP,2000SP,50000SP,100000SP.
Customize
Make sure you have at least 15 SP left on your account.

Join Knacksteem Today!
Are you looking for a community that values the things you are passionate about? Look no further, Knacksteem is tailor-made for you.
Invest in your creativity! Show off your creative talents directly to your audience and get rewarded via a decentralized voting based system.
Why not join us today and share your amazing talent to over a million prospective viewers.
Visit our website now, and get started.

Contact Us.
You can get in touch with us on our Discord server.
You can also reach us via other mediums listed below;
You are welcome to leave your concerns, questions, or queries as a comment on this post.