If you would like a brief explanation as to how cumulus clouds form, please refer to my prior post. It's a quick read, I promise! As for the time-lapse, it can viewed below. Enjoy!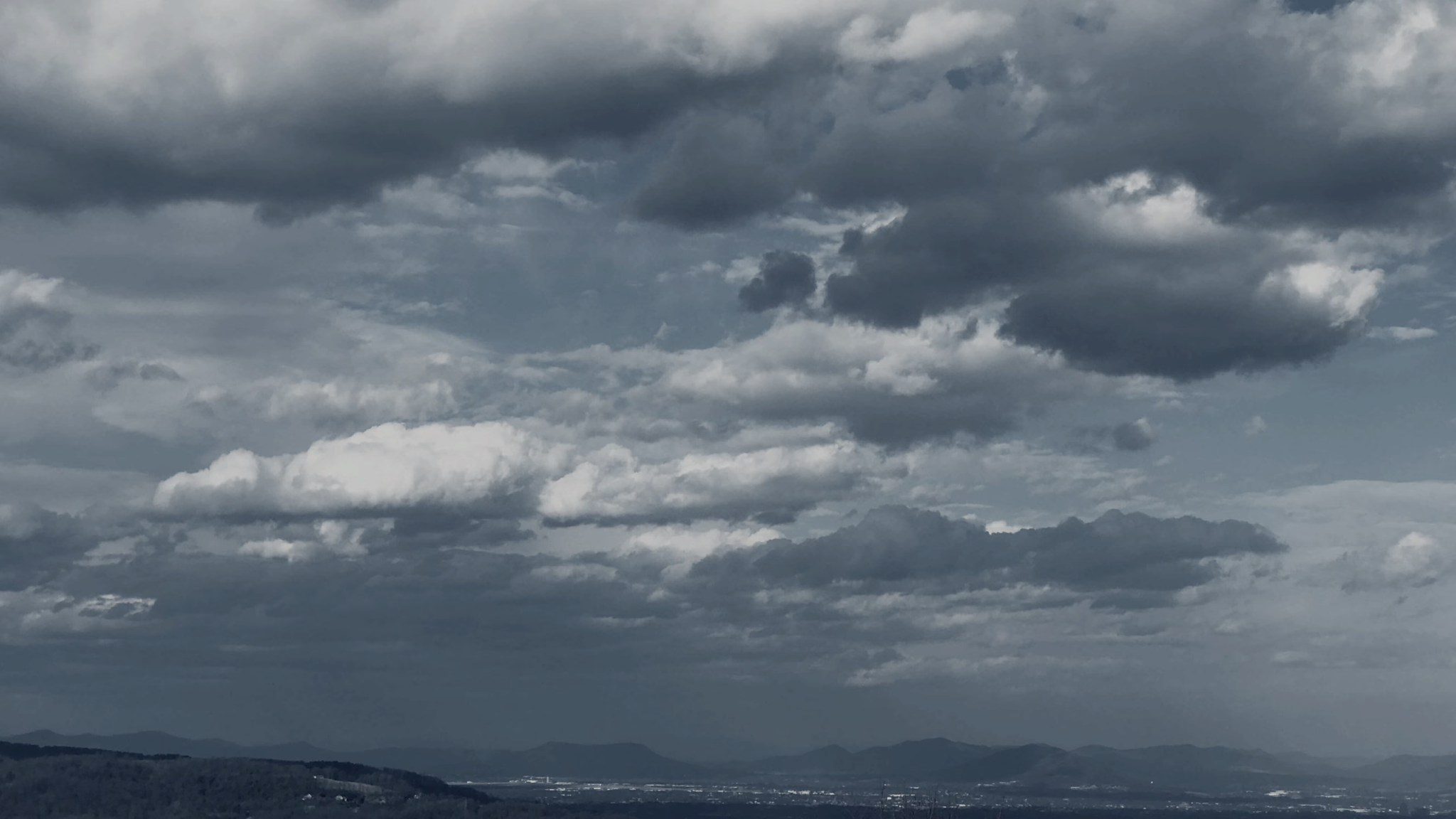 Cumulus and stratocumulus clouds rolling or forming over the Roanoke Valley. Image Source: Shot by the author of this article. @keephy
The time-lapse I'll be sharing with you today is from the exact same location as the last shot. I traversed back up the mountain to do some experimenting with a new app I acquired that gives me practically full control of the small, yet very powerful iPhone 7 Plus camera. The app is called ProCam 5. I actually already had this app on my phone when I captured the last time-lapse, but I totally forgot about it. I was kind of bummed when I realized this because I can take far better time-lapses with this app. I'll go over some of extra controls this app offers at the end of the post. For now, I'd like to knock on the sky a bit more.
Time-lapse video captured by author of this article. It was shot at 4K (3840 x 2160) @25 fps for about 20 minutes. For some reason it only uploaded to 1440p on Youtube. This video was also slightly edited with Final Cut Pro.
@keephy
[Video Source]
In this time-lapse, you're seeing the same basic cumulus clouds forming and rolling over the Roanoke Valley as the last video. However, if you look through those clouds, you can see another higher set of clouds. These are known as stratocumulus clouds. They typically form below 8,000 ft (2400 m) and are the causality of weak convective currents that create shallow cloud layers below stable, yet drier air above it which limits vertical development.
While they're not known for their precipitation, they can be an indication that stormy weather is on the horizon. It would appear they are not climate specific because they can viewed over vast areas of polar and subtropical regions. Just like cumulus clouds, stratocumulus clouds reflect incoming solar radiation as well. This help cools the region in which they move over.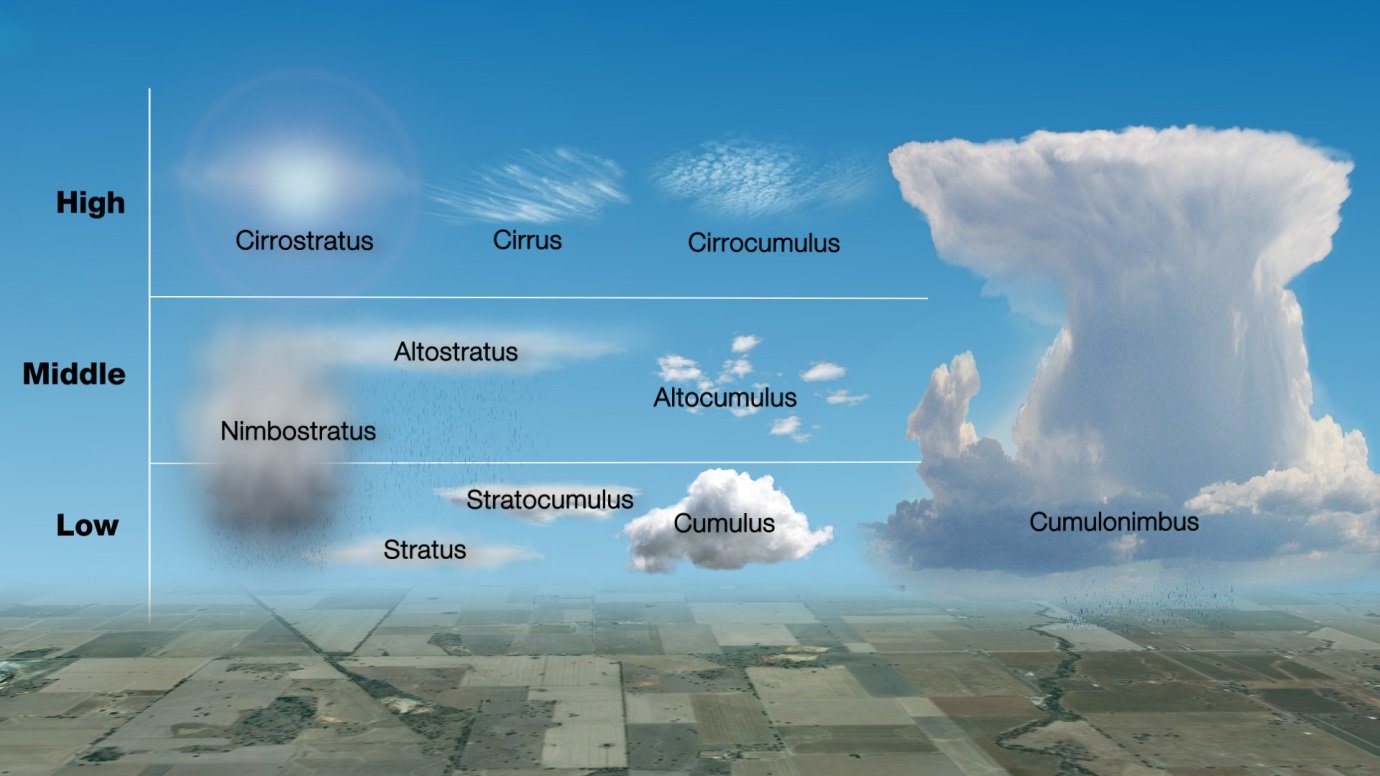 This diagram display the large variety of cloud formations. Note that stratus and cumulus clouds are both considered low altitude cloud formations. [Image Source]
Judging by the diagram above, cumulus (form at 6,000 ft and below) and stratocumulus clouds pretty much form at the same altitude. While in most instances that may be true, I believe the unique geography of this region allows both clouds to form, but at different altitudes. From my estimation, the lower cumulus clouds are forming as a result of the convection from the heated valley floor interacting with the cooler air at higher altitudes. As for the stratocumulus clouds, they are forming as a result of an airmass being uplifted by the north to south ridges of the Allegheny Mountains (due west of the eastward moving clouds) that becomes susceptible to weak convective currents. However, these clouds are prevented from developing into nimbostratus clouds due to the drier and more stable air above it.
Yes, I'm a collector of Pop! figurines. I don't collect all of them, but if I have an undying love for the media in which it derived, I'll totally snatch it up. This particular figurine is from the sci-fi original TRON. This image is a screenshot from my iPhone 7 plus with the ProCam 5 app. Note all of the extra controls offered. Image Source: Shot by the author of this article. @keephy
Procam 5 Review:
All I can say is, "WOW!" This app gives me virtually full control of my iPhone camera. If you look at the screenshot I provided above, you'll see this app gives me the option to save raw (!) and tiff files, which is worth the price of the app alone. The native Apple camera app does not supply all the options you see above. I have the ability use manual focus/exposure, ISO control, shutter speed control and much more!
The best part of this app is it gives me full control over my time-lapse videos. I can record at full 4K (4096 x 2160) @ 60fps or 1080p @120 fps. Due to me having low battery I was only able to shoot the time-lapse I shared earlier with the consumer formatted 4K (3840 x2160) @ 25 fps rather than at true 4K. I still love the results it produced and I'm itching to get back up there with an external battery and a few hours to kill. In order to record a time-lapse in true 4K @ 60fps, I'll need about 20 minutes to capture roughly 10 seconds of video... To say the least, it's a bit time consuming. Now if I wanted to shoot at 1080p @ 120 fps, that time doubles, but the outcome is a very quick time-lapse. Give me a few hours and a very stable shot, I could probably record some pretty neat stuff.
To think, I was about to drop a large chunk of change on an expensive (albeit, badass) camera. Maybe one day I will, but for now I have a lot of tinkering to do with this new app and see what I'm able to take away from it. Not to be cliche, but at the end of the day, it's truly the person behind the camera so all of that technical mumbo jumbo sort of goes out the window. Don't get wrong, the quality of pictures you can take with some of the new mirrorless cameras are absolutely stunning, but is the cost justified for an enthusiast? I'll just have to wait and see how the community responds to these posts. Larger rewards could certainly help me nab that Sony a6500 I've had my eye on. As result, that means better time-lapse videos for you! Eventually, I'd like to break away from only filming clouds.
Unfortunately, the ProCam 5 app is available only on the Apple App Store for $5.99, which is an entirely fair price for the upgrade your getting in exchange.
---
iPhone 7 Plus Camera Specifications:
12MP camera 12MP ƒ/1.8 aperture
Wide-angle: ƒ/1.8 aperture
Telephoto: ƒ/2.8 aperture
Digital zoom up to 5x Optical zoom; digital zoom up to 10x
Portrait mode
---
Bibliography:
https://scijinks.gov/clouds/
https://en.wikipedia.org/wiki/Stratocumulus_cloud
https://en.wikipedia.org/wiki/Cumulus_cloud
https://en.wikipedia.org/wiki/Nimbostratus_cloud
https://www.apple.com/iphone-7/specs/
https://itunes.apple.com/us/app/procam-5/id730712409?mt=8
---
If you enjoyed reading this post, be sure to give me a follow and check out the rest of my blog. Overall, my blog consists of scientific topics dealing with geology, meteorology, geography, food and history. The goal of this blog isn't to earn money per se. While that is a nice benefit, I'm more interested in networking, learning, informing and helping the Steemit community grow to new heights. Thanks for all your support!
---