Time to short Bitcoin once again!
After Bitcoin breached the important 7750 area of bullish support tonight, it's now officially bear season again it seems! We still need to see a 12 hour candle close below this level for it to be confirmed!! I guess it has been a giant bear trend the whole time anyway, I was just hoping it was going finally end. Once the war ended though market dynamics reverted back to the bears camp! Seems like the whole thing was manipulation & a big bull trap.
Only USDT is going up!
Today USDT Tether is $1.01! The US dollar is on fire! The dollar has gotten super resilient & Bitcoin is the inverse trading pair BTC/USDT so you do the math!! BTC finally breached the bullish levels I was watching, so I'm mainly looking to trade the trend with high probability short trades until the down trend is broken, and that would take a higher high of about $9500! I really don't care which way BTC goes, I just want to make money. Bulls make money, Bears make money, and pigs get slaughtered!! I also need to hedge until the bottom is reached! 7750 is the line in the sand, bearish below!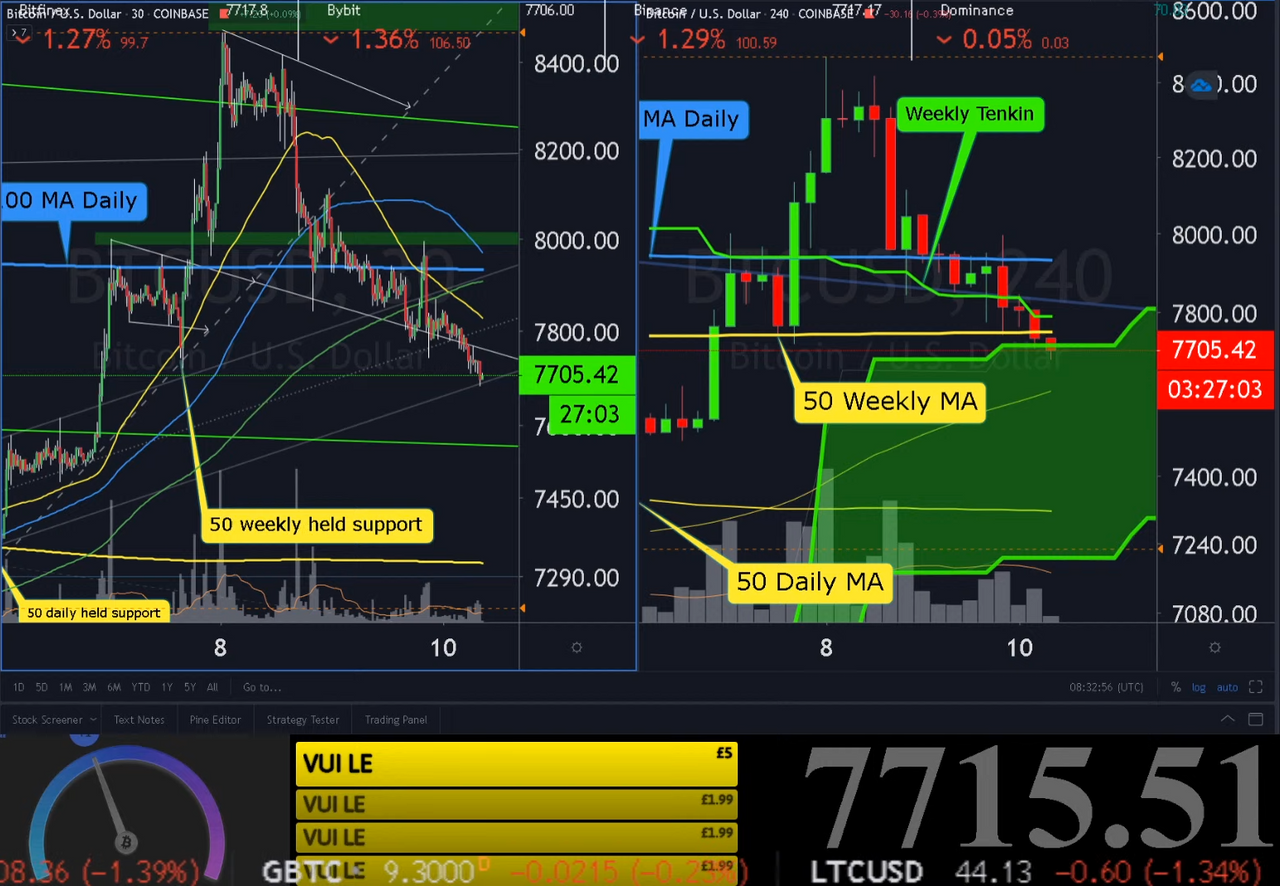 This is the Ichimoku cloud in green.(above) It's very bearish for the price to slip through and under!! I'd say short on any bump ups in that region as long as it's not above the green blob!
It you wan't to learn how to play the short Bitcoin futures market game, check out Crypto Crown's Cave's youtube video above!!
Today is the day Bitcoin died!(Or the downtrend re-emerged!)
This is horrible news and i'm over all cryptos. I'm powering down now too! Everybody is shorting, that is the trend so it looks like we go all the way back to the bottom! Ever since the futures products took over, Bitcoin is rigged and not the same as it used to be. One door closes and another one opens. Be careful, don't be buying Bitcoin below 7750 until the bear market is over. Indoor closes, another one opens up!
If you're looking for something to invest in, buy physical Silver, Gold, Palladium, Rare Earth Metals, & Rhodium!
Buy anything real with your crypto now!! In the future those real assets will all go up in value as the world needs them for their quantum computer chips! lol Gold goes to 10K! Bitcoin and crypto are nothing but Vaporware and have no intrinsic value anymore!
I'm also worried about the quantum computers eventually cracking BTC wallets and all of our wallets!
That's way far out into the future I thought 2030, but people are already talking about it now, and quantum computing algos are way over my head and I have no idea what the future holds for them! I don't know about the quantum safety measures to safeguard Bitcoins??? I think all banks and financial Armageddon will also ensue when quantum computing really takes off since all money is digital too. So good luck stacking physical Silver and Gold because the stone age is coming now that the bears are back in town and back in business to crush our cryptos, Stocks, tokens, and all technology as a whole!!! Will there be quantum bears soon too??? Hopefully i'm wrong, but everyone seems be in the know about this so I decided to sound the alarm. Be very careful trading & watch out for the bears!! Let me know what you think in the comments below, am I wrong, which way do you think Bitcoin is going?