Hey everyone! We've decided to run a promotion to encourage more users to post directly from our interface at https://steemleo.com.
tldr;
@leo.voter now has over 535,000 STEEM POWER!
Make your first post from https://steemleo.com and earn a $5 STEEM upvote
More posts are coming from our interface each and every day. We're approaching the all-time highs and are about to cross the 50 posts/day mark!
If you've never posted from our website, then you can upload your first post and earn a $5 upvote from our native content upvoting account — @leo.voter.
The guidelines are simple:
It has to be your first time posting from https://steemleo.com
Your post must meet #steemleo guidelines (an original post related to finance/investing… a.k.a. not a 2 sentence + pic shit post)
That's it!
We'll curate your posts from our discord server. We have a new channel setup, which has replaced the post-promotion channel. It's called steemleo-post-stream. You should check it out. It shows a real-time feed of all the posts that are made directly from https://steemleo.com.
Additionally, you'll get a LEO badge icon next to your post title which will identify your post as being native to our interface. This typically results in higher LEO rewards and engagement from our community, as we love to support those who support our platform.
If you continue to post awesome content from our interface, the leo.voter account will consistently upvote you. We now have about 540,000 STEEM POWER in this account, which is 100% dedicated to native SteemLeo content.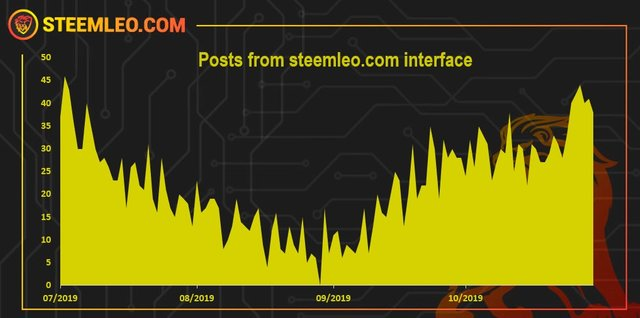 source: official leo.stats weekly report
This is the latest chart showing the daily number of posts from our interface. The hype when we first launched back in July was great, but resulted in a slow decline over time as we neared September.
In September, we started using this account — @leo.voter — to only upvote content that was posted from our interface. This has resulted in a sharp increase in content that is posted from https://steemleo.com.
We have been approaching the all-time highs for # of daily posts from our interface and it looks like we will crush this number in the coming week. Especially as we run this promotion for new users to post from our interface in exchange for a $5 upvote from @leo.voter.
I'm excited to see us cross 50 posts a day from our interface. The next goal from there will be to achieve 100 posts a day… then 200… 1,000. We have a long way to go, but steady growth is a beautiful thing to be a part of.
If you are or know a Steemian who isn't posting their financial content from https://steemleo.com, consider doing it. There are a lot of benefits including more LEO rewards and more STEEM upvotes.
See you next week. Let's crush that 50 posts per day mark and achieve a new all-time high!

all of our LEO author/curation rewards on this post are permanently burned from the token supply
#steemleo - A Next-Generation Community for Investors

Post from https://steemleo.com and earn additional rewards from the SteemLeo community:
Chance to get featured in The Daily Leo and earn beneficiary rewards
Upvote from our native content curation account --> @leo.voter (with over 535,000 STEEM POWER)
Support the LEO token by viewing ads on our site, which are used to burn LEO