Sunday's, the day we binge eat on food that we craved for the whole of last week! Today we chose this place to stuff our face with one of the local favorites, the Tuaran Mee!
Obviously originated from the district of Tuaran in Sabah, this dish is basically a stir fried noodles with meat(pork), eggs & veges. The noodles in this dish aren't the norm that other establishments use, it's extra springy, has a distinct taste and crunch when properly prepared during cooking!
This place that we went has the best Tuaran Mee outside of Tuaran district. Located in one of the buildings in Inanam Bus Terminal, this is a family run establishment and are open from Tuesday to Sunday. They have been operating for quite a long time, longer than i can even imagine!
You can order the normal Tuaran Mee with cha sau & saunyuk, or order yourself a dish that serves their signature Sang Nyuk, which is pork meat cooked with lihing (local wine). There's also seafood Tuaran mee and of course the 'mata lembu'(sunny side up egg) upon request. It's well priced and tastes heavenly!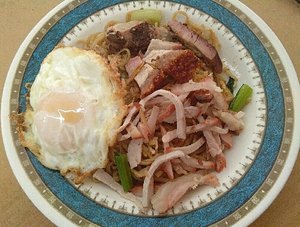 ---
| Restaurant Name | Tuaran Mee Restoran |
| --- | --- |
| Address | mile 6, Jalan Tuaran, Inanam, 88450 Kota Kinabalu, Sabah, Jalan Tuaran, Inanam, Kota Kinabalu |
| Location | 5.9936513, 116.1295314 |
| Type of Food | Restaurant |
| Occasion | Lunch |
| Time of Day | Daytime |
| Price Range | Medium |
| Rating | 4 |
Love food?
Check out the weekly #steemfoodtours Challenge on Steemit by @jeffjagoe


Get Let's Eat from the Play Store