My kids recently were introduced to public schooling. Up to this point, we have homeschooled all the kids. They range in age from 10-4, and all of them now attend public school...for the year, in order to learn Spanish.
I never really had intended to enroll my kids in public school, much less public school in Panama. My husband presented the idea sometime last year and all the worst case scenarios came into my head. My answer was, "No." I love homeschooling my kids, so I saw no real reason for them to attend school.
We tried hiring different people, watching YouTube videos and others in Spanish, getting out more in town to expose them to Spanish, but nothing was really working. I finally came to the realization that, if we really wanted them to learn Spanish, they needed to go where the Spanish kids are...in school!
School here starts in March and ends in December, so we started the enrollment process in February to have them ready. The first step was to talk to the principal and get them enrolled at the school. He said I needed to get their grades validated and figure out which grade they would go into with the Ministry of Education (MEDUCA). This required a trip to David to talk to the director there.
At MEDUCA, I was shown a paper that I would need to make for each child over kindergarten grade. This paper was basically final grades that they had earned from their previous years of schooling. Schooling that I had done at home as their teacher. So, basically they were telling me for these 7 subjects (Science, Math, etc.) that I needed to make up grades for my kids and give it back to them for validation.
I was able to write out their grades in Spanish which saved me a trip (and lots of money) to the official translator. I then wrote a note saying I had educated them at home and signed it. I was charged $6 each to validate the grades and able to pick up the paperwork to get them enrolled within a few days. The papers said that according to their records, the students were in their corresponding grades, pending validation. (I am still waiting on validation - how do they validate made up grades??)
The kids then were enrolled before the March 11 start date, and uniforms were purchased. Most of my kids were pretty excited to start school, but a few were still nervous about it, not knowing what to expect! I was super nervous too!
March 11 rolled around and we headed to the school bright and early (7am start time). There was a general assembly that they do every Monday which includes a Bible verse, prayer, pledge, and national anthem. Then they split the kids off into classes which was total insanity. I went with my youngest to his class where the teacher gave a speech, so I missed getting my second to his class. I then found him standing alone in his original line and got him to his class where his teacher also gave a speech. Then I ran to find my daughter who wasn't in the class she was supposed to be in, but found her in another one because the teachers decided to switch her out. Made sure she was okay and went to find her next brother. I found my oldest son who told me that his other brother had gone to the wrong class. I went to all the 3rd grade classes looking for him and was unable to locate him. That's when I started crying and found someone to help. I looked like a crazy, pregnant, gringa mama!! We were able to get him, put him in the right class, and I made the rounds to make sure everyone was doing okay. Of course my youngest and my daughter were crying and it was so hard to leave them there knowing they were not understanding what was going on.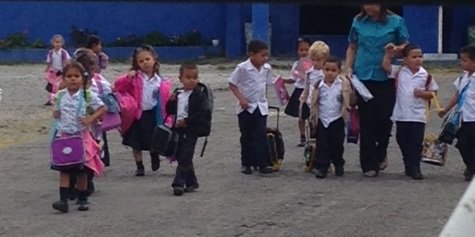 Where's Waldo?
The rest of the first week went pretty much as bad as day one. Kids crying, not wanting to go, not understanding, tons of homework...but having a lot of friends following them around at recess time. Some of the students tried to help, as well as some of the teachers. I knew this would be an adjustment, but that first week was one of the most stressful of my life.
Weeks 1 and 2 were full of parent meetings which were obviously all in Spanish. Most people don't have five kids enrolled in the same school, so it was a lot for me and I even had to have a friend go to one meeting because there were 2 at the same time! Thankfully I speak Spanish so it was not that bad, and I just tried to get what I could out of the meetings. Each meeting asked for money...for cleaning, for copies, for a printer... The amount we were pumping into these "free Spanish classes" was adding up!!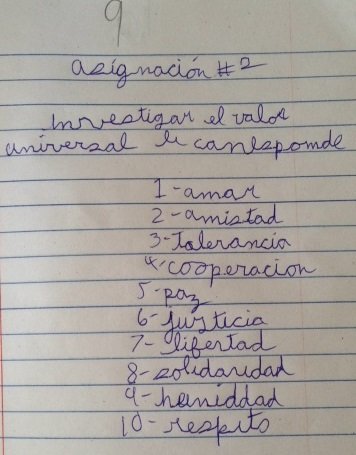 Some not-so-fun Spanish class homework
I had heard that homework was a big deal for the schools and that was true! All levels of the kids have homework pretty much every night! My kids also had to learn cursive. This is one of the reasons I had my daughter moved down a grade. They were expecting her to learn to read in Spanish, learn cursive, learn to speak in Spanish...basically overnight. We were both beyond frustrated and regularly in tears. Thankfully they were willing to put her in a different grade and things improved!
They have now been in school for 5 weeks. Those first weeks were horrible and I can't imagine doing this not personally knowing Spanish. The kids are able to understand it much better, but aren't speaking much yet (which is normal for language acquisition). I regularly get at least 100 messages a day from other parents talking about various classroom topics - homework, buying a printer, class parties, etc. They still have a lot of homework (which I do the majority of since it is in Spanish). They seem to understand that the goal is to learn Spanish, more than get great grades. I am glad for how far we have all come!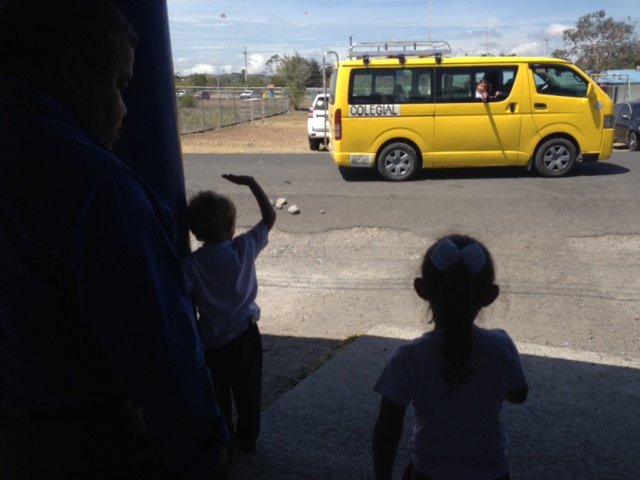 Waving to his "friends" on the bus
We are all adjusting to this experience, but it hasn't been fun or easy! I figured I'd have my mornings free to get some stuff done, but that really hasn't happened yet. I end up going to the school three times a day - drop off at 6:55, pick up at 10:40, pick up at 11:50. By the time I get the dishes done, laundry started, have my breakfast, and sit down for a minute, I have about an hour to get something done before it's time to head back up to school! Ha!
Getting used to everything has been a challenge, but I look forward to when the kids can speak Spanish! Everyone keeps talking about those "free mornings" I will have and I just wonder where they are. Ha!
---
---
Are you interested in visiting Panama to learn more about moving here? Check out Panama Relocation Tours if so. This tour will take you to many cities in the area where expats have settled and introduce you to many helpful people. Each tour is 5 nights and 6 days across the entire country (and you get to meet me)!