Hillbillies On The Road
We had to be a comical sight to see. We had two old pickup trucks. The first had a cab-over camper that didn't fit that truck. It was made for a compact pickup, so I had to build a wooden support for it to sit on, or the overhead part wouldn't clear the cab of the truck. Also, it was about two feet shorter than the bed of the truck, and narrower than most campers, so the truck kind of looked like it had a Mohawk haircut. All that, and then realize this truck was the better looking of the two.
The second truck didn't have a camper or a cover, but we needed to haul an extra pickup truck bed to Ohio for my dad. We just turned it upside down and sat it on the bed of the second truck. Try to imagine a regular, older pickup truck with an extra truck bed on top of the original bed, but upside down. We bolted and clamped the beds together. In the cavity between the two beds, we packed all our stuff that we were moving. The icing on this hillbilly cake was that since none of the tires on either truck was very good, I scrounged around and found about ten or twelve used tires and strapped them on top of the upside down truck bed.
Not knowing if either truck would make it, I rigged foldable tow bars on the front of each truck, so that if either of them died on the road, I could use the other to haul it to a place where I could fix it. The only thing we lacked to complete this picture was Granny Clampett in a rocking chair on top of the camper.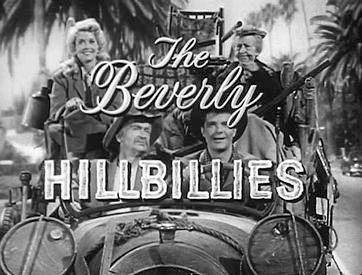 Wikimedia
The kids seemed to enjoy the trip. Cindy drove one truck and I drove the other, obviously, and the kids switched back and forth as they chose. Hanna, our baby, mostly road with me in the lead truck, so that if we needed to stop for her, a dirty diaper or whatever, Cindy wouldn't have to try to signal me from behind.
We veered very little from the straightest path possible. Money was tight and we couldn't waste gas on this trip. Seeing the sights would have to wait for better times. Cindy's family had moved to a little town in Missouri, so we made sure to stop there briefly, but I kept watching the mileage, and checking the maps to calculate the fuel needs as close as possible.
By the time we were nearing Cincinnati, I made the decision to only refill one truck's gas tank. That took our last dollar. Just outside of Cincinnati, Cindy's truck ran empty. She eased it onto the shoulder and I connected the tow bar to my trailer hitch. Everyone climbed in my truck and off we went. We were still three hours away from Dad's house and we had to climb a pretty good hill on the way. By the time, we rolled into Dad's driveway, there couldn't have been anything but vapors in that tank.
I was thirty one years old, the father of three, a trained and qualified stationary steam engineer, a water treatment specialist, a lab analyst, a seasoned carpenter, and a successful restaurant manager, but I was flat broke and fighting hard not to feel like a complete failure. I would say it was the low point in my life, because it felt pretty low, but I was years away from understanding just how low life can take you while leaving you alive to contemplate it all.
It wasn't long before I had a job as the maintenance superintendent of a private water company in eastern Ohio. I wasn't making much money, but we were improving our situation. Cindy never finished high school, so now was her chance to hit the books and get her GED. Winter was on its way, and the house we were renting only had a single wood stove to warm the whole house, so I spent the next few months cutting and splitting wood. It was rough, but we pulled through.
The house was like something out of Dr. Seuss' Whoville. It was kind of askew in every direction, and it looked like it had been built in at least three phases, yet it was still small. The back half of the house sat on stilts, dangling it about fifty feet over the water of the Scioto River, when the water levels were up, but the front door stepped directly onto a busy road. You couldn't park a car between the house and the pavement. The house was the shoulder of the road.
Remember That Time I Worked For That Old Lady?
We pulled through that winter, but my job at the water company was very frustrating. I'll explain the water company problem, but I have to give you a little history lesson first.
The water company was owned by a trust set up by an evil old politician, a former Ohio lieutenant governor. In hishay days, back during the Great Depression, he used his power to get a government dam placed in an unlikely location in eastern Ohio, across a tiny seasonal creek. There was no logical reason for the dam. It wasn't large enough to build a hydroelectric plant, it was just a creek. But having foreknowledge of the project, the crafty old politician went into the land business.
With the backing of his banker friends, he purchased the hills around the creek, at rock bottom prices, but didn't buy any of the valuable farm land in the little valley. Then, when the government men came in with their eviction notices, it was the farmers who lost their land, but the old politician gained lake front property.
After the farmers were gone and the dam was in place, the lake filled, covering the farmer's fields. The old politician had roads cut into the hills at the cost of the county, and had the whole place surveyed and divided into lots. With the help of his banker friends, he contracted the first wave of houses to be built on the top of one of the hills, away from the water. At the same time, he had wells drilled near the base of the dam, and he had a water system built all the way around the lake and up to the houses he had built on top of the hills.
The sale of the first wave of houses paid back all the money he had borrowed, and the rest of the sales from then on would be profit. He donated a large chunk of land on the top of one hill to an organization owned by his banker friends, and they built a hospital there.
The money flowed in over the years, especially after the war when all those returning GIs needed housing and the government was handing out construction loans. By the time the old politician died, he was one of eastern Ohio's wealthiest men. But his children hated him, and for good reason.
The dirty old politician had a particular fondness for children, specifically little girls. When he turned his unnatural affection on his own granddaughter, his family acted quickly, snatching the little girl away from him, moving her to California. However, they had not detected the abuse in time, and he used his granddaughter for his twisted pleasure for over a year, before the girl let the secret of her "lover" slip out to her parents.
The move was too late, the damage was done, and the little girl grew up never facing the facts of her abuse. She maintained to her final days, that her grandfather was her lover, and her parents just never understood the depth of their "love affair", as she referred to it in her old age. Her mind was twisted in ways that would affect her in every relationship for the rest of her life. She developed fantasy enemies and magical beliefs about the forests where her grandfather had abused her.
Her parents raised her in California, never letting the dirty old monster see her again. None of his children would have anything to do with him, and when he died they were glad he was dead. They didn't want his dirty money. It's just as well. His will specifically stated that none of his family was to get a dime of his estate. He set up a trust and named close lawyer friends as the trustees. They were each to have a salary, plus expenses, and the trust would hire managers to run his real estate company, his water company, and his timber interests.
Many years after he died, the granddaughter returned from California to throw herself on the mercy of the trustees and beg for her inheritance. They refused. After much efforts on the part of the granddaughter, who was a very old woman by that time, trustees took pity on her and gave her a job managing the three businesses with a tiny salary. Due to her incompetence, she drove the companies into near bankruptcy.
Then, she hired me as the maintenance superintendent. I didn't know any of the above story at the time of my hire, and if I had, I would not have worked there. In the hiring interview, she told me the job was eight hours a day for five days a week, and a half day on every Saturday. She stated clearly that the Saturday pay would be overtime. She also stated that if there was some emergency, I may have to work other overtime, as the job needed. We agreed upon an hourly wage and I verified with her at that time that the overtime pay was at 1.5X the regular pay.
As the weeks passed, I never saw any overtime pay, no matter how much I worked. I asked her about this many times and she always said it was a mistake and she would get to it and fix it. But she didn't.
Additionally, she was obsessed with the addition of the state-required chlorine into the water supply. She hated the idea of adding chlorine to the water. The previous maintenance superintendent went to the local grocery store each week, where he purchased gallon jugs of the cheapest bleach he could get. Then, he would manually pour it into the water tank. That's not how you run a water treatment operation.
Wikimedia
Right away, I contacted a chemical supplier, purchased a chlorine injection system, and arranged to have them come fill it monthly. This terrified her. She was convinced we were poisoning the community. I brought in the representative from the Public Utilities Commission of Ohio (PUCO) and together we tried to explain how jugs of bleach from a grocery store are not consistent in their content, nor are their ingredients even listed on the label. They are not intended for human consumption and are not safe as a water treatment.
None of our words could convince her. After I would leave at night, she would go to the water treatment building and turn off the injector. She insisted that she be the person who tested the water every morning, and she simply falsified the records.
Around this time, she told me, in great vivid and specific detail, of her "love affair" that had caused her parents to move to California. At first, she left out two points: her age at the time and the fact that her "lover" was her own grandfather. Eventually, she filled in those tidbits of information and I suddenly understood her madness.
After several months of arguing with her about the water treatment, and still no overtime pay, I sat down and did the math on how much the unpaid wages added up to and I was shocked. If I recall, it was over $12,000. By then, I had been pushed past the point of no return. I went to her office with my hours and with a written demand for my pay. While she was reading my demand letter, I used her phone to call the PUCO representative and told him what she had been doing with the chlorine injector, and that she had been falsifying the records. When I hung up, she told me she couldn't pay me because the company hadn't made a profit in years. I picked up her phone again and called the National Labor Relations Board and asked what steps I needed to take to force my employer to pay me my wages. I spent about half an hour talking to them, explaining the situation. When I hung up the phone, she fired me.
I walked out of her office, drove straight to the local Ohio Unemployment Office and filed a grievance against her. They sent a request to her, stating my grievance, and asked for her rebuttal. She sent them a twenty two page, handwritten letter rambling on and on about how her "non-profit" company was struggling, and some nonsensical gibberish about a grand Republican conspiracy to ruin her life. She talked about how the PTA in Anaheim, California had conspired against her to drive her daughter away from her. But she never once in all those pages presented an argument as to why she didn't owe me back wages.
The guy from the Unemployment Office sent me a copy of her letter, then called me. He asked if I wanted to rebut her letter before he made a judgment on the case. I laughed and pointed out that her company is not a non-profit, she just doesn't know how to run a business. I also told him that I'm no Republican and she knew that. But I had no reason to rebut her ramblings. I won the grievance and was granted unemployment payments to be covered entirely by the water company. I was later told the trust sold the water company to another utility company.
The week after this happened, my brother Roy and his wife Becky came to visit Cindy and I for the very first time in the history of our marriage. Becky took one look at our Dr. Seuss house and said, "You can't live here." I explained about the back wages and how they wouldn't be paid in a lump sum, but on a weekly basis. She didn't care, she didn't want us in that house one more day.
We started packing, while Roy and Becky drove back to their home in western Ohio. Before we could finish packing and make it to Roy and Becky's house, Becky had rented a nice double wide trailer for us in a town near where they lived. When we got to their house, she took us to our new place and offered me a job installing window covering for her company that she co-owned with her sister. I took the job and the rented trailer.
About a month later, Becky was diagnosed with advanced breast cancer. Very quickly, I learned that nothing I had ever faced in life, and no hard times that I had ever experienced, can compare to what Roy and Becky went through. Becky suffered beyond what my words can tell, and then we lost her. I can't even imagine what Roy went through.
A Chance For A New Start in Reno
While Becky was fighting cancer, she was in no condition to manage a window coverings and carpet store, so I stepped up to help. Her company had two stores, and the two sisters managed one each. I took over Becky's store, so they wouldn't have to close it. Meanwhile, Cindy went to work at a garment factory nearby.
Cindy is a very hard worker and when she locks onto a job, she throws herself into it with all her might. She did that at the garment factory, and management quickly took notice. Cindy made such an impression, that after about a year, the company offered to transfer her to their Sparks, Nevada factory as a supervisor.
By this time, Becky had lost her battle with cancer, and her sister decided to close the store that Becky had been managing, which meant there was nothing keeping us in Ohio. Cindy took the job in Sparks.
Sparks is a bedroom community that borders Reno on the north and east. We quickly found an apartment in Reno and I set about trying to figure out what opportunities there were in the area for me. As it turned out, my wide skill set of experience came in very handy in the Reno area. For example, I built display cabinets for the camera department of the new Walmart, I installed a computer network for an office, I built some porches and stairways for houses, and I painted a doctor's office, among many other small tasks.
I was able to stay just as busy as I wanted to be by doing odd jobs and light construction. It was perfect for us because, in addition to being a supervisor at the garment factory, Cindy had begun attending college full time, and my handyman job gave me the freedom to work when I wanted and still homeschool the kids.
Reno had a school supply store that carried all the typical homeschooling supplies of the day, so we stocked up on the state required curriculum and hit the workbooks. We only homeschooled for about three months, when I figured out that I didn't care for the state-approved homeschool curriculum. We dumped it and I started working with the kids on my own, on their levels, and as they had an interest. Nowadays, we call this unschooling.
Things were going well in Reno. Cindy was very successful at her job and also eventually graduated from college with a degree in Computer Information Systems. She didn't make much money as a supervisor at the garment factory, but now that she had that degree, things could change. Cindy could begin sending out her resume.
My little business had expanded and I was purchasing supplies and equipment to make it even more successful. It was becoming too much to run out our apartment, so I began running my business out of a storage rental space, which was against local zoning rules. Not that I cared about their rules. I was also doing light construction without paying the local union, which was against city ordnance, but again, I didn't care.
First post & table of contents
---
If you would like to read the book in its entirety, you can purchase it with cryptocurrency at Liberty Under Attack Publications or find it on Amazon. We also invite you to visit BadQuaker.com, and, as always, thank you for reading.