A Christian by Believe, not by Repentance.
Out there we have so many people believed or seen to be Christians because they go to Church and are from a Christian Family. Some claim to be Christians after coming out for Alter call in a Church.
In the Bible, Act 8 vs 9 - 25, we learnt about a man called Simon, who was a Sorcerer, and was Popular in Samaria, while using his Witchcraft powers and many attributed the power to God. But a disciple of Christ stormed the city with great signs and miracle - preaching the gospel and seeing the move of the power of God, this Simon believed with many others and was baptized.
Now, as it was a good news that the gospel had entered Samaria, and Apostle Peter and John were called upon following the progress. They stormed the city with great move of Power of the Holy ghost and because those who believed and were baptized were yet to receive the Holy spirit, Peter and John led their hands on them and they received the Holy ghost. Then this Simon was moved by the power upon Peter and John and he approached them, asking how much he could give to possess such astonishing power.
Peter was angered by his request, asking him to perish with his Money.
Acts 8:20
But Peter said to him, "Your money perish with you, because you thought that the gift of God could be purchased with money!
It was obvious that Simon believed the gospel but was lacking repentance and wasn't considering that. For he believed because of the power that was displayed.
Some are the kind of Christians we are having these days in Churches. Christians who believed the wonderful work and sacrifice of Jesus, but are not ready to totally repent from their sinful life.
Simon may not have loved the words that Philip uttered but saw it as a means to attain the greatness of the power he manifested, and was not ready to forsake his adamic nature or carnality for what he has heard. There are many Christians out there who are not ready to leave the life of lying, Gamble, fornication, adultery, Worldliness, seduction and others sinfulness for the gospel they have heard and even believed.
Some Christians saw the gospel as a means to be blessed and be covered from evil to come in this world. They are not to ready to surrender their ways.
Judas was a clear example of a disciple who believed Jesus and was even sent out by Jesus among the 70 disciples to preach the gospel, but was not ready to forsake his love for money that makes him steal in the money bag.
Luke 10:1
After these things the Lord appointed seventy others also, and sent them two by two before His face into every city and place where He Himself was about to go.
And he was even among the 70 who came back testifying that demons surrendered to him.
Luke 10:17
Then the seventy returned with joy, saying, "Lord, even the demons are subject to us in Your name."
Are you among those who believe and have not genuinely repented? you are not yet a true disciple and not a friend of Jesus.
John 15:14
You are My friends if you do whatever I command you.
John 8:31
Then Jesus said to those Jews who believed Him, "If you abide in My word, you are My disciples indeed.
I don't care what they have taught you in your Church or what your pastor has told you- the Servant is not greater than the Master.
The word of God is greater than any man or pastor, because your soul is at risk if you don't do something now. If you don't be a Christian by repentance, according to the Scriptures, you won't inherit the kingdom of God.
Revelation 2:7
"He who has an ear, let him hear what the Spirit says to the churches. To him who overcomes I will give to eat from the tree of life, which is in the midst of the Paradise of God." '
Do away with that Sin, and be a Christian by repentance and be Blessed.
God Bless you.Thanks.
Kindly follow me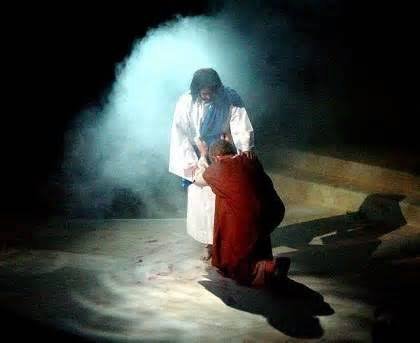 for more Christian and wisdom of life articles