Hey Jessentrepreneurs
If you want to build something for the masses you have to give them something that plays to their default nature of self-interest. I don't often post about steemit but I was looking at why other platforms have gained success and why people find a reason to consistently produce content and engage through these sites.
Why is the internet not as decentralised anymore? Why have these sites built a way to harness the collective, profit from it and have an impact on modern society? Because they tap into human nature of self-interest in a way that is profitable for the ecosystem.
The end goals for the ecosystem align with the end goals of the user and they all get what they want out of the deal and this is how they can build such large user bases.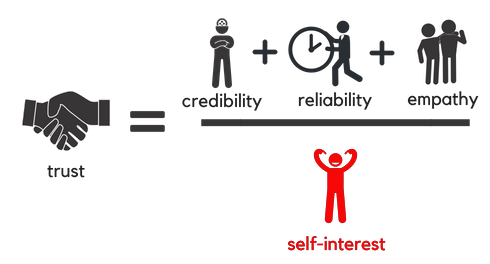 Image path - devsecopsdays.com
People watching
I am obsessed with systems and it has been the way I've earned my way in this world. Improving them, bypassing them, or changing them altogether. It's not exactly rocket science to watch people react to changes and keep changing them until you get the desired result.
After all my years of looking at website data and how to drive user interaction and behaviour, I noticed something. It starts with the notion of self-interest.
A sense of self
In blockchain circles, when we talk about changing the world, there is often a perception that we are talking about a selfless act, a sacrifice we must all make. But the initiatives and projects I've seen succeed have rarely been selfless, and have rarely been achieved through self-sacrifice alone.
We are dealing with humans here and we are self-interested creatures and always have been. At its core, self-interest is a survival mechanism (as we secure food and shelter, for example), and as we ascend higher along Maslow's hierarchy of needs, it becomes about belonging, esteem and self-actualization which are all things steemit does offer but can't get people to realise until they are aligned with self-interest first.
Making a system that fits not fitting into a system
So How do you design an effective model that leverages self-interest's capacity for good?
We know that people will act when they're moved to act— when it's a fit for their own needs, capacities and interests, and not just for the greater good.
By tapping into self-interest, we are able to tap into the energy. This is the energy that can, when designed and aligned, power a movement for change.
What benefit is there to hold steem apart from selling it? Very little at this point! It is not necessarily a bad thing to have currency with a high rate of sale but it's not being sold with means to turn over. The price of steem is irrelevant at this point, at any point really.
What should be relevant is having people spend the currency in ways that benefit the platform. For example, promoting their content, purchasing goods and services (with a % transaction fee cheaper than it would convert to fiat). Tapping into what people are already doing with the currency, making it easier and still benefit the user and the ecosystem.
Checks and balances
Let me be clear though, self-interest left unchecked can be dangerous. Self-interest is the energy that creates action in a system, for good or bad, there is always room for abuse in any system.
But what I've noticed is It's easier to manage systems that balance the self with the collective. It requires greater vision and thoughtfulness than, say, simply pillaging the earth's resources until there are
none left.
Rewards the right way
We should reward ingenuity and initiative in the service of self-interest. The challenge is doing it at no one else's expense and, ideally, to everyone's benefit. We need to find a way to encourage behaviour that is good for the individual and for the collective at the same time.
This is the work of the social innovator, which is what I thought this place could become.
Let's connect
If you liked this post sprinkle it with an upvote or resteem and if you don't already, consider following me @chekohler


---
| Buy & sell STEEM | Donate LikeCoin For Free | Earn Interest On Crypto |
| --- | --- | --- |
| | | |