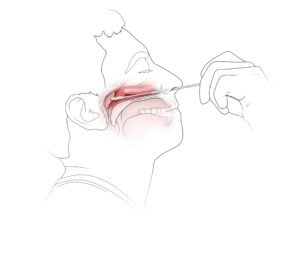 Over the weekend my mom spiked a temperature of 100F with her long time significant other at 101F. They both got checked out via the most efficient (supposedly) "nasal swab" test. I've been told it is absolutely horrendously painful. There are other methods such as an antibody test and the cheek swab.
The antibody test is a blood draw and practically worthless in my opinion as it will only tell you if you HAD it. With the amount of carriers with no symptoms, what's the point? Am I missing something here?
The cheek swab is available to only those with symptoms or is in frequent contact with someone with COVID19. However, it is less effective and takes longer to get an answer. And the kits are scarce.
We tried to find out if we had it today. It was 2PM and they were already out of kits of which were supposed to be available until 4pm daily.
We were told due to our contact with my mother we'd have to get the nasal swab. Great news for me as I've been having nose bleeds and a very sore painful nose for a couple weeks now. Why didn't I just go to the hospital? DIDN'T WANT TO CONTRACT COVID19, despite having my mask and gloves.
Damned if you do, damned if you don't. We will return in the morning as it would be advantageous to know our status. What's the protocol? My Mom has no fever now. She gets daily phone calls from a nurse. She and her SO have to quarantine for 7 days at home. Unsure of the outcome following the quarantine if they're still testing positive.
Anyone else have or know someone with COVID19? Also, if you get a fiery burning rash, its now considered a symptom. So BOLO. Not looking forward to my profuse nose bleed tomorrow!