HEALTH TIPS TUESDAY
DID YOU KNOW THAT SITTING FOR TO LONG IS CALLED "The disease of our time"
Now I'm sure it's no surprise that sitting behind a desk, commuting or relaxing on the couch for too many hours a day can be harmful to your health.Inactivity has been shown to contribute to the following health conditions:
👉Physical inactivity may increase the risks of certain cancers.
👉Physical inactivity may contribute to anxiety and depression.
👉Physical inactivity has been shown to be a risk factor for certain cardiovascular diseases.
👉People who engage in more physical activity are less likely to develop coronary heart disease.
👉People who are more active are less likely to be overweight or obese.
👉Sitting too much may cause a decrease in skeletal muscle mass.
👉Physical inactivity is linked to high blood pressure and elevated cholesterol levels.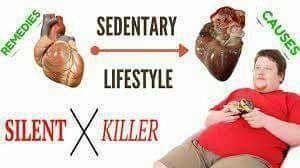 Have a healthy active Tuesday.
Pls upvote, resteem comments.