»»————-————-——-—- ༺❀༻ -———-————-————-««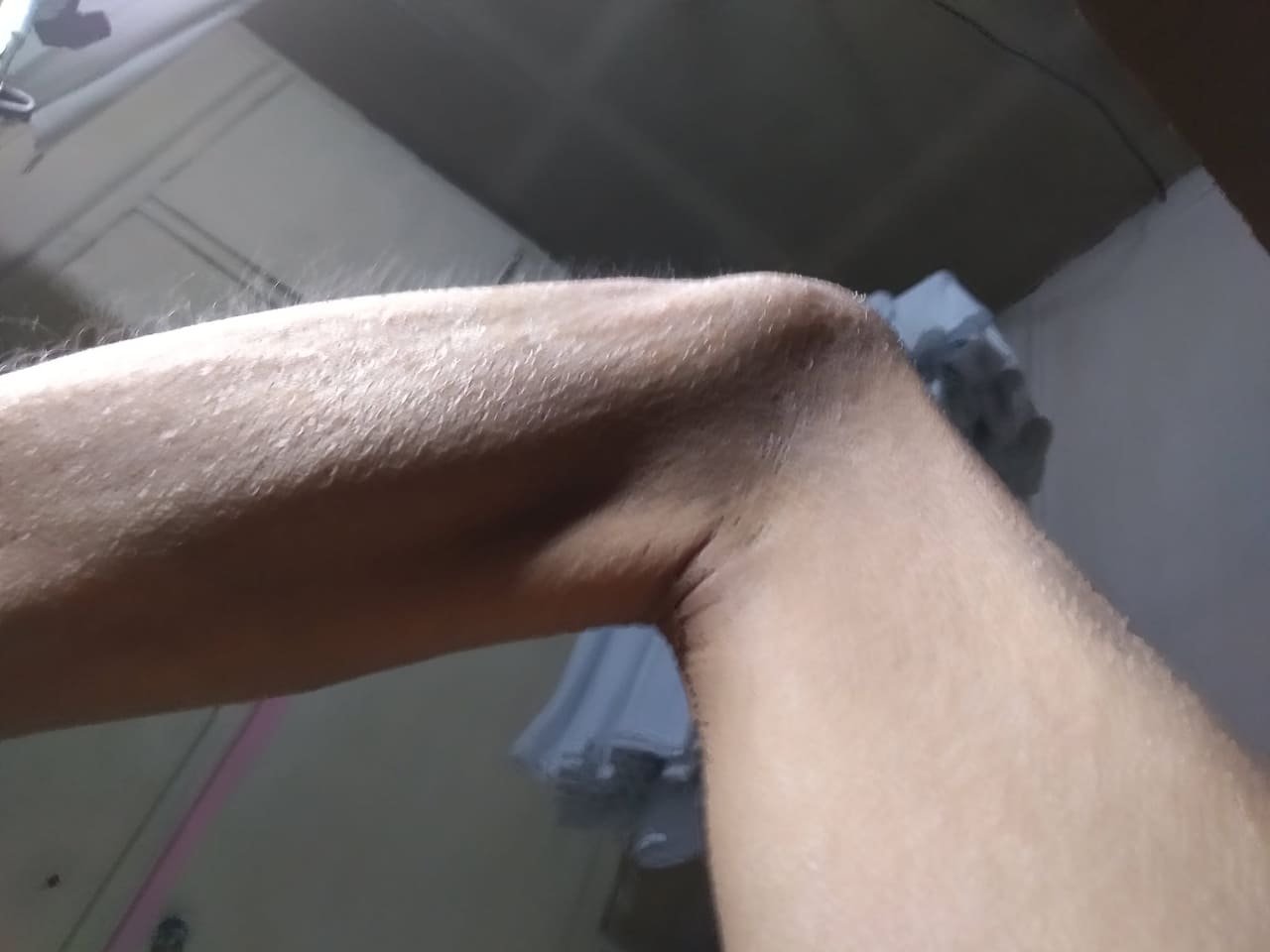 Src
I ought to post my current image but I am just embarrassed to do so so I just posted this photo of my elbow showing the extent of how emaciated my body is now. I actually had given-up in gaining weight because it is just hard because of my poor appetite.
Most of the time I would force myself to eat and even asking my mother to give me some brewed or decaffeinated coffee so that I could swallow what I was chewing so that I could be able to put some nutrition into my body.
I do not eat snacks because it would spoil my main meal of the day and I have to eat a proper food for the reason as stated above. My meal only consist of sometimes meat or fish with rice, sometimes soupy and in other times fried. I prefer to eat fried food with rice because it is tastier, I am not a soup guy because it just fills me up faster.
But when eating I find myself not enjoying eating and it will result in forcing myself to get it done faster already so I can free myself from the chore of eating. When near the dialysis day I would eat an unfertilized duck egg because of its nutritional value plus it is easy to chew and swallow.
Unfortunately my parents are not a good cook so it adds to my difficulty in dealing with my meals. Before I got totally disabled I was the one in charge about cooking our foods here at home but after physical body changes coupled with pain issues I left that job that I was enjoying in doing before but now if there is a food that I crave I would just order it online and it will get delivered but still I will not be able to enjoy eating it.
My health issue now is not only having to go for a regular dialysis session but also having to manage my bone health plus this appetite of mine that would not improve anymore. I am afraid that my liver might also be giving-up and if that will be the case I will soon succumb and finally get defeated by these life-long battle that I did not signed-up for.

Deutsch Transliteration
Ich sollte mein aktuelles Bild posten, aber es ist mir nur peinlich, deshalb habe ich gerade dieses Foto von meinem Ellbogen gepostet, das zeigt, wie ausgemergelt mein Körper jetzt ist. Ich hatte das Zunehmen eigentlich aufgegeben, weil es wegen meines Appetitmangels nur schwer ist.
Die meiste Zeit zwang ich mich zum Essen und bat sogar meine Mutter, mir einen aufgebrühten oder entkoffeinierten Kaffee zu geben, damit ich das, was ich kaute, schlucken und meinem Körper etwas Nahrung zuführen konnte.
Ich esse keine Snacks, da dies meine Hauptmahlzeit des Tages verderben würde und ich aus dem oben genannten Grund eine richtige Nahrung zu mir nehmen muss. Meine Mahlzeit besteht nur aus mal Fleisch oder Fisch mit Reis, mal suppig und mal gebraten. Ich esse lieber frittiertes Essen mit Reis, weil es leckerer ist, ich bin kein Suppen-Typ, weil es mich einfach schneller satt macht.
Aber wenn ich esse, merke ich, dass ich das Essen nicht genieße und es wird dazu führen, dass ich es schon schneller fertig bekomme, damit ich mich von der lästigen Aufgabe des Essens befreien kann. Wenn ich kurz vor dem Dialysetag war, aß ich ein unbefruchtetes Entenei wegen seines Nährwerts und es ist leicht zu kauen und zu schlucken.
Leider sind meine Eltern keine guten Köche, so dass es mir noch schwerer fällt, mit meinen Mahlzeiten umzugehen. Bevor ich vollständig behindert wurde, war ich diejenige, die hier zu Hause für das Kochen unserer Speisen verantwortlich war, aber nach körperlichen Veränderungen in Verbindung mit Schmerzproblemen habe ich diesen Job aufgegeben, den ich früher gerne gemacht habe, aber jetzt, wenn es ein Essen gibt, nach dem ich mich sehne, würde ich es tun Bestellen Sie es einfach online und es wird geliefert, aber ich werde es trotzdem nicht genießen können.
Mein Gesundheitsproblem besteht jetzt nicht nur darin, dass ich regelmäßig zur Dialyse gehen muss, sondern auch, dass ich meine Knochengesundheit und meinen Appetit, der sich nicht mehr verbessern würde, verwalten muss. Ich befürchte, dass auch meine Leber aufgeben könnte und wenn das der Fall sein sollte, werde ich bald erliegen und endgültig besiegt werden von diesem lebenslangen Kampf, für den ich mich nicht angemeldet habe.

Src
For Your Time Reading This...
︵‿︵ʚ˚̣̣̣͙ɞ・❉・ ʚ˚̣̣̣͙‿︵ Special Thanks To You ‿︵˚̣̣̣͙ɞ・❉・ ʚ˚̣̣̣͙ɞ‿︵‿
»»————-————-——-—- ༺❀༻-———-————-————-««
C0ME 0N Y0!─=≡Σ((( つ•̀ω•́)つLET'S GO!
▂▅▇█▓▒░ ⎛⎝(•̀ ‿•)⎠⎞░▒▓█▇▅▂