Hello steemians,
Thank you for all your amazing and kind comments for my 3000 followers party, i choose today this comment, please @outhori5ed post a fresh comment here to let me reward you: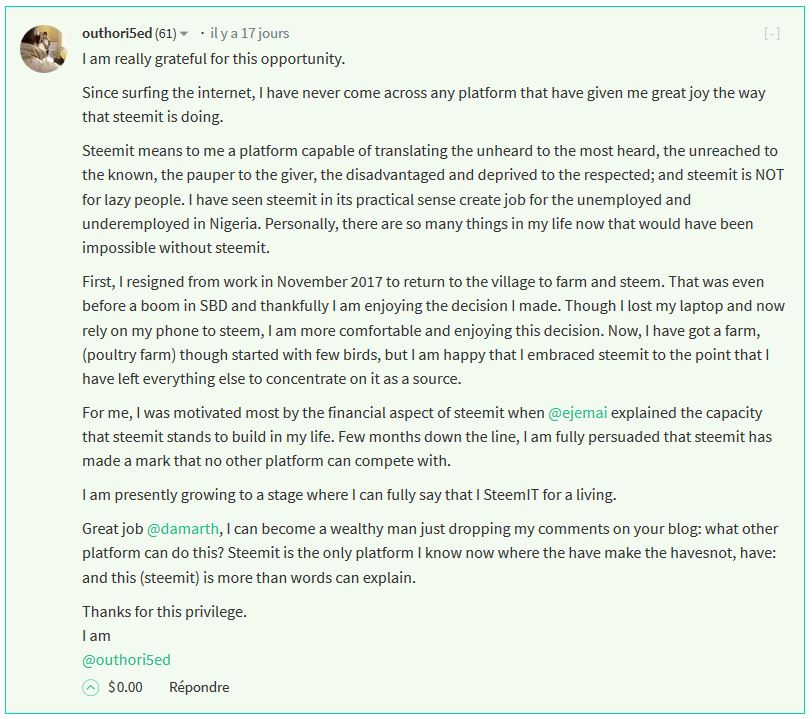 Thank you outhori5ed for your comments, i have been very inspired by your story and how steemit rapidly became a life changing platform giving you the opportunity to SteemiIT for a living.
This social medial platform is still very young and we are all early adopters, everyday i follow adoption satatistics and read introduction post from new users, i also witness the flippening happening between youtube/ twitch and Dtube.
https://iworldpark.github.io/steemit/stat/post/
https://steemit.com/utopian-io/@miniature-tiger/esteem-full-year-2017-statistics
I am convinced 2018 will be a booming year for steemit blockchain, more and more people will Steemit for a living as outhori5ed do and I wonder how many steemians already do it?
As a pionner, outhori5ed open our mind and show us what is already possible.
His story might inspire us to follow his exemple and provide new opportunities for many people.
This post will be here forever and i hope steemians will post to share their testimony and inspire us to pursue our dreams using this new technology for a living.
Share your steemit life changing story here!