Hello steemians,
I am gratefull reading all your comments, today i choose and upvoted langford: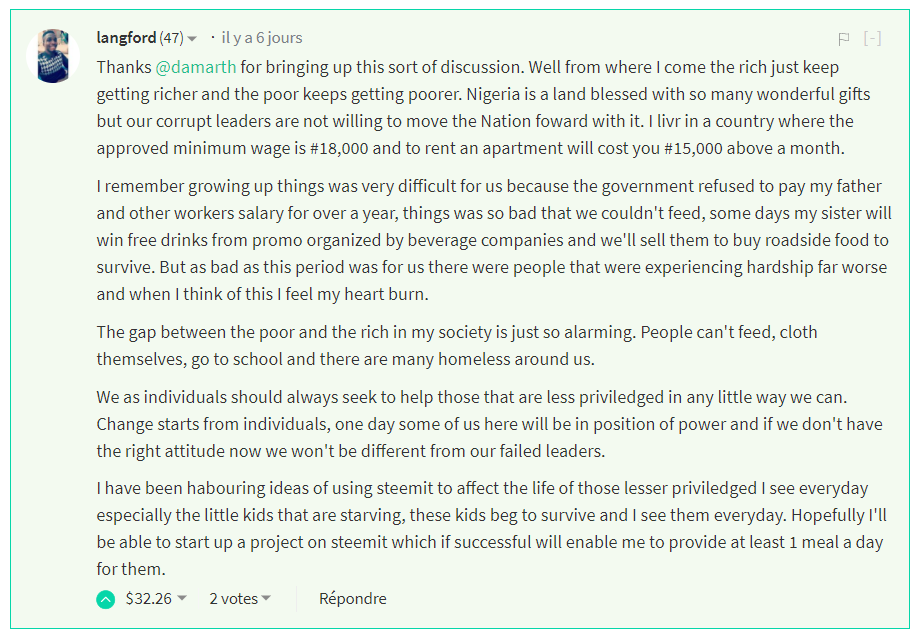 Thank you for your testimony, if we want to change humanity we need to share our story to educate the richer about inequality and help the poorer to have access to knowledge, food and healthcare.
Hopefully with internet everybody have access to knowledge, you don't need anybody to learn and be creative.
Steemit ecosystem give us a great opportunity to share wealth and create a strong and peacefull worldwilde community.
Reading your comment langford you gave me a new concept idea, nowadays, nobody should die from famine.
We should all contribute for a better world and insure the poorer to get at least the vital minimum:
ONE MEAL A DAY
Clearly if we are waiting for the system to change how many persons will die until humanity solve the famine problem.
I would like to start a new concept, obviously i can't help everyone on this earth with my voting power, but together we can make a difference!
Steemians if you need help from us, if you don't have a meal a day, simply comments on my daily ONE MEAL A DAY post and hopefully you will get upvotes from steemit community.
Please be trustworthy, if you comment for personal greed and you are not deeply in need for food or vital healthcare, you are taking money from steemians who really need it to stay alive and you should be ashamed.
Doing that you are responsible for this world to keep going wrong.
We can take our responsabilities and act for a better world now.
Share your toughts , are you willing to participate?