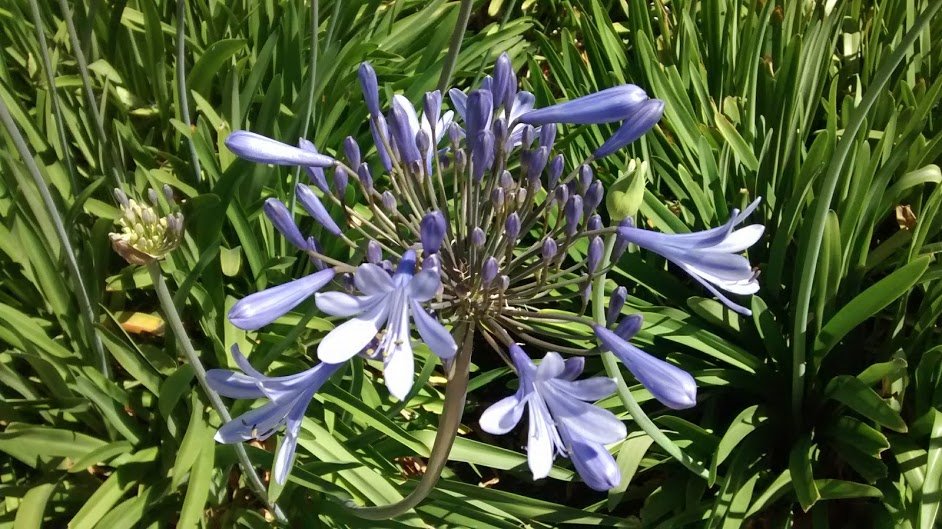 This is a flower on the grounds of my credit union. I was walking out the door and noticed this flower. So I took its picture.
To get in my credit union I had to wait in the hot sun. Maybe next time if I have to do that again, I can bring my umbrella. I did my business with my credit union then when home right away and wrote out a bill, then I when to my moms as I have to bring her to her bank, Bank Of America.
Well, at Bank Of America there was a long line, many times longer than my credit union line. Well, there was a guy there that said, Well, I guess I'm not the last guy in the line anymore. We smiled at him.
I mentioned that it was going to get really hot today and he told me that he likes the heat for his bones. He mentioned that he used to drive motorcycles and he got in three wrecks on motorcycles.
Then I asked him if he has pins in his bones like Evel Knievel? Evel Knievel used to jump motorcycles and got hurt a lot with a lot of pins in his bones. I remember seeing him on TV jump the the CAESARS PALACE water fountains and he crashed, it was really bad.
Well, the guy did tell me that he has a lot of pins in his bones and that is why he likes the hot weather. I asked him if he got insurance money for the accidents and he told me that he did, but said that it don't really mean anything cause of the pain he still has.
I told him that I used to watch a show called, Then Came Bronson. It was a TV show that played from 1969 to 1970. I told the guy that I watched that show and wanted to get a motorcycle.
The guy remembered that show called, Then Came Bronson. He asked me if I knew about the motorcycle makes called, Triump, Norton and BMW. I mentioned that they are European makes. I did have a motorcycle in the 70's a Kawaski 175.
Then he asked me if I knew about the movie, and he could remember the full name, but mentioned, Sunday. Then I said, On Any Sunday. It was a Bruce Brown 1971 movie. I told him I watched it in the movie theater.
On Any Sunday was a documentary about motorcycles. All the teenagers that I knew that were into motorcycles watched that movie.
We were talking how we don't drive motorcycles now days. He told me that in those accidents that the people would say that they didn't see him.
Well, that is the thing, since a motorcycle is smaller than a car, it would be harder to see by some. I always keep my eye on the motorcycles as they always like to go in between the cars.
So we finally made it into the bank and the guy wanted to talk to an account person and me and mom went to where the window tellers were.
So we finally made it out of the bank. You know there are flowers at Bank of America that are similar to the ones at my credit union. Maybe they used the same landscaper.
Let's end with a scripture, as it is written, I the rose of Sharon, the lily of the valleys. Song of Solomon 2:1.
If you enjoyed this blog, please upvote and follow.
Thank you, David.
Image is mine, taken with my Moto G.