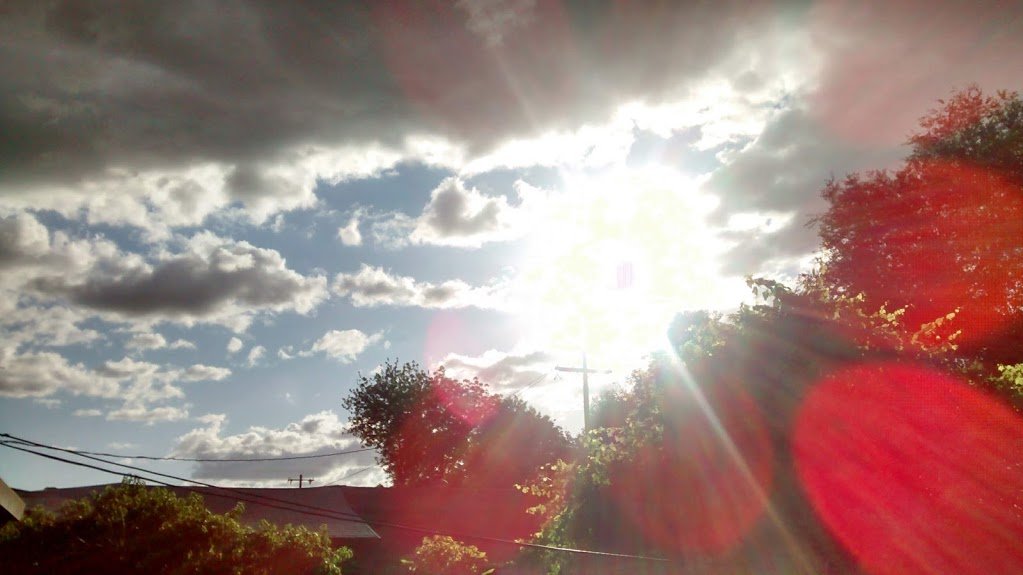 This is a picture I took last Monday, it is the sun in the firmament of God. Well, with this coronavirus I am trying to get more and more sunlight.
It is the vitamin D that the body will give when sunlight is upon the skin. With all the vitamins that are available vitamin D can be got for free, but you must get some sunshine.
Sometimes I just go into my back yard and sit in the sun for a bit, soaking up the healing sunlight.
Also in the morning I will take two tablespoons of hemp oil, and one vitamin E, and four Vitamin D3 with Vitamin K2. All for good health.
So my hair is growing long. I told an auntie that I just have to keep growing my hair long as all the salons are closed. My auntie told me that it looks good long. Well, maybe I will keep it long for a time. Well, I don't have a choice right now anyway.
At my moms bank they closed all of their branches in the city except for three. So when I take my mom to the bank we wait in line. I found that if I go there at 11 AM the line is not as long as it is when it is 10 AM. Funny how that goes.
At my own credit union there might be a line, but it is not as bad as the lines at my mom's bank. It is just at my credit union I have to wear a mask to get in. I don't like it, but I made a mask just for them. I take it off as soon as I am out of the door.
So I know that something is going to happen to the Fed as Q mentions, gold will destroy the Fed. Well, when that happens maybe having some silver might be a good idea.
Thing is that I like to buy mercury dimes for silver. Well at the place I usually buy at they are sold out, even Benjamin Franklin half dollars are sold out.
I did notice the other day that there was some 1 oz silver rounds for sale. I thought I would buy 12, then on the site they told me they had 8. So I bought it and no more was available. I just bought their last 8. It seems silver is hard to get. I just keep checking the site to see if anything came in that I might buy. Everything is a little weird that way.
I remember at times when getting eggs was sometimes hard to get. Well, I am finding that eggs are not as rare as they used to be. I still like buying some when I get the chance.
I am starting to notice that toilet paper seems to be stocked up pretty much like normal, well the last time I was at the store anyway.
Now if we can get everybody to get back to work that would be just fine. Let's see how that goes.
Let's end with a scripture, as it is written, For I the LORD, I change not; therefore ye sons of Jacob are not consumed. Malachi 3:6.
If you enjoyed this blog, please upvote and follow.
Thank you, David.
Image is mine, taken with my Moto G.