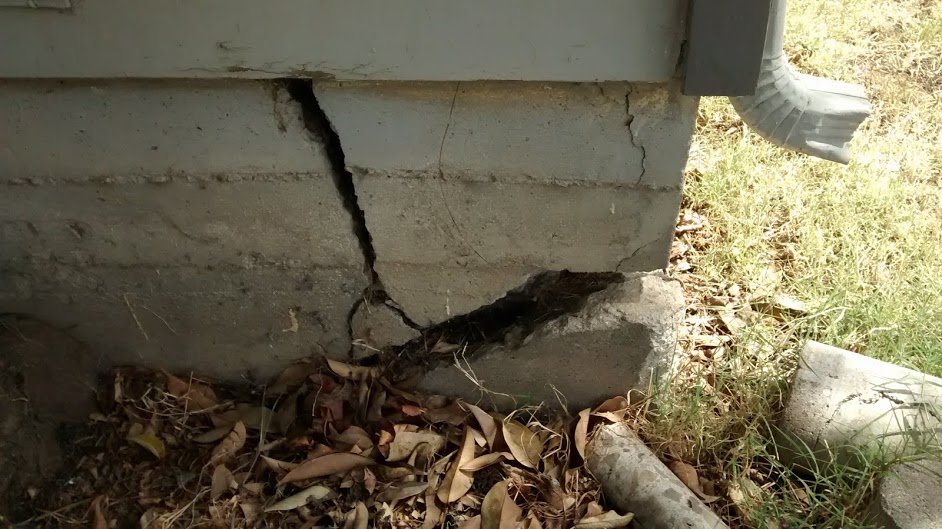 Where I am the land moves a little. That is why in people's homes are cracks in the walls. I have cracks in my own walls. Here is cement where the house is on top. This is the house where my mom and brother live.
I noticed it as I was mowing their lawns. I think the other parts of the house will support it. My mom and my brother are renting this house. So we will keep it as it is for now.
If other parts of the house is strong then, it will hold up even if there is a weak spot.
Isn't that like in life? We all have weak spots, but if our strengths are strong and if we can develop our strengths to even stronger strengths it will hold up, even if the weak spot is in the the foreground.
It is good to recognize your weakness and build your strengths around the weakness and when all the strengths are even more developed, one can even work on the weakness.
When I was in high school I didn't talk that much, I would even hear a girl talk to my friend saying, Your friend doesn't talk that much. Maybe I could have just worked on talking, but I worked on reading books and other things. I wanted to find out about things, like how to take care of athlete's foot.
I read a about athlete's foot. Why? Well, because I had athlete's foot and all that athlete's foot powder never really helped me. I found out that if you would take a oil like olive oil and mix it with garlic oil and rub that mixture into my feet my athlete's foot would go away.
So I started to learn stuff on my own, and when it was time to talk, I would talk about things that I learned. My strength was the ability to learn something and in doing so it help me to talk to people. I don't have a hard time talking to anybody now days.
Of course that is good because it helps me in my writing my blogs. To me writing blogs is like talking to people.
So we build strengths around a weakness and after awhile, even the weakness can be developed into a strength.
Let's end with a scripture, as it is written, And he said unto me, My grace is sufficient for thee: for my strength is made perfect in weakness. Most gladly therefore will I rather glory in my infirmities, that the power of Christ may rest upon me. 2 Corinthians 12:9.
If you enjoyed this blog, please upvote and follow.
Thank you, David.
Image is mine, taken with my Moto G.