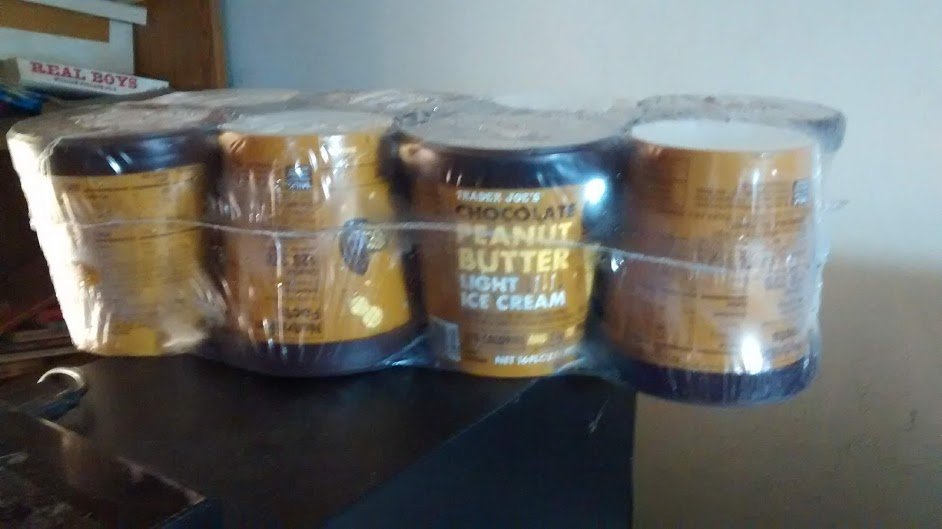 Sometimes Curry's has a pretty good deal. So mom wanted to get ice cream and there was ice cream for sale today. These were an 8 pack of 16oz Chocolate Peanut Butter light ice cream. One of these 16oz or 1 pint cost about $2.99 normally.
But at Curry's you can buy a pack of 8 for only $2. That is a good deal. Of course the ice cream will be close to date for that price, but I already ate some and it tastes pretty good.
I am glad that I bought the 8 pack. Well, you can only buy the 8 pack cause they want to get rid of the inventory as soon as possible.
Mom and I actually came to Curry's to buy some Kirkland Ice Cream, but this day they got all sold out of that ice cream, but this Chocolate Peanut Butter light ice cream is a good replacement.
You see, when you see something you like a Curry's one day, when you go back there even the next day, what you wanted might be gone. I have seen that happen, over and over again.
So if you do see something you like, you might as well buy it right there if you can.
Mom also bought some women's protein powder for only $2.99. That is a good deal as last week it was $4.99, but I guess they want to get rid of inventory and clear the shelves for something else.
Other things I would like to buy there is a 5 pound bag of coffee beans for $9.99. Well, that one has been there for awhile and I still have coffee, but I keep my eye on that one as sooner or later they will be all sold out. Well, that works out to be only $2 a pound for coffee. You can't even get that price on the internet.
Have you ever had a hot cup of coffee and at the same time eat some ice cream? Well, that is a good hot, cold combination. I do that sometimes.
Well, that chocolate peanut butter ice cream is pretty good. I would even buy more, but there was not enough room in the freezer for it.
Let's end with a scripture, as it is written, Moreover it is required in stewards, that a man be found faithful. 1 Corinthians 4:2.
If you enjoyed this blog, please upvote and follow.
Thank you, David.
Image is mine, taken with my Moto G.