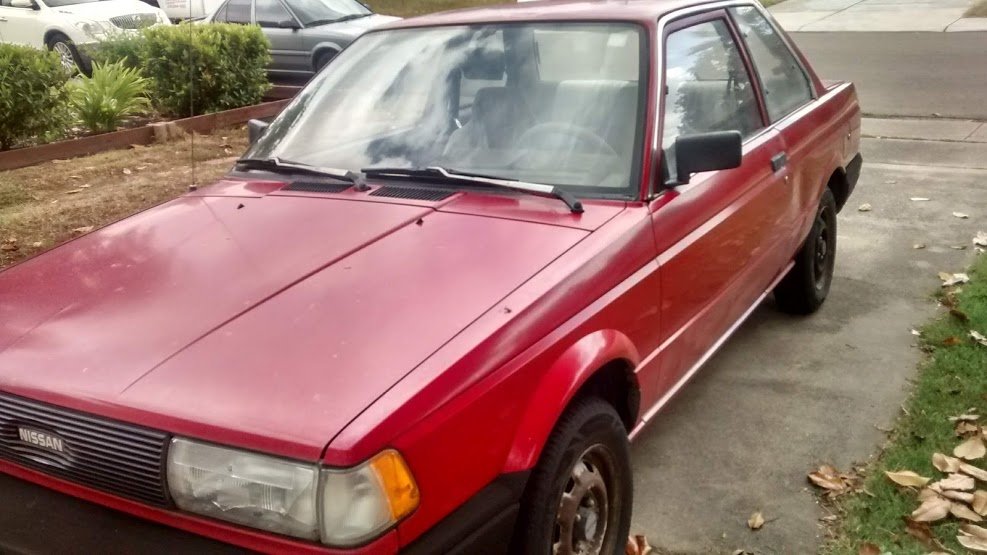 So, here is one of my cars, it's an 89 Nissan Sentra. Yes, it is 31 years old now. Well, the body is pretty much straight. There is a dent in the right rear side. I was told by a previous owner that he was mad at his wife at the time and kicked it, well that dent is still there.
I bought the car from his ex-wife, one of the girls that used to work with me at the telephone company sometime ago. I bought the car from my co-worker back in 1995. So it was about 6 years old when I bought it for $1700.
Last year I even called up my insurance to discontinue my insurance on the car as I thought I didn't want to fix it anymore. The insurance guy ask me where the car was. I told him it is still in the driveway. I told him that I was going have someone come tow the car away for the metal.
Well, he told me that I should keep the insurance on the car until it is in someone else's care and I had the car signed off. I thought that was a good idea.
The reason I almost got rid of it was cause it hardly started or it took awhile before it did start. I thought that was unreliable. Well I did take the car in because my speedometer cable broke and at the same time they had a hard time starting the car.
One of the mechanics did a trick with a screwdriver and it started. Well, that told them that I needed a new ignition switch. So I got the speedometer fixed and now with the new ignition switch my car starts with no problem at all.
And to think I was almost ready to turn the car over to the metal heap. Well, I am glad the insurance guy told me to keep the insurance on the car until the car is no longer in my possession.
Again it is one of my favorite cars to take around town. I have another car, a 93 Honda Accord I like to go out of town with and I also have a 91 Chevy S10 to pick up or haul stuff around.
I did buy a new set of tires recently. That is good that my last set of tires lasted me 11 years. This time I got the economic tires. Well, I only use the car when driving around the city anyway.
I just bought some gas for it today. I noticed that I am getting 22 miles a gallon. Well, that is city driving and with the air conditioning on. Again, I have to keep the air conditioner on as that keeps a fan going for the radiator.
I was watching Scotty Kilmer on a video and someone said that he had an old car and that the only way to keep the fan going to cool the radiator was to keep the air conditioner going. Scotty thought since the car is so old and if that guy didn't want to spend too much more money on it was to always keep the air conditioner on just to keep the fan going.
So I thought that would be good advice. So I do that too.
Well, the car is old, but it still works and I am glad to drive it around town.
Let's end with a scripture, Some trust in chariots, and some in horses: but we will remember the name of the LORD our God. Psalm 20:7.
If you enjoyed this blog, please upvote and follow.
Thank you, David.
Image is mine, taken with my Moto G.