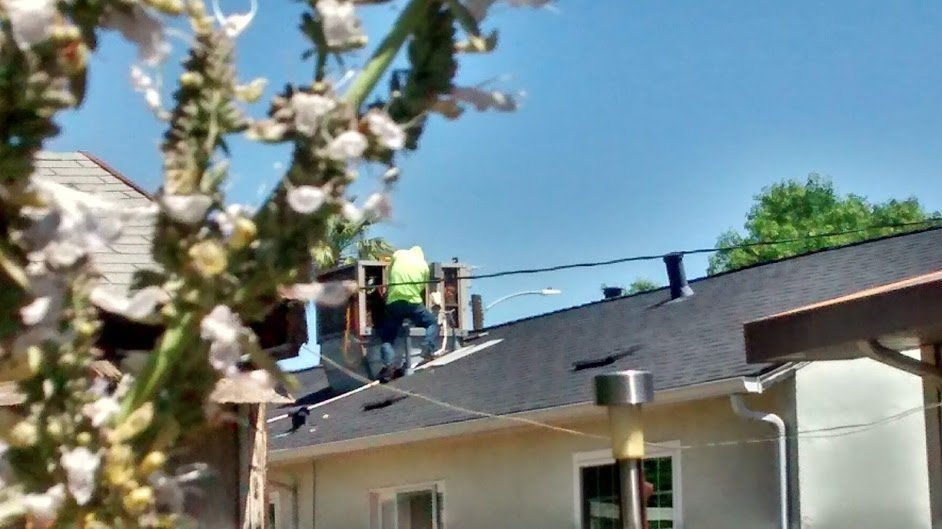 Well, it is still spring and it is getting hot. In the summer it is going to get even more hot. So it is good to get a head start on the air conditioner if it needs repairing, that is.
They are having their central air conditioning unit repaired. I really don't like the idea of central air conditioning as some rooms will get cooled off that may not even be used that much.
I do have an air conditioner, but in the last few years I don't use it. Why? Well, cause I am pretty frugal and an air conditioner will drink up a lot of electricity. Also my air conditioner is a window unit. It is the biggest window air conditioner that Sears sold at the time.
I like it and it works good, but when I do use it, I don't like the electric bill.
So how do I keep myself cool? Well, I use fans. Fans are cheaper than an air conditioner.
On the house where the air conditioner is being worked on now. I knew the lady that lived there before this current family that is in there now.
Well, the lady didn't like how much electricity the central air conditioner was drinking up. She did have a small window air conditioner put in her bedroom and shut down the central air conditioner. Well, she told me that she would hang out mostly in her bedroom anyway with a little TV and all. She was surprised and delighted at how much less electricity she used by doing it that way.
When I was a kid we would go to grandma's house. Grandma would have a window air conditioner in her bedroom. Well, during family gatherings all of my siblings and cousins would hang out in grandma's cool bedroom.
I actually like the idea of maybe having window air conditioners in the rooms that most people hang out at. If most people leave a room with an air conditioner, then they can turn that one off and enter into another room and turn that air conditioner on.
To me that would be the most efficient way to keep cool rooms and save on electricity. Oh and to make the room even cooler have fans also.
Well, I hope the neighbors air conditioner is working alright now.
Let's end with a scripture, as it is written, Not that I speak in respect of want: for I have learned, in whatsoever state I am, to be content. Philippians 4:11.
If you enjoyed this blog, please upvote and follow.
Thank you, David.
Image is mine, taken with my Moto G.