Have you heard about the sugar conspiracy?
Did you know that in 1972 a British scientist, John Yudkin, discovered that sugar and not fat was the greatest danger to our health? He published a book entitled, "Pure, White and Deadly", but his findings were dismissed and he was discredited. He had hypothesised that sugar had been part of the western diet for just 300 years whereas saturated fat was bound up with evolution and was present in breast milk.
It was not until nearly 40 years later in 2009 that Robert Lustig, who specialised in the treatment of childhood obesity, produced a youtube video entitled, "Sugar: The Bitter Truth", which has been viewed over 6 million times and which vindicates the findings of Professor Yudkin.
Health effects
It is now scientifically proven that sugar has been responsible for obesity rates taking off in the 1980's rather than saturated fat and cholesterol. The figures are startling. In 1980, 15% of Americans were obese and 6% of Brits. By 2000, 35% of American were obese whilst two thirds of Brits were either obese or overweight.
The figures were also closely related to the rise in diagnosis of type 2 diabetes. In fact, research has shown that there is a close association between sugar intake and the development of type 2 diabetes, though there are other causes including stress, lack of exercise and genetic predisposition.
Sugar is also implicated in the development of cardiovascular disease, dementia and tooth decay.
In the case of cardiovascular disease, sugar is found to have a more significant impact than that of saturated fats.
To avoid tooth decay, it is recommended by the World Health Organisation that sugar should form a maximum 10% of our energy intake, with a reduction to below 5% bringing additional health benefits. 10% equates to 70g of sugar for men and 50g for women, though in the U.K., on average these recommendations are exceeded.
How to cut down on sugar
There are three sources of sugar in our diets:
Added or "free sugars" which provide no additional, nutritional benefits (vitamins and minerals) e.g., biscuits, cakes, fizzy drinks; 🍩🍿
Natural sugars including honey and fruit; 🍯🍒 and
The product of digestion of more complex carbohydrates such as bread, rice and pasta. 🍚🥖
We need to avoid mainly added or free sugars which mostly come from sugar cane or sugar beet. If we can get most of our carbohydrates from starchy rather than sugary foods, we will feel fuller for longer as starchy carbohydrates give a slower release of energy. It should be noted that complex carbohydrates form an important part of a balanced diet and provide energy.
If you have enjoyed learning about this topic, please upvote and comment, @fleur 🍒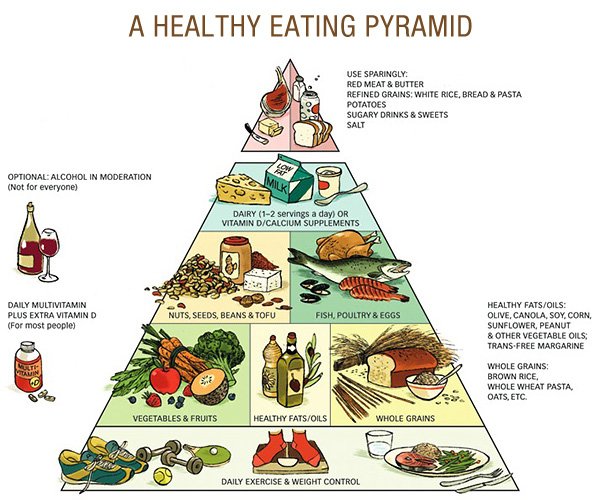 Credits:
https://www.theguardian.com/society/2016/apr/07/the-sugar-conspiracy-robert-lustig-john-yudkin
bhf.org.uk
diabetes.org.uk
Bing and Pixabay for images