The loss of a great man and legend in the history of Football "DAVIDE ASTORI"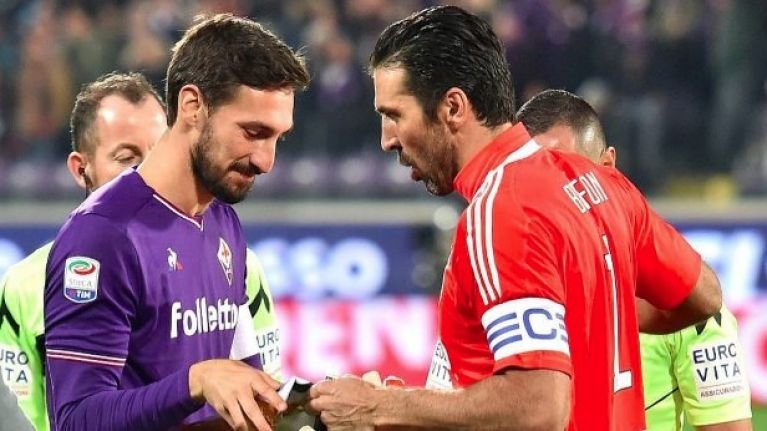 SOURCE
Davide Astori was born in January 7 1987 and raised in the state of bagamo.. He was an Italian professional football who played as a central defender [CB], Astori was a tall, consistent, tenacious, attentive, and physically strong left-footed central defender , with good aerial ability and heading accuracy, which made him a goal threat on offensive set pieces; although he was not the quickest defender, he also possessed good leadership qualities, organisational skills, distribution, and technique, which enabled him to play the ball out or start attacking plays from the back, a versatile defender, he was comfortable playing as left-sided centre-back in both a three-man or a four-man defensive line.
he spent five years in the club's youth system , after which time he was sent on two consecutive loan spells to Serie C1 clubs Pizzighettone and Cremonese for the 2006–07 and 2007–08 seasons, respectively.
Astori in Cagliari
At the early year of 2008-2009 season, he was signed by serie A club in co-ownership in Milan for €1 million. After which he made his official debut in the top flight during an away game against Siena on 14 September 2008 coming on as a substitute in the second half.
Astori in Roma
His move to Roma was announced by Cagliari on 24 july 2014, when he moved on a season long loan at a fee of €2 million and at the end of the season Roma made it permanent at a fee of €5 million.
Astori at fiorentina
On the 4th of august 2015, he was signed on loan from fiorentina until the end of the season with the obligation of a buy back clause.. And at 2017-2018 season he was appoint as the captain after the departure of Gonzalo Rodriquez from the team.
His international career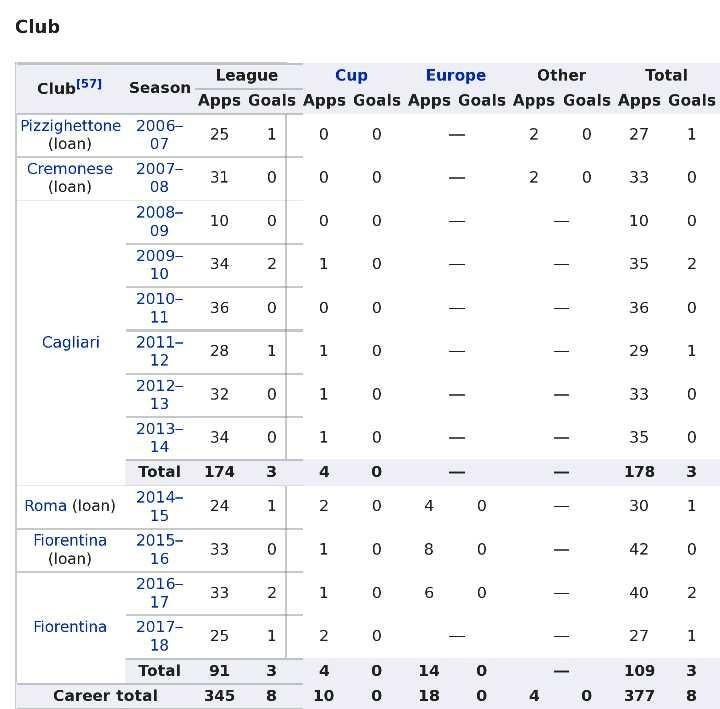 Source
Between 2011 and 2017 Astori made 14 senior appearance for the senior National team and became the first Cagliari player to score for Italy since Luigi Riva had done 40 years earlier...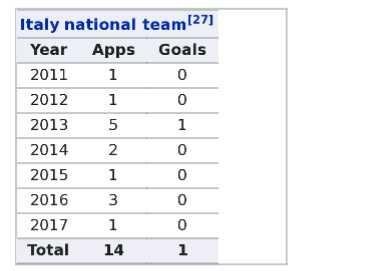 SOURCE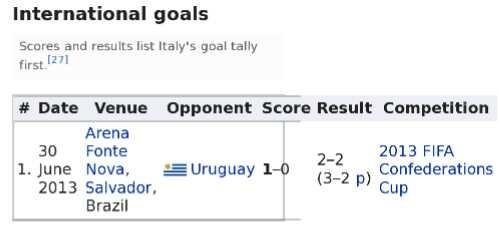 Source
Astori played four games for italy 's under 18 team after that he did not earn any call up to the higher level of youth international football.. He was later called up into the national team by coach Cesare prandelli, and he was named in the squad for a friendly game against côte d'ivoire but he was left on the bench as an unused substitute. He made his full debut in a win against Ukraine in Kiev in a 2-0 friendly win when he came came on as a 17minute substitute for the injured Giorgio chellini, but was sent off 15minute remaining in the second half after receiving 2 yellow cards .
He was shortlisted in the 23 man squad list that took part in the 2013 FIFA confederation cup under coach prandelli in which they lost in he semifinal after suffering a defeat from Spain in a penalty shoot out, but WON the Bronze medal after defeating Uruguay, whereby Astori scored an opener by knocking in the rebound from Alessandro Diamanti's freekick and the game ended 3-2 in favour of Italy in a penalty shoot out
The light went out in Davide Astori's hotel room just after 11:30 p.m. on Saturday. To that point, it had been as ordinary and unremarkable an evening as any in the life of a professional footballer playing away from home, The Fiorentina defender was found dead in his hotel room on Sunday morning, leaving the world of football in shock.
Astori had been with his teammates preparing for the Serie A clash with Udinese when he lost his life. He is believed to have died from a cardiac arrest.
They lit flares which formed a moving backdrop of purple smoke as his coffin was carried out after the service, which lasted for almost two hours.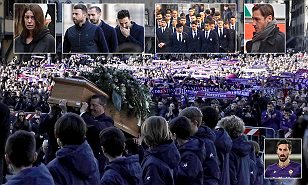 SOURCE
The example Astori set on the pitch and in his daily life as a son, father, friend and teammate will live on, at least for those who knew him. For those who didn't, maybe there's some inspiration to be found in that quote, which bears repeating: "I really love my job. I really love football. I love it more now and I enjoy it more now than I did when I was 18."
The light doesn't need to go out on that thought, the simple joy of a man who loved what he did and loved it and appreciated it more as he got older.
May your gentle soul rest in peace, Davide Astori.
May the love and mercy of our Lord be bestowed upon you and your family during this unfortunate time. Mymost sincere condolences from a diehard fan of Manchester united
SOURCE(http://www.dailymail.co.uk/sport/sportsnews/article-5476679/Fiorentina-players-arrive-funeral-Davide-Astori.html)