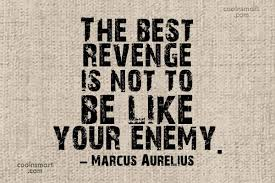 Joy is meant to flow from within. Hence, the moment you tie your peace and rest-of-mind to carrying out revenge and getting even, you loose your right to decide your happiness.
INNER PEACE, should be the yardstick for making choices.
Friends ALWAYS make empowering choices by being at peace with yourself. Sometimes, the much 'needed' revenge won't give as much satifaction as expected.
If you like this content, please follow, comment and Upvote @greatestman