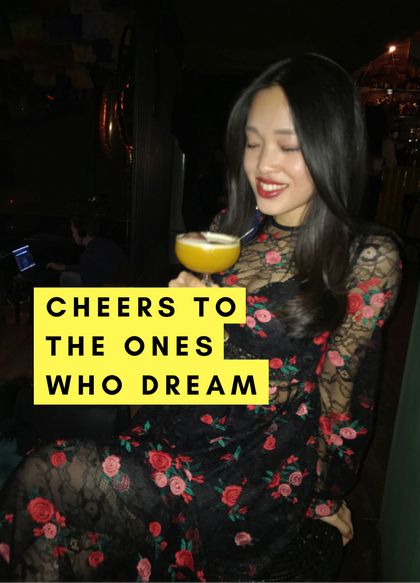 We've almost reached the end of 2017 so now is the perfect time to reflect back on your year. How was you year? Mine has been good so far. Every year between 26 December and 6 January I write down my new goals. No expectations of any outcomes, just personal goals and what I want in life. 
After reading hundreds of motivational articles of authors like Tony Robbins, Grant Cardone and the "X-ways to succeed in life-kind-of-articles" I took steps. Actually I always take steps but this year was the first time that I felt like I'm on the right track. Contrary to previous years, I decided to take small steps this year. Small, realistic steps without skipping any details instead of big goals without knowing how to start. So here were some of my goals: 
1. Beauty inside and outside 
Before, I focused so hard on work and career that I sometimes forgot to take care of myself. Instead of buying the clothes that I wanted and taking care of my skin, I chose the practical way. I always bought dresses to save time (you don't have to think about tops and bottoms and you'll always look fine in a dress) and I didn't use any more make up than a bit of mascara and very light lipstick. However this year, it was time to feel beautiful again. 1. I started to go to the gym and spent time there at leas 2x / week. Now I don't look like a fit model but at least I feel much better in my skin than ever before. 2. I watched a few Youtube make up tutorials for asian girls and bought some make up while on vacation in Japan. 3. Instead of only buying dresses to make me look more formal and less young, I started to buy clothes that make me feel comfortable. I discovered that beauty doesn't only come from inside nor from only outside. If you feel happy and zen, your aura starts to change and people will notice. And to feel even more beautiful, make up and clothes DO help as long as you wear what you really want. So don't cut out the pleasures in your life just because you think that you don't need them. Just go for what you actually want and be 100% honest to yourself. 
2. Yes I can, so make it happen 
After quitting my job 2 years ago with no plan B, I discovered that I wanted to do something meaningful in life. Something that is valuable to the earth, something sustainable. However I always thought that I wasn't as smart as friends who had become (European) debating champions as a student, McKinsey fellows or programmers who've built genius gaming apps. I was really under estimating myself because I actually did win some hackathons and got selected for several programs as a student, but I was just never ever happy with what I had achieved. That made me insecure and feel stupid. It was the ego that was saying: "You should achieve this, you should do that, you don't deserve to live because you haven't achieve half of what other people have achieved. Blablabla. blablabla". Saying these things to yourself won't help you get any further and I felt worse and worse and worse. 
However this year I decided to stay positive and to let it go and I took a jump: I wanted to get rid of plastics and although I'm not a cleantech engineer, I was persistent to find a way to make it happen! And yes those Tony Robbins and Grant Cardone podcasts did help to jump! This is how I made the jump less scary: 1. In this startup ride full of ups and downs I was prepared to fail ( still am). Nobody is perfect and you will fail, I WILL FAIL BIG TIME, and it doesn't matter because failing = learning. There is no real failure unless you give up. After all that I've been through, I believe the only reason why you fail is because there's something you don't know. So go out and seek that one truth, the key that will help you out and make you grow. 2. I started to look for people who are smarter than me, who know more than me and who I can learn a lot from. No impact can be done in isolation 
And guess what? I got selected as a nominee for a prestigious award and got into a community full of creators, scientists, adventurers and likeminded people. This was one of the best experiences this year. I had been looking for new friends and new surroundings, and now that I'm creating something from my heart without feeling any shame, I start to attract people who have the same goals. Can't be any happier than this at the moment. 
So here's to the ones who dream. Cheers. 
What are your new year resolutions and goals? PS. Sorry for my grammar. I didn't take a lot of time to write and refine this article because I wanted to write it directly from my heart.